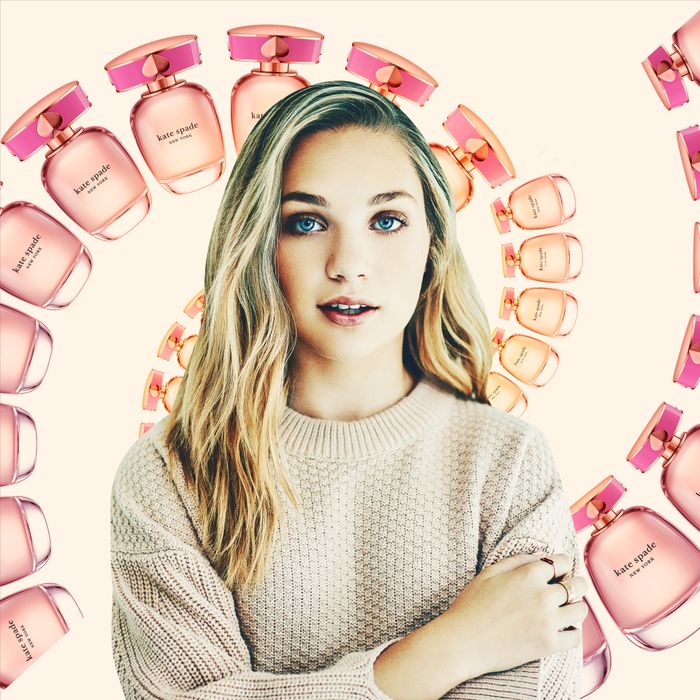 Maddie Ziegler.
Photo: Courtesy of Kate Spade
Scientific studies confirm that, of all the senses, smell offers the best recall. In "Scent Memories," the Cut asks people about the scents they associate with different times in their lives.
Next up is Maddie Ziegler, dancer, actress, and the face of Kate Spade New York's new eponymous fragrance. With notes of citrusy bergamot, sweet wild strawberry, and fresh freesia, it's a cheerful, uplifting scent that comes with a fittingly fun campaign set in NYC to match. The Cut recently caught up with Ziegler to talk ice cream, scented candles, and the cutest kind of alarm clock.
My first scent memory is: Sneaking into my mom's bathroom and taking all of her scents. Some of hers were very overpowering, but I was always drawn to her Kate Spade and Marc Jacobs ones; I was always trying to steal all of them because I loved them so much.
Happiness smells like: My sister. She's my best friend and I love her more than anything. Her natural smell is hard to describe, but whatever hair products she's been using are very good. Whenever I hug her, it just smells like home to me.
Love smells like: The two boys in my life: my boyfriend and my dog. I know it sounds weird, a dog smell mixed with a boy, but every morning, they both lay their heads on my chest and it's the best.
Heartbreak or loss smells like: Baskin Robbins ice cream. Specifically, chocolate chip with chocolate sprinkles on top, my go-to. When you're heartbroken, you have to each as much ice cream as you can.
Friendship smells like: My candles burning at my house. Every time I know my friends are coming over, I'll put on all my candles for them. I always burn Santal by Le Labo because that's my go-to scent for us, so I always relate that scent with my friends.
Regret smells like: My first boyfriend [laughs]. I was thinking, do I really say this? But it does. I don't regret what all happened, but when I look back I'm like oh, I really should've thought that through … but when you're younger, you just don't know!
Success smells like: The Kate Spade perfume, at the moment. The scent of success will always be changing for me, but right now, I'm really proud of this collaboration; it's a dream come true for me, so that scent feels super successful to me.
The worst smell is: When you're walking outside in New York and realize you're near sewage. That smell is always so sudden, and comes out of nowhere; it just hits you.
My ideal vacation smells like: Salt water and tropical strawberry smoothies — very fruity, and very floral.
My home smells like: A bunch of different fragrances going in and out of it. It definitely smells like a lot of candles, a lot of room sprays as well, and lately, I've been loving a good pillow spray, like a lavender one to unwind at the end of the day. They're so good.
The first thing I smell in the morning and the last thing I smell before I go to bed: My dog, 100 percent. I literally open my eyes in the morning and close them to go to sleep with him right there. I'm woken up to a beautiful fluffy puppy kissing my face. I don't even have to set an alarm anymore because he's licking my face before it would go off. At night, he sleeps like a human. He'll put his head on the pillow and he's all tucked into the covers, like us. I don't even know how it happens, he just does it himself.
I smell like: As you evolve and you get older, you're constantly changing up your smells, but I smell like my Kate Spade perfume at the moment. In general though, I smell — or at least I always try to smell — light, airy, and floral without coming off too strong. That's why I actually really love this perfume, it's not overpowering, which is my least favorite thing in a perfume. I usually do two spritzes on my shoulder, one behind my head, and then one on my wrist; that way, when a person's hugging you, they can smell the scent when they're over your shoulder.