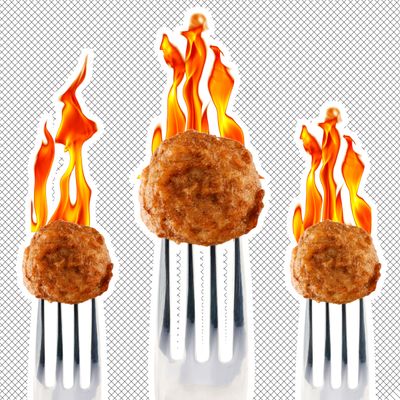 Photo-Illustration: by The Cut; Photos: Getty Images
Earlier this week, TMZ reported that the Meatball Shop is suing Jersey Shore stars Nicole "Snooki" Polizzi and Deena Cortese, claiming that their new meatball-themed merch infringes upon the New York restaurant chain's trademarks — a very "Spicy Lawsuit!!!" as the headline read.
In case you weren't lost in the Jersey Shore sauce in the mid-2000s, as I definitely was, Snooki and Deena were lovingly referred to as "The Meatballs" on the show, due to their, er, curvy and compact stature — a silhouette that Cathy Horyn once likened to "a turnip turned on its tip," in her 2010 Times profile of Polizzi. (Yes, I recommend giving that a read.)
Earlier this year, Snooki and Deena did what any entrepreneurial meatball would do, which is monetize their nickname with a merch line, called Meatball Merch — slogans include "Team Meatball" and "Meatball Squad" — so that they themselves could own the now decade-old joke. Well, not so fast. According to TMZ, the Meatball Shop thinks Meatball Merch is "ruining their brand's good name." The restaurant reportedly issued a cease-and-desist letter, which was "ignored," and then filed a lawsuit shortly after, claiming trademark infringement. The Meatball Shop is seeking a court-ordered injunction to ban further Meatball Merch sales, plus monetary damages. As of today, though, Meatball Merch still lives on.
I don't want to take sides here because, as any Italian-American knows, nobody wins when it comes to meatball drama. On the one hand, I feel for the Meatball Shop. They've no doubt had a tough year, and I find their "balls" merch pretty funny. That said, I am of the mind that all meatball press is good meatball press, and that wearing the word "meatball" (or "ball," if you must) on a T-shirt is an inalienable human right. If I had to give personal legal advice, which no one asked for, it would be: fuggedaboutit!
The Meatball Shop and Meatball Merch did not immediately respond to request for comment. In the meantime, I'm going to call my mom and get her trademarked meatball recipe.