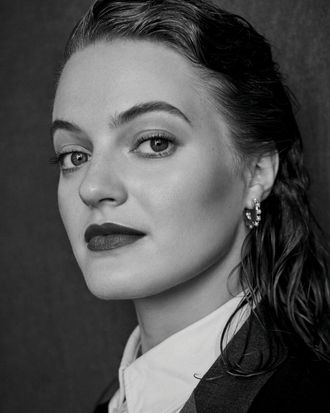 Photo: Michael Schwartz/Netflix
When The Prom was on Broadway in 2018, I saw it and almost drowned in my own tears. Disgraced Broadway actors go to Indiana to help a high-school student take her girlfriend to prom? That's everything I want in a musical: corny, sweet, the kinds of songs I love to listen to on repeat when I'm in a mood. Released on Netflix last week, television auteur Ryan Murphy's adaptation of The Prom retains a decent amount of the original's charm, though the casting of James Corden has caused (understandably) disdain and controversy. But Jo Ellen Pellman, the film's 25-year-old star, is easily the standout.
Pellman's Emma is an optimistic teenager who just wants to go to the prom with her girlfriend, Alyssa, who is afraid to come out. In Emma's most pivotal scene, she tells her story on YouTube through the song "Unruly Heart" — if you don't tear up just a little at the montage of LGBTQ+ teens across the country watching and singing along, I'm not quite sure what to say to you. The Cut talked to Pellman about her big break, being a queer actor, and what The Prom means for her.
Had you seen The Prom on Broadway before you got involved in the audition process for the film?  
I was fortunate enough to see the show on Broadway before I even knew anything about the movie. I was able to see it with my mom, which was amazing because we're both from the Midwest; I'm queer; she's gay. We were laughing and crying through the whole show. And I remember leaving the theater and being like, This is why I wanted to become an actor.
What was it like getting into the character of Emma and all the complications with it — primarily her relationship with Alyssa?
One of the ways I tapped into the character of Emma was through her optimism. Ryan helped me find this determination that Emma has in the face of all the inequality and the bullying that goes on in her community. It's that sense that Emma knows that things will get better, that her people are out there, that drives her throughout the film. For me, the takeaway of the film is that Emma is able to find her voice through her chosen family — which is the Broadway troop, and her relationship with her grandmother, and relationship with Alyssa.
The relationship between your character and Alyssa is just so wonderful, and the chemistry that you and Ariana DeBose have is so good. What are you hoping that people get from that relationship? 
Whatever kids who are watching The Prom are going through, they are not alone. They're not the only ones who feel like they might have to hide their relationship — or maybe they want to shout it from the rooftops, but feel like they're not ready yet.
And you don't have to be in a relationship to prove your queerness. If you know in your heart, that's enough — you are a part of this community. Your people are out there. Never stop looking for them, the people who can't wait to love you and support you.