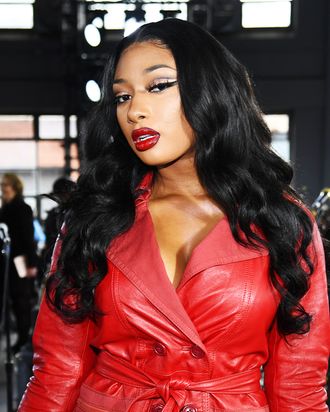 Photo: Dimitrios Kambouris/Getty Images for NYFW: The Shows
Megan Thee Stallion might be busy serving up "Body," but that doesn't mean she can't also serve up hair. The singer posted an Instagram of her natural hair, showing a mysterious hand (presumably, it belonged to her longtime hairstylist Kellon Deryck) combing through a few feet of bouncy, healthy hair coils while she plays Episode.
"Kellon and I are about to see how healthy and long we can get my hair 💪🏽 drop any of your favorite black owned hair care lines for natural hair 👇🏾👇🏾👇🏾," she wrote in the caption.
Naturally (pun intended), a few Black hair entrepreneurs took notice. "Pick me!" Tracee Ellis Ross, creator of Pattern Beauty said. Gabrielle Union of Flawless by Gabrielle Union also dropped a tag, seconded by Jasmine Sanders. Somewhere, Taraji P. Henson of TPH by Taraji just sat up and is wondering why she didn't leave any products in Megan's dressing room while on the set for "Body."
We look forward to seeing what quality time with Megan's natural hair looks like. May it result one day in Hot Girl Hair by Megan Thee Stallion on shelves. Or a song all about mopping and plopping.