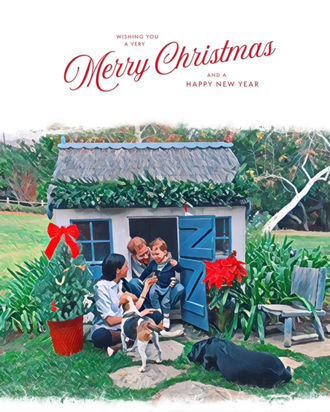 Harry and Meghan's 2020 Christmas card, taken on their property in California.
Photo: @themayhew/Twitter
Besides Christmas-tree shopping and podcasting, there's not much to see when it comes to keeping up with Meghan and Harry these days. Since stepping down as senior royals and moving to an estate in Santa Barbara, California, the couple seems to have made privacy a top priority. (Understandable, given the hellish few years they spent in Buckingham Palace.) We don't really know what they've been up to lately, so I'll take any crumb of information I can get.
And last week, I got one: the Sussexes' annual Christmas card. Their third since getting married, this one features an image of Meghan, Harry, baby Archie, and two of the family's dogs. They're all nestled in front of a tiny, Archie-size house, fringed with a bright red poinsettia on one side and a miniature Christmas tree on the other:
It's a great card — an innocuous holiday tableau that nevertheless brings up a lot of questions. My chief concern is the medium. A spokesperson told "Page Six" the image is based on a photo taken by Meghan's mother, and the tabloid believes that it was run through Photoshop's dry-brush filter to make it look like a painting. Maybe, but that doesn't seem like Meghan's vibe — I mean, this is someone who used to do calligraphy as a side gig. Would she really just slap a filter on her Christmas card and send it out?
Whether it's filtered or painted, the card seems like a symbolic move from the Sussexes made with their desire for privacy in mind (they are, at this time, engaged in several legal battles against various tabloids over invasions of privacy). The impressionistic daubs of "paint" make it so we can't look too closely. We can't quite tell if baby Archie's hair is ginger like his dad's, or if his dad is losing his hair like Uncle William. Meghan's face, meanwhile, is almost completely obscured. The Sussexes look like storybook characters, not real people — it's an image that seems to be holding us at arm's length.
It's especially interesting to compare the 2020 edition with last year's card, a black-and-white photo whose focal point is a high-res close-up of Archie's face, with Meghan and Harry out of focus in the background. The card, branded with the now-defunct Sussex Royal logo and taken while Meghan and Harry were in Canada, came mere weeks before they renounced positions in the royal family. Considered in this context, it felt like a preemptive olive branch of sorts; Archie's very protective parents (one of their lawsuits concerns an "intrusive" paparazzi photo of their son) freely sharing such a clear photo of him felt like a plea for peace and understanding — to the other royals, to the world — prior to their bombshell announcement.
To help us flesh out this maniacal close read, let's take a quick look at their first family card, from 2018, which featured a black-and-white image of the couple from their wedding reception. It shows Meghan and Harry from behind watching fireworks, arms around each other and hands clasped. Its release followed Meghan's initiation into what we now know was a stifling, isolating life as a royal, and the beginnings of her and Harry's rift from the rest of the family. The photo seems to reflect that: It's pretty, but a little distant — there's a certain sense of loneliness.
While all of the images are markedly different, they seem to share certain themes: solidarity between the couple, a preference for privacy, and an artistic flair that is at odds with the fusty formality of the royal family. Sure, this is incredibly speculative, but remember that Meghan is a former Instagram influencer and lifestyle blogger; it stands to reason that she would use the few images that she had control over to say something, especially since she wasn't allowed to speak publicly about how she was treated. Then again, maybe they're just a bunch of Christmas cards.