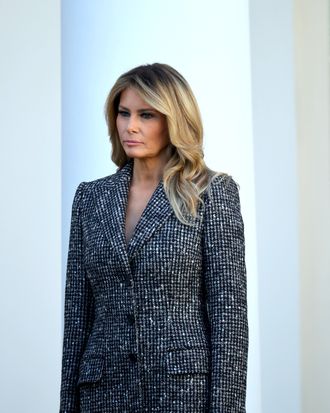 No spilling secrets to a ghostwriter for this FLOTUS.
Photo: Chip Somodevilla/Getty Images
Melania Trump: What is she thinking? According to CNN, that she would like to get the hell out of Washington, D.C., please! And also, that if she must do as First Ladies before her have done and produce a sort of memoir recalling her time in the White House, then she would prefer to do it her way. An intimate collection of her personal experiences? Does not seem quite right, somehow! But a nice, heavy coffee-table book? Actually does feel closer to the mark.
CNN reports that talks about a Melania book are already in the works. Apparently, as she delegates shipments of Trump family affects to New York City and Mar-a-Lago (soon to be the Trumps' full-time residence), she has also been "hyper-focused" on her "legacy." Whereas her predecessors have gone on to publish best-seller autobiographies — Becoming for Michelle Obama, which did so well, it spawned its own Netflix documentary; Living History for Hillary Clinton, which sold 600,000 copies in its first week and claimed the top spot on the New York Times nonfiction list — Melania is reportedly thinking more along the lines of an upscale picture book. Per CNN:
Trump is said to be toying with writing a photo-centric coffee table book about White House hospitality history, or one perhaps centered on the design projects she has completed while first lady, according to a source in the publishing industry familiar with preliminary discussions.
Which, yes, does feel more in line with her brand (aesthetically austere, appearance-oriented). I personally am wondering what projects such a book would feature — her minimalist Rose Garden renovation, probably, along with the White House tennis courts, and maybe also … her haunted holiday décor schemes? I'm not really sure how you distill the elusive concept of Be Best down to a glossy photo spread, but I suppose where there's a will, there's a way. And here I should note: Melania's chief of staff, Stephanie Grisham, suggested to CNN that there currently is no will, because "Mrs. Trump is focused on her role as First Lady," rather than (say) on a future in which her husband leaves the White House. Please recall, the official line holds that Trump won the election, and CNN's reports that Melania is privately telling people "she just wants to go home," and also actively preparing for her departure, do not jell with that narrative. So with regards to the large display tome, we will simply have to check back in with her ca. January 21.