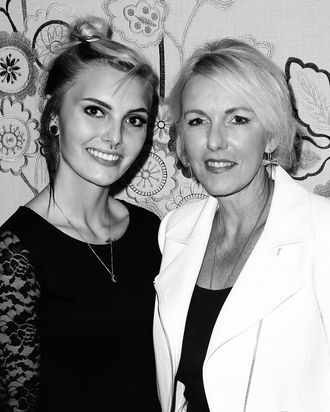 Melinda Coleman with her daughter, Daisy.
Photo: Marion Curtis/Starpix/Shutterstock
Melinda Coleman — mother of Daisy Coleman, the late rape survivor and activist whose story featured in a 2016 Netflix documentary — has died by apparent suicide just four months after her daughter. SafeBAE, the teen-led education and advocacy organization Daisy founded, confirmed the news in an Instagram post on Sunday evening.
"Melinda was a gifted veterinarian, devoted mother and wife, and a talented body builder," reads one slide. "More than anything, she loved and believed in her children. It is no accident that she created some of the most gifted, passionate, and resilient children."
"There are no words for our sadness," the post continued, explaining: "The bottomless grief of losing her husband, [her son] Tristan, and Daisy was more than she could face most days."
Daisy Coleman died by suicide in early August, at age 23. In January 2012, when she was 14 years old and living in Maryville, Missouri, Daisy blacked out at a party where, she said, then-17-year-old Matthew Barnett raped her while one of his friends, Jordan Zech, filmed. Afterward, Barnett allegedly dumped Daisy — bruised and vomiting — outside her family's house, leaving her to freeze in 30-degree weather, wearing only a T-shirt and sweatpants. Melinda found her daughter about three hours later. A subsequent hospital exam confirmed the rape.
Barnett and Zech initially faced charges, but ultimately prosecutor Robert Rice dropped the case, citing "insufficient evidence." Barnett was the grandson of a former state representative, Republican Rex Barnett. He enrolled at the University of Central Missouri, "his grandfather's alma mater," in 2013. Meanwhile, Maryville turned on the Colemans, bullying Daisy relentlessly. She attempted suicide on multiple occasions. Ultimately the family moved, and Daisy's case eventually featured in Netflix's Audrie & Daisy. (Audrie Pott, the film's other subject, killed herself days after being sexually assaulted.) According to Melinda, though, Daisy "never recovered from what those boys did to her."
"She was my best friend and amazing daughter … I wish I could have taken the pain from her!" Melinda wrote on Facebook after Daisy died. "It's just not fair. My baby girl is gone."
In 2009, Melinda's husband, Michael, died in a car crash, as did her son, Tristan, in 2018. She is survived by her two sons, Charlie and Logan.
In the U.S., the National Suicide Prevention Lifeline is 1-800-273-8255.