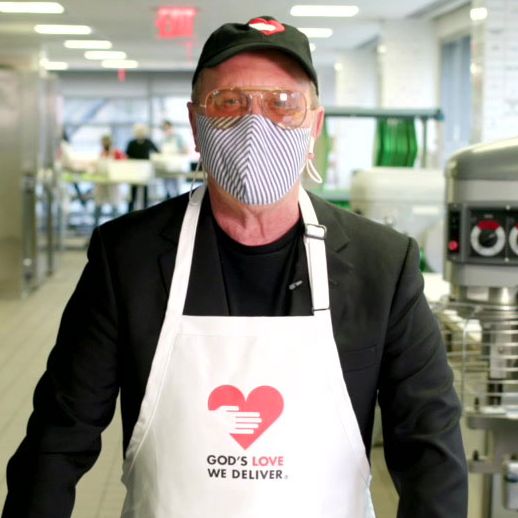 Photo: Courtesy of Michael Kors
Every year, Michael Kors hosts a star-studded fundraising dinner called the Golden Heart Awards, raising millions for the New York–based nonprofit God's Love We Deliver. Last year, Mayor Pete Buttigieg was an honoree, and the world was a very different place. The election was still far off, and eating and drinking in the same room as a group of people felt festive, not dangerous. Of course, the pandemic changed everything, but it didn't stop Kors from hosting his event virtually this year, nor did it stop God's Love We Deliver from getting nutritious meals to New Yorkers who are too sick to cook for themselves. In fact, the whole project has only taken on more urgency.
"The work that God's Love We Deliver is doing is more crucial for those with critical illnesses than ever before," said Kors in a video broadcast. The organization saw a 30 percent increase in demand this year, so instead of giving out awards to individuals, Kors decided to honor its devoted frontline workers instead. "To know that there is someone out there who cares about you, who is looking out for you, can make a huge difference," he added.
The event had just as many celebrity appearances as as years past — if not more, owing to the fact that everyone could tune in from the comfort of home. Vogue editor-in-chief Anna Wintour was co-chair again, while comedian Amber Ruffin hosted. Broadway and Hollywood stars provided a handful of skits and performances, including a rendition of "Seasons of Love" by the original cast of RENT. And, for some more entertainment, Michael Kors held "auditions" for the Golden Heart Awards, with Iman, Sarah Paulson, Seth Meyers, Kate Hudson, Beanie Feldstein, Naomi Watts, Gabrielle Union, Ashley Graham, Kaia Gerber, Bella Hadid, and more all "trying out" for leading roles.
It was a real treat for anyone tuning in from home. Attendees also received a box of gourmet snacks from Gramercy Tavern to enjoy during the broadcast — an incentive to give back, and a reminder of how much of a difference a good meal can make.