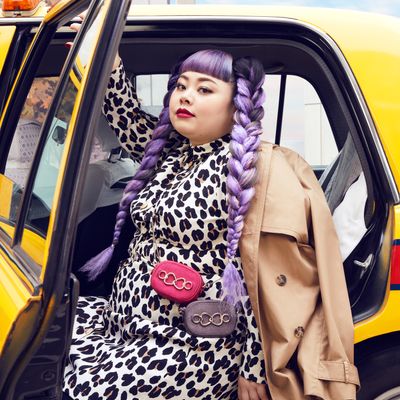 Photo: Courtesy of Kate Spade
With the holidays right around the corner, Kate Spade is ready to spread some joy. Creative director Nicola Glass collaborated with the brand's 2020 global ambassador, Japanese comedian Naomi Watanabe, to design three new colorful handbags.
The collection includes a large, fuzzy purple tote and vibrant metallic camera bags available in small and micro sizes. The three variations include the brand's signature gold spade hardware, as well as a special edition hand tag featuring Watanabe's signature. The handbags and campaign imagery are incredibly playful, a reflection of the Kate Spade brand and Watanabe's personality.
"I was excited to expand our partnership with Naomi, and truly bring this collection to life," said Glass in a statement. "The first time I met Naomi, I was immediately drawn to her playful attitude, bold femininity and quick wit — she truly embodies our brand values."
The brand announced Watanabe as their global ambassador back in January 2020. Watanbe rose to fame for her celebrity impressions, most notably Beyoncé performing "Crazy in Love." While she has been featured in the brand's advertising, including the spring campaign, this marks the first time she has collaborated with Glass on designs.
"Right after we shot our first campaign together, I knew I wanted to continue my partnership with Kate Spade further, and the handbag collaboration came together naturally," said Watanabe in a statement. "When I started working with Nicola Glass on this collection, we were immediately on the same page. The brand and I both believe in incorporating color, humor and optimism into all aspects of life, and the collection formed from there."
To celebrate this launch, the brand is also developing an exclusive pop-up experience at Umeda Hankyu Osaka. The collection is available online and in select stores now.