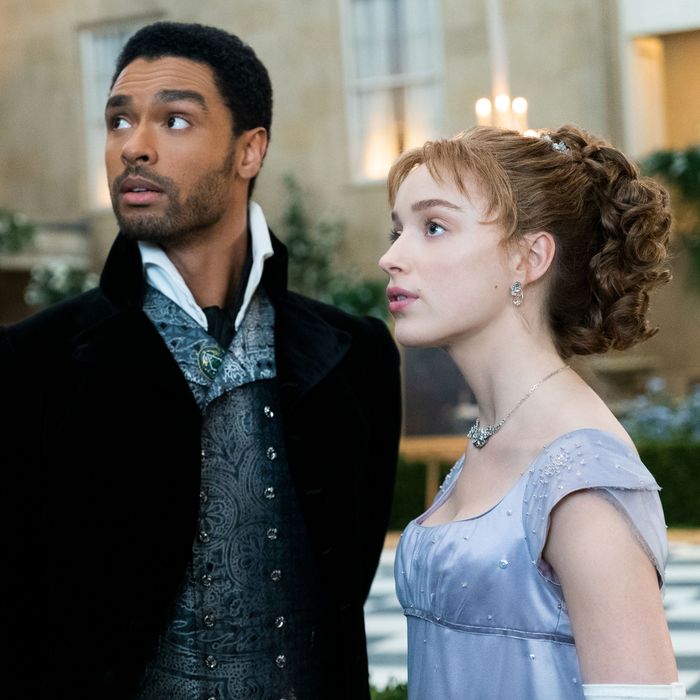 Photo: Liam Daniel/Netflix
Funny that in a year the casual hookup died, television seems to have become more sex-obsessed than ever: From the gloomy edging of Normal People, to orgastic bacchanals of We Are Who We Are, our screens seem to have been humming with carnal energy. And this week, Netflix and Shonda Rhimes have been gracious enough to serve us an 18th-century bodice-ripper. Bridgerton is based on Julia Quinn's best-selling romance novels, and it follows the powerful Bridgerton family as they navigate 1700s London high society.
You can't make a direct comparison between this and our other big horny show of the year, Normal People. While they're both technically about romance, the latter is of the devastating, heart-rending variety, whereas Bridgerton is true to its lowbrow literary genre: It's sentimental, and terribly optimistic. That said, if you're just here for the sex, Bridgerton puts its companions to shame. Not only is there more sex in Bridgerton than most shows in 2020, it's more glamorous, impulsive, and less, well, emotional. Given it takes place in the 18th century, these people did not have the time nor energy to engage in long, dreary conversations before hooking up. They just did the thing and left before getting caught.
And the thing, in Bridgerton, is a delight: The sex is playful, heady, and a little bit ridiculous: A corset, torn off in a fit of passion. A long silk glove, tugged off slowly, using teeth. A covert hookup in the shadows of a winding garden. Butts! Butts! Butts! And, much like the best sex scene of all time — Kiera Knightley in a green silk dress getting banged against a book case in Atonement — it's aesthetically stunning. The women of Bridgerton are often awash in frothy white lace or silk, while the men rarely deign to remove their leather riding boots.
This season follows Daphne Bridgerton (Phoebe Dynevor) who is declared by the imperious Queen Charlotte (Golda Rosheuvel) as the season's "incomparable" — a.k.a. its Homecoming Queen. We follow her to several extravagant parties, and just when you think she might bore us to death with her blushing restraint, she meets the dashing — and disreputable — Duke of Hastings, Simon Basset, played by an anatomically perfect Regé-Jean Page:
Their courtship begins tamely enough, but after some shameless flirting (lightly brushing their fingers together), they fall for each other. Unfortunately, Simon is a well-known rake — Jane Austen for "fuckboy" — which is where things get messy, and hot. Several episodes are dedicated to Daphne's introduction into carnal delights, all while the rest of London carries on with their illicit affairs and seductions.
Bridgerton doesn't have the desperate soul-stirring undertone of something like Normal People, but it also doesn't need it: You're able to simply lavish in the beauty and excitement of it all rather than dwelling on any horny-sad feelings that might emerge. In all its fizziness and silliness, it's a superficial sort of pleasure, but in a year where we've all had more than enough reality, Bridgerton is the perfect escape.
Bridgerton is on Netflix on 12/25.