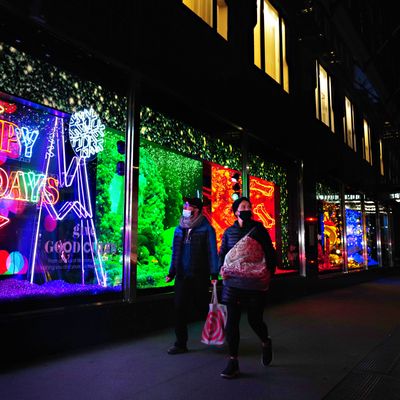 Bloomingdale's
Photo: Getty Images
When the Rockefeller Center Christmas tree arrived in Manhattan in November looking droopy and bald, it seemed like an omen of a cursed holiday season in New York. Given what the New York Times has called a "free-fall in tourism" caused by the pandemic, it felt safe to assume the city wouldn't be bustling. Collectively, New Yorkers accepted that Manhattan wouldn't be turning into the romanticized winter wonderland of movies like Miracle on 34th Street or, you know, Home Alone 2. The streets would not be glittering and gay.
But then the tree went through a stunning glow-up, and it made me wonder, Was it possible that the city's department stores were keeping the holiday spirit alive? What I found after a few days of wandering around midtown is that, okay, yes, it's not crowded, but it's not dystopian. The windows are decorated, the merchandise is moving, and socially distant Santa is waving at the children from afar.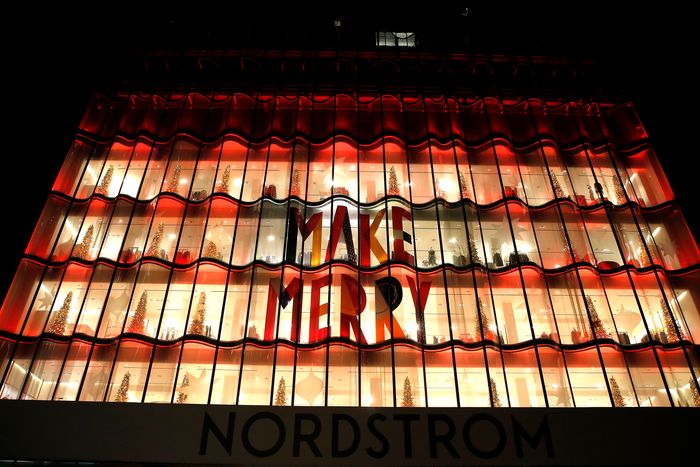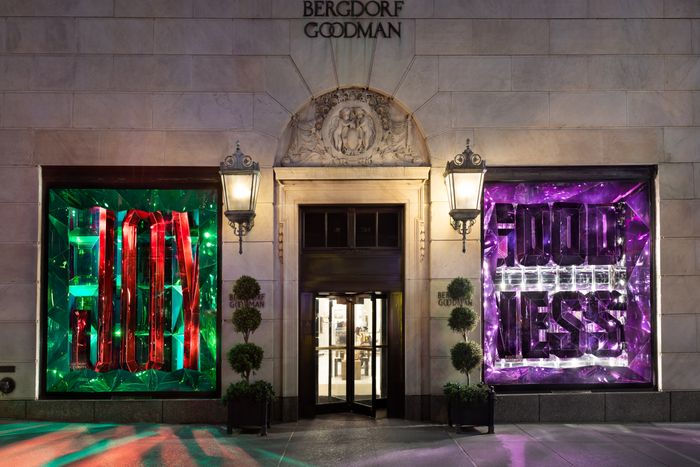 Department-store windows have always been a destination for tourists. Despite the sharp decline in foot traffic, stores aren't neglecting them. The big theme this year, maybe not surprisingly, is positivity. Bergdorf Goodman is running a donation-based campaign and taking "good" literally: Each window literally spells out, in mirrored 3-D letters, a different value emblematic of goodness: love, hope, harmony, joy, peace, equality, kindness, and unity.
Similarly, Bloomingdale's is spreading good vibes with decorated windows that say "Give Good Cheer," "Give Happy," "Give Love," "Give a Smile," "Give Light," and "Give Snuggles" — the last of which was stuffed with teddy bears. John Klimkowski, VP of visual merchandising and windows, says the store started planning the windows in March, the month when the city went into lockdown. "This year, more than ever, we wanted to make people smile by incorporating cheerful colors, festive displays, and holiday scents to create an uplifting experience at the close of a challenging year," he told the Cut. Standing in front of the windows, I did catch a whiff of peppermint from behind my mask. Maybe I was desperately trying to feel a bit more holly jolly, but it worked.
Reps from Bloomingdale's and Nordstrom say they're not explicitly encouraging people to come into the store, pointing to safer alternatives like online shopping and curbside pickup. But even with COVID cases climbing, some New Yorkers are still coming out. "There's a lot of space and not a lot of crowding, so I do feel safer in a place like Nordstrom," said Kate, a 36-year-old strategist at an architecture firm whom I met doing in-store browsing after seeing things online. "I'm trying to support local businesses as well as physical retail stores. I don't want any of these places to go away, and I don't want to live in the land of Amazon. It feels a little out of sorts this year, but I'm trying to be in the holiday spirit."
One thing Amazon can't offer is the kind of fun — and sometimes gloriously ridiculous — activations that department stores traditionally do around the holidays. Nordstrom hired a socially distant Santa Claus who throws a "Snow Show" with an elf helper twice a day, during which "snow" falls along the store's escalators. Afterward, kids can pose with the cast for socially distant "elfies." On the days I visited, I didn't see many kids, but a Nordstrom representative assured me that Santa was indeed getting lots of distanced time with children. He also noted that they hired a racially diverse cast of Santas this year, and even included ones who can communicate in American Sign Language.
Several avenue blocks over, Bloomingdale's was appealing to New Yorkers who'd otherwise be on tropical vacations by giving out a mini–palm tree to anyone who spent more than $100. Sadly, this warm-weather fantasy ended on December 5, but the store still has a to-go-cocktail window, Ralph Lauren hot chocolate, and make-your-own wrapping paper. (I'll admit, I was tempted to get my mom gift wrap that had a smattering of the grumpy face of her cat.) I found plenty of shoppers there to justify it all. It didn't feel overly crowded, but it wasn't deserted. The checkout areas had a noticeably denser concentration of bodies, but New Yorkers were also respectful of each other's space — and everyone was wearing masks.
At every store I visited, I came across dedicated gift shops emphasizing cozy stay-at-home items. With travel put on hold, Bloomingdale's offered items from around the world curated by Condé Nast Traveler alums Matt Hranek and Yolanda Edwards — think cozy wool blankets from Scotland, chic scarves from Paris, and quirky candles from the Netherlands. Having barely left Brooklyn for months, I was surprised by some of the prices (it's hard to imagine my friends, especially ones out of work in the service or entertainment industries, spending hundreds of dollars on a Champagne cooler), but Manhattan will always have people who are willing to buy luxuries.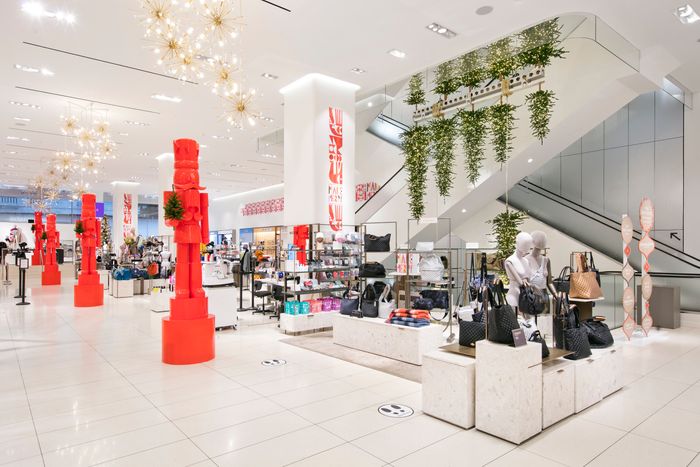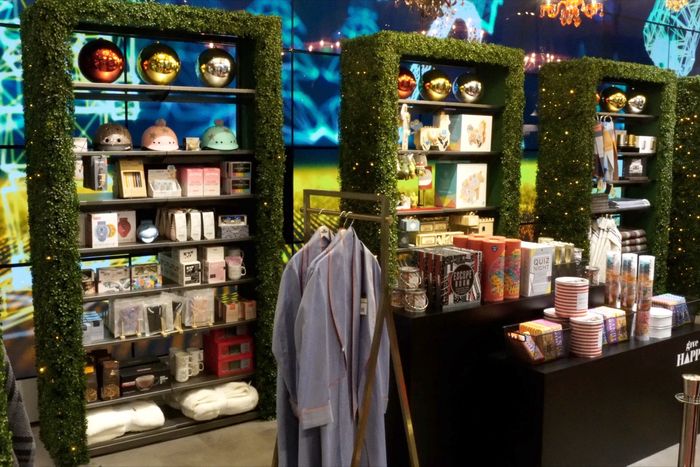 Nordstrom's "Make Merry Gift Shop," though, fully acknowledges the current moment. Everything is under $100 and includes home, tech, beauty, and toys — all with an emphasis on DIY activities, given the latest stay-at-home recommendations. Olivia Kim, VP of creative projects and home, also curated a pop-up, featuring indie brands like Piecework Puzzles, Ritual vitamins, Pop Up Grocer, and Susan Alexandra. I even recognized a drinking vinegar that Leandra Medine said was good with tequila on her Instagram Stories. For a moment, it felt like old times. But the difference this year is that it's really only New Yorkers who are shopping. "I live down the street, so I come here almost every day," one retired 53-year-old woman told me. "I've been buying a lot."
Just as I was leaving Nordstrom, I ran into Haley Swindal, who played Mama Morton in Chicago on Broadway before it went dark. I asked her what she was shopping for, but, like the Ghost of Christmas Present, she had bigger things on her mind: "I've learned to value and appreciate what we have now — time with family and the time that we do have on this earth — that I didn't really appreciate before. I keep going back to the lyrics of 'Have Yourself a Merry Little Christmas.' Next year, all of 'our troubles will be out of sight.'"