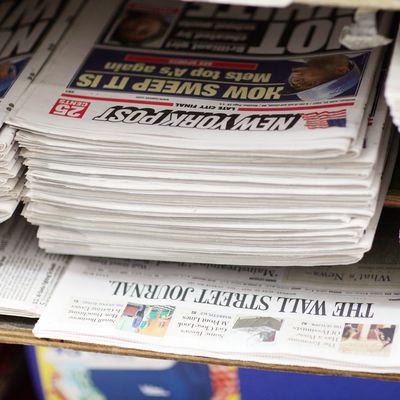 Photo: Michael Nagle/Getty Images
As New York City's medical community scrambles to respond to the latest spike in COVID-19 cases, the New York Post on Friday made the baffling decision to out a first responder as a part-time sex worker, even after she apparently begged the paper to remain anonymous.
The article itself is a confounding, unsavory read. It details the paramedic's height, weight, and some of the pictures on her OnlyFans page. It quotes a veteran FDNY paramedic who both acknowledges that many paramedics need to work multiple jobs to survive and shames the subject of the article for her choice of side gig. The article ends by noting that the paramedic's employer forbids "inappropriate conduct, on and off duty" and that the Post had reached out to her employer multiple times for comment. The implication seems clear — that the woman's choice to engage in a second job in the sex industry should somehow imperil her first job — but it is not made clear, at any point, why the Post felt this story was worth reporting. (The Cut has reached out to a representative for the Post for comment and will update if we hear back.)
On Twitter, the story was the subject of widespread criticism from journalists, sex workers, and politicians alike. They expressed anger and disbelief not only over the paper's choice to publish the story in the first place but over the fact that the article framed this woman's experience as some sort of a sordid personal choice instead of a damning indictment of the fact that some first responders have to take multiple jobs to make ends meet.
"Leave her alone," tweeted Representative Alexandria Ocasio-Cortez. "The actual scandalous headline here is 'Medics in the United States need two jobs to survive.'"
"So this is the New York post outing a woman who can't make enough money saving people's LIVES to exist," wrote Mistress Matisse, a writer and sex worker. "So she has a second job – and now they're trying to get her fired from her first one."
As the story went viral, a friend of the paramedic put together a GoFundMe page to help support her should she lose her job as a result of the Post's article. The paramedic is not only working to support herself, the page description explained, but also her family and her father, who is currently ill. In a message on the page, someone identifying herself as the paramedic shared even more troubling details about the Post's reporting, including how she "begged him to remain anonymous" because her safety and job would be at risk if he posted the story. "He truly did not care," she wrote, adding that reporter Dean Balsamini went on to call her employer and her mother for comment. "As of right now, I do still have a job," she said. "But I will probably find out tomorrow if I don't."
The poster also noted that while she knew she did not need to explain herself, she wanted to, because "it really helps to be reminded that I do not deserve to be treated like this or spoken about this way."
"I didn't pick up extra shifts because I cannot work 40+ hour weeks and maintain my mental health," she wrote. "I never once spoke of my pictures at work or used my job as a paramedic to solicit subscribers. I know I did nothing wrong and I have nothing to be ashamed of."