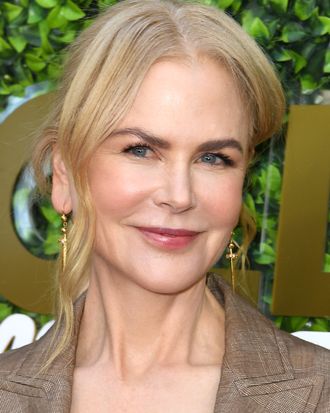 Nicole Kidman.
Photo: WireImage
Congratulations to those who had "Nicole Kidman CBD" on their Celebrity Beauty Brand Bingo cards!
Earlier this week, CBD beauty and wellness brand SeraLabs announced its new partnership with the Oscar-winning actress. Kidman will be both the global brand ambassador and strategic business partner for Seratopical, the company's topical line, which includes everything from CBD facial oil to CBD foot spray.
There are many ways to be indoctrinated in CBD's magical ways these days, be it via the Kardashians, Pitbull and Tony Robbins's gym, or a pair of leggings, but Kidman became a believer by way of a pothole-induced exercising mishap. "Last year I had an ankle injury and a friend introduced me to topical CBD. I tried it out and felt the benefits immediately. Now it is something I can't leave the house without," she said in an interview with Forbes.
Kidman is no stranger to being the face of a beauty brand, but she was drawn to SeraLabs' "emphasis on fostering women leaders within the company," she said in a statement. "I've been really proud in the last several years to make career and business choices that my girls would look at in the future and be proud of and say, "Yep, that's my mama!" As a business partner, Kidman will be helping with strategic direction, product development, and product messaging; as a brand ambassador, she already recommends Seratopical's pain-relieving roll-on, which hasn't left her purse since the ankle incident, and the Cracked Heel Souffle, if you walk around barefoot as much as she does.
Oh, and if you're still playing Celebrity Beauty Brand Bingo, a reminder that "Anthony Hopkins Candles," "Drake Candles," "Kristen Bell CBD," and "Jennifer Aniston Ingestible Collagen" have all been called out this year. Please review your cards thoroughly.