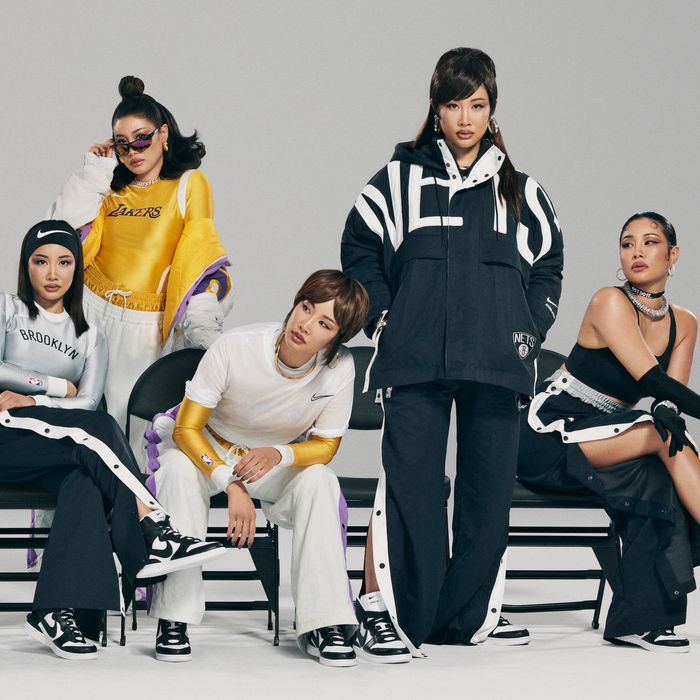 Whether you're a sports fan or you're obsessed with streetwear, the Nike x AMBUSH NBA Collection is sure to please. The sports apparel company has teamed up with AMBUSH creative director and Dior Men's director of jewelry Yoon Ahn to create a '90s-inspired sportswear collection, celebrating the Brooklyn Nets and L.A. Lakers. Ahn, the first female designer to partner with Nike and the NBA, approached the project wanting to put a feminine spin on classic sports apparel that fans can wear to represent their teams while also looking stylish.
"Instantly I just thought of all the amazing female artists from the '90s who used to take guys' pieces. They used to wear baggy stuff, but they would actually own it and make it very feminine," said Ahn. "It's more from a fashion perspective, but I wanted to combine that masculine energy as well, but reintroduce it in a very feminine and fun kind of way."
The collection includes insulated tearaway track pants, jersey-esque long-sleeve tees, a classic '90s sports jacket, and a special edition basketball. Each look is paired with the Nike x AMBUSH High Dunks, Ahn's take on the classic swoosh sneaker. The shoes released on December 11 and have already sold out.
The Nike x AMBUSH NBA apparel will be available online December 22.