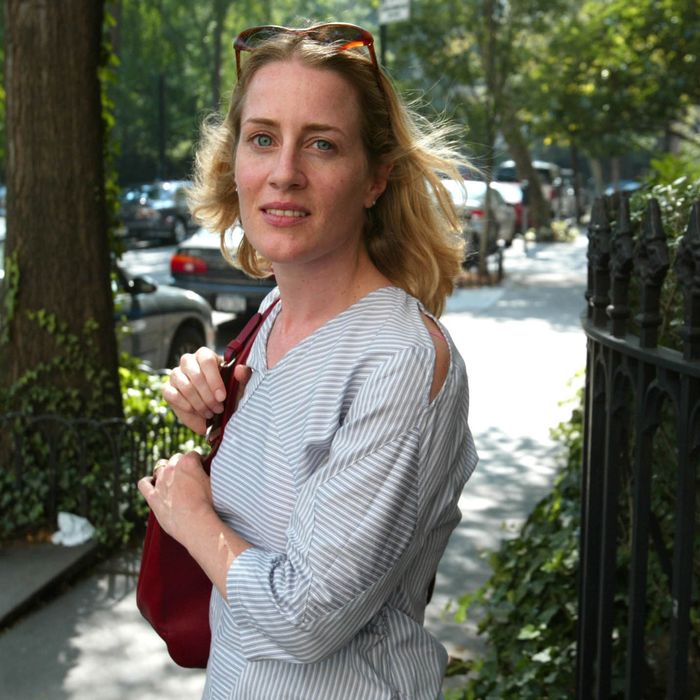 Photo: Stuart Conway/Camera Press/Redux
When I was probably a little too old for them, I started reading the Gossip Girl series. These books weren't like the YA I was accustomed to — they were sharp, biting, darkly funny, and explored a New York existence I couldn't fathom as a teenager, let alone as an adult. I was hooked: I read every book in the series and many of the spinoffs, and became devoted to the CW television series (including reading New York Magazine's recaps).
I'm not sure I realized how influential this series was on my life until my Zoom with Cecily von Ziegesar, the author of the Gossip Girl series, whose new novel, Cobble Hill, is about hip Brooklyn parents. When I look back at my own 20-something obsession with the teenagers of Gossip Girl, it feels revealing: I'm a late bloomer and have no idea what being an adult should look like. Von Ziegesar says she doesn't either (does anyone?) — in a way, that's the theme of her new book. After becoming famous for writing about teenagers who act like adults, she's written a novel about adults who act like teens. Her characters develop crushes on all the wrong people, smoke superstrong pot, drown in their own angst, and even engage in some light larceny, all while their own teenage kids roll their eyes.
When von Ziegesar was only 22, she assumed she should be writing about fully grown adults. But in a visiting writer's workshop with Grace Paley, the renowned author read one of von Ziegesar's short stories, about an Upper East Side mom, and told her she was too young to be writing about parents — she should focus on teenagers instead. Ultimately, von Ziegesar ended up dropping out of the creative writing graduate program she was in at the University of Arizona. She met her husband, moved to England with him, and worked as an assistant editor for children's books. But just before turning 30, she remembered Paley's advice, and while working at Alloy Entertainment (a book-packaging firm), she began writing what would become Gossip Girl. "I don't know if I'm a late bloomer or what," she told me, "but I feel like I was still a teenager almost as a writer then."
The first Gossip Girl book was released in 2002, eventually spawning ten sequels, a prequel, and two spinoff series. Around the time the book series ended, in the fall of 2007, the television series took off. (You already know that part, especially if you purchased a headband between the years of 2007 and 2012.) Von Ziegsar felt excited and grateful for the success, but was also afraid she'd be a one-hit wonder. If you find success but secretly still feel like a kid, you assume your big achievement was just a lucky break. So what comes next?
She wanted to write something new, something different. But for a while, she mostly just procrastinated. She hung out with her family and dog. She raised her children, in Brooklyn, who are now Gossip Girl aged — a son who is 16 and a daughter who is 18. She wrote a few one-off books: Cum Laude in 2010 and Dark Horses in 2016 — about college students and high-school students, respectively. She enjoyed her life. She grew up, as a person and a writer. Now, at 50, she finally wrote something from the adults' point of view instead of the teens'.
Cobble Hill looks at one year in the lives of four families in a wealthy Brooklyn enclave filled with minor celebrities and expensive clogs. It draws inspiration from certain local news items: the celebrated British author who's shocked to discover the neighborhood feels like a small town; the playground fire started by local private school kids. In its own way, Cobble Hill is as dramatic as Gossip Girl once was: Peaches, the school nurse, has an unrequited crush on her favorite ex-indie rocker turned Brooklyn Cool Dad; Tupper, an awkward industrial designer, has an absent artist wife whose bizarre work includes faking her own death and birthing herself, smegma included. The messy aspects of life don't stop once you become an adult. "When people talk about adulthood, I'm still not exactly sure what that means, or where that point is when we cross over into adulthood," she said. "There's a lot of that in Cobble Hill — they are still trying to figure it out and where they belong. That's something that I'm constantly interested in figuring out in my writing."
At the end of our conversation, I mention the impact the series had on me and all the silly stuff I did centered around it. For instance, getting totally drunk (fairly recently) at the Empire Hotel, drinking whatever the signature "Gossip Girl" cocktail was, and trying the truffle grilled cheese, inspired by early episodes of the television series. I was a little embarrassed by my fandom as an adult, but von Ziegesar had her own Empire Hotel story. "I went there with my editor when the show was on and they had the 'Gossip Girl' sandwich. My editor told the waiter that I wrote the books and then we started getting free Champagne, " she laughs. "It was fun."