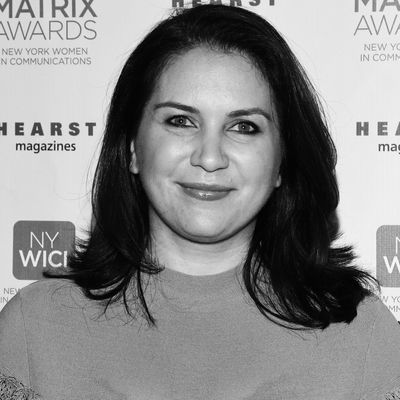 Caliphate
's host, Rukmini Callimachi.
Photo: Invision/AP/Shutterstock
When the New York Times launched Caliphate in 2018, the podcast made quite the splash. In the 12-part series, Rukmini Callimachi, a Times foreign correspondent and the podcast's host, allowed listeners to follow her along as she reported on the Islamic State. It was simultaneously riveting and terrifying, and the series would go on to win a Peabody and make Callimachi a Pulitzer Prize finalist. For the past few months, though, Caliphate has been mired in controversy. In September, the primary subject of the podcast — a Canadian who goes by "Abu Huzayfah," who portrays himself as a former ISIS member who conducted executions — was arrested in Canada under terrorism-hoax laws and accused of fabricating the story he told Callimachi. His real name is Shehroze Chaudhry.
While the Times and Callimachi swiftly defended the audio documentary's reporting in the wake of Chaudhry's arrest, just one week later, the paper announced it was opening a "fresh examination" into the podcast. (Meanwhile, some media critics looked back on Callimachi's body of work and remarked on what they saw as a pattern of sensationalism.) On December 18, upon the conclusion of an internal review, the Times announced that the podcast "did not meet our standards for accuracy." As a result, the Times has retracted Chaudhry's version of events in the audio series, and Callimachi has been reassigned.
Let's unpack what happened.
What did the review find?
On December 18, the Times reported that it had given "too much credence" to Chaudhry's accounts in the series, in which he described in gruesome detail how he brutalized hostages and executed two people. After Chaudhry was charged with perpetrating a terrorist hoax, the Times looked into the evidence that Canadian officials has compiled against him, and according to an editors' note, "This new examination found a history of misrepresentations by Mr. Chaudhry and no corroboration that he committed the atrocities he described in the 'Caliphate' podcast." A group of reporters at the Times also investigated Chaudhry following his arrest, and in their report, also published on December 18, they characterized him as "a fabulist who spun jihadist tales about killing."
How did this happen?
To quote Times executive editor Dean Baquet, who discussed the debacle with The Daily host Michael Barbaro in a podcast released today, "This was an institutional failing."
"When the New York Times does deep, big, ambitious journalism in any format, we put it to a tremendous amount of scrutiny at the upper levels of the newsroom," Baquet said. "We did not do that in this case. And I think that I or somebody else should have provided that same kind of scrutiny, because it was a big, ambitious piece of journalism. And I did not provide that kind of scrutiny, nor did my top deputies with deep experience in examining investigative reporting."
The editors' note outlines some of the Time's missteps: First and foremost, the podcast "should have had the regular participation of an editor experienced in the subject matter. But in addition, the Times should have "pressed harder to verify Mr. Chaudhry's claims before deciding to place so much emphasis on one individual's account," especially since they "discovered significant falsehoods and other discrepancies in Huzayfah's story" during reporting. While they "took a number of steps, including seeking confirmation of details from intelligence officials in the United States, to find independent evidence of Huzayfah's story," and they addressed some of these discrepancies in one episode, they ultimately decided to continue producing the podcast. Later, the note calls out Times journalists, who "were too credulous about the verification steps that were undertaken and dismissive of the lack of corroboration of essential aspects of Mr. Chaudhry's account."
Anyway, here we are.
Wait, so is the podcast still up?
Yes, but now, every episode will begin with an audio correction read by The Daily host Michael Barbaro, who informs future listeners that chapters involving Chaudhry "did not meet our standards for accuracy." Baquet's aforementioned interview with Barbaro, entitled "An Examination of 'Caliphate,'" has also been formally added to the series as its own episode.
What's happening to Callimachi?
While Callimachi's byline has not appeared in the Times since it launched the review, Baquet confirmed that she is, indeed, still employed. However, "she's going to take on a new beat, and she and I are discussing possibilities," he continued. "I think it's hard to continue covering terrorism after what happened with this story. But I think she's a fine reporter."
While Callimachi declined to comment on the Times' report of the internal review's finding, she released a statement on Twitter on Friday morning. While she says she remains "fiercely proud" of the stories she's reported about ISIS, she's gutted that she let down her colleagues and the newsroom.
"I caught the subject of our podcast lying about key aspects of his account and reported that," the statement reads. "I also didn't catch other lies he told us, and I should have. I added caveats to try to make clear what we knew and what we didn't. It wasn't enough. To our listeners, I apologize for what we missed and what we got wrong. We are correcting the record and I commit to doing better in the future."