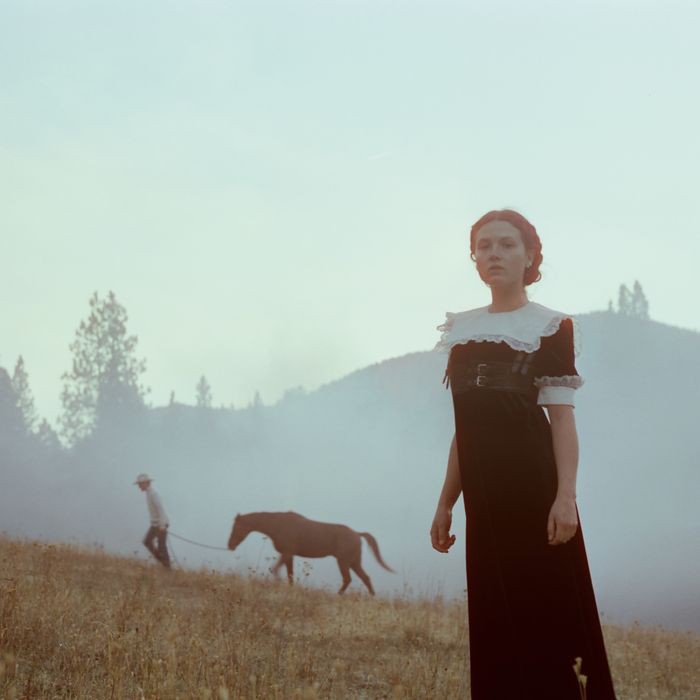 Schiaparelli
dress with bijoux buttons.
Photo: Olivia Bee
When photographer Olivia Bee moved to eastern Oregon last fall, she didn't know it was going to be her full-time residence for all of 2020. "But once COVID hit, it was definitely where I wanted to be," she said. "I just knew that a lifestyle with animals — living and taking care of land, working with my hands, growing and harvesting my own food — and then putting that energy back into my art and my photos, that's what I wanted."
Shortly after moving to the area, Bee met her boyfriend, Joe. They currently live together, along with two horses, Bella and Scooter, plus some chickens and a rooster named Mr. Cock. The landscape is also a character in their lives as well: Big Ponderosa pines mark the passing of time, and a creek supplies them with drinking, cooking, and bathing water.
"I love this place because it is not always easy to live here," says Bee. There's only one grocery store in the area, and their road is treacherous in the winter. Amazon Prime definitely doesn't deliver to their doorstep. "But really, it is soul-filling," she explained. "You have to be resourceful. You have to know your neighbors … We are building our own magical place here."
In October, the Cut sent Bee some designer clothes to play with and photograph, including a Gucci dress with an appropriately "cottage-core" collar and an all-American Ralph Lauren leather suit. She modeled them around the property, wearing Schiaparelli, for example, while feeding the chickens.
Bee says her favorite looks were the ones that allowed her to play with gender roles — something she does on a daily basis. "I feel my masculinity and femininity a lot out here," she said. "I do a lot of 'masculine' tasks — helping cut fire wood, working with soil, fixing fence, stacking hay, etc. My hands have already changed just from living here a year, it's remarkable. So it was fun to work with those shapes but still have a clean face and be my feminine side, too. I'm also taking care of so many things — our animals but also our garden and our landscape — so I feel very maternal at the same time. It was really fun to integrate both those sides of me and my life here and make that into photos."
It was also a blast to dress up her boyfriend in Celine, she added. "He is very much a jeans and T-shirt kind of guy, and maybe Carhartt," she said. "So seeing him all dolled up was super fun."