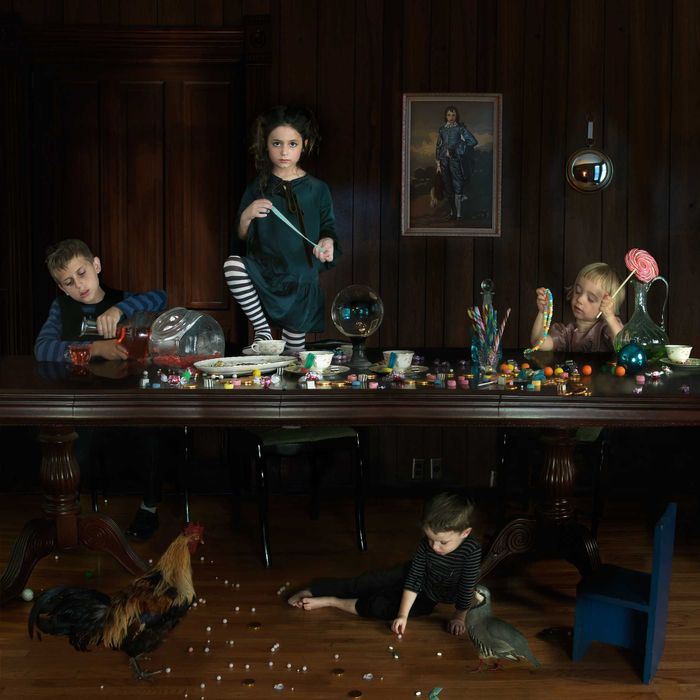 Photo: Julie Blackmon/Robert Mann Gallery
Amy* is the Regina George of the neighborhood moms in Kelly's* upper-middle-class Pittsburgh neighborhood. She's the one with the pool and the biggest house who throws the most over-the-top Christmas party every year, and she wields more power than God or Tony Fauci when it comes to determining the group's social calendar. So when Amy started acting like COVID was over this summer, it was a green light for all the other moms in the neighborhood to start socializing again. "It's like the allure of Amy was greater than the allure of following the rules," says Kelly, who works as a researcher at a nearby hospital.
Back in the spring, Kelly formed a remote-learning pod for her first-grade son with two other neighborhood families (not Amy's), and they had strict rules about socializing to make sure they didn't risk exposing anyone else in the pod — or so she thought. Then one day she logged on to Facebook and saw another neighbor had posted a photo of all the kids in the neighborhood piled maskless on top of each other for movie night at Amy's house. And this kept happening. "It got to a point where it was starting to be very hurtful, like, You're putting my family at risk because you couldn't possibly not go watch the college football game at Amy's," she recalls. After she realized the more "chill" moms had created a separate group chat to make plans without her, she found herself crying alone over a bottle of white wine in her backyard. "I feel like I'm losing a popularity contest to Typhoid Mary," says Kelly. "I don't feel like a grown woman with a doctorate when I'm talking about this. I feel like I'm in middle school."
Over the past nine months, "learning pods" have become a much-discussed educational alternative for desperate parents seeking to provide some semblance of normalcy for their cooped-up offspring, often with one particularly punctilious mother at the helm (unsurprisingly, it's mostly mothers, not fathers, pulling the pods together). There are now more than 40,000 members in the main Pandemic Pods Facebook group, as well as bustling local groups in places like Portland, Seattle, and the Bay Area. Some of these pods are more informal — a couple of kids logging in to their Zoom classes together in someone's home with parents alternating chaperone duties. Others are more formalized, with rented space and hired tutors, supported by the vast network of educational consultants and microschooling resources that have sprung up. In the fancier pods facilitated by accredited microschools like New York's Portfolio School and Hudson Lab School, fees can be up to $4,500 a month.
But learning pods aren't just a bold, often exclusionary, pedagogical experiment; they are also a collision of lives. They take the personality clashes and ideological differences and scheduling drama endemic to any group of parents and turn the temperature way up. Overnight, casual playdate-pickup acquaintances and carpool collaborators have become co-parents and co-teachers, administrators, and curriculum advisers — not to mention de facto friend groups. As a result, parents have been forced to place their kids' safety, as well as a pivotal year of social, emotional, and educational growth, in the hands of a bunch of amateurs they wouldn't have previously shared a meal with, much less a viral load. In turn, what was once idle school-drop-off-line gossip has very serious consequences, and petty social dramas can sometimes have life-or-death stakes.
"I'm seeing how communes fall apart and I'm ready to move to the woods," says Kelly. "Alone."
Stephanie* had high hopes for her pod. In August, she and her husband teamed up with another Colorado family whose son was the same age as their daughter. The kids had been close at school, and they had always liked the other parents, though they didn't know them too well. But soon after they started the pod, Stephanie's feelings about it started to change.
The other kid turned out to have a tendency toward tantrums and outbursts, which made it difficult for her daughter to learn alongside him. When Stephanie brought it up to the other mom, she basically shrugged it off. "I think her method of handling his behavior in general is kind of to let him work through it, which I'm not discounting," she says,  "but it doesn't work great when your kids are in somebody else's house." Her daughter quickly became miserable about the prospect of attending the pod each morning.
Then, one day late in October, the other mom came to pick up her son and told Stephanie a story about how her son had decided he couldn't be friends with another kid in his class because his parents had a Biden-Harris lawn sign. The other mom was laughing, but Stephanie was caught off guard — she is a staunch Biden supporter, and while she knew there were Trump supporters in her area, she had no idea her pod co-parents were voting for Trump or that their views had trickled down to the little boy her daughter was spending her days with. When her husband heard the story later, he declared that if the other kid ever expressed these views within earshot of him, he was going to confront the boy about it. (He's 7.) After that, the writing was on the wall. "I basically told them that after Thanksgiving, we're gonna try to go on some safe local adventures and enjoy our time as a family," says Stephanie. "The days I didn't have them were nice, but it wasn't worth the two days that I did," she adds. "I learned it was easier to just take care of my own kid."
Jane* was ambivalent about joining a pod from the get-go for a lot of reasons. Her oldest daughter is an elementary student in a gifted-and-talented program at a public school in Brooklyn, and while the school is majority Black, most of the G&T students are white. In early summer, some of the other parents in the program began talking about figuring out a learning pod. One of the moms in the group, whom Jane describes as a type-A blonde "who all the moms hate but the dads don't seem to mind," was leading the charge, suggesting that they team up to pull the kids and homeschool them. According to this mom, the idea was to avoid a possibly unsafe classroom experience or lackluster Zoom/hybrid-school experience.
But to Jane, this looked a lot like creating a pod of mostly white students who were getting a better education than their peers. She also thought the other mom's safety concerns seemed hypocritical, given that she had tried to throw a kindergarten graduation party in June. In response to a group email proposing the pod, Jane tossed off what she knows, in hindsight, was a pretty rude email. "I thought it was just coming from a place of privilege and it was obnoxious. So I wrote back saying, 'Here's some articles you can read about how learning pods are really problematic, especially for underserved communities and people of color.' A little bit like, You're an idiot; here's some stuff you can read to be less of an idiot."
The other mom never brought it up with her, nor did she respond to the apology email Jane sent after that. But come September, Jane's stance had softened. By this point, her two kids were bouncing off the walls, and they were desperate for socialization. Both Jane and her husband work full time, and the idea of another term of remote learning alone at home felt impossible. Around this time, the same group of parents started to revisit the prospect of forming a pod, and Jane and her husband decided to join, with the caveat that all the kids in the program were included and that they made efforts to prioritize diversity and inclusiveness. There were discussions between the parents about how to make the group more equitable. "I was like, Okay, let's get every kid in this cohort, not just the four white parents, into the group," she recalls. But despite her initial optimism, the pod she eventually joined — which featured two days of supervised Zoom school and one day of independent study with a hired tutor — ended up being no better than the segregated groups she had objected to in the spring. "It turned out that the two Black kids in the class had single parents with multiple kids, and they couldn't work it out to get the kids to the pod, so we did end up with this group of white kids," she explains guiltily.
While Jane's visions of diversity and inclusion fell by the wayside, her frosty relationship with the type-A mom stuck. "She wasn't friendly in any way toward me whatsoever," she says, "and we'll never be friends." But Jane joined the pod to get some company for her daughter, not to supplement her own social life — which hasn't stopped the other parents from trying to make her part of their pandemic crew.
"Other parents keep saying, "It's like we're married to each other!" And it's like, "Dude, we're not a cult — our kids go to school together." They wanted us to be a real crew where we all hung out and were immediately best friends and where we only socialize with each other," she says, explaining she gets over 30 notifications a day filled with chatter from the pod parents' WhatsApp group, all of which seemed to require immediate attention: What's the link to the Google calendar? Where are the kids going to be after school? Where's pickup? Who's doing after-school today? I lost the Google calendar link, can someone resend? Should we rent a venue instead of hosting the pod at our apartments? Our little one has a sore throat and a fever — should we get her a test or just wait and see how it plays out?
For at least some parents, pods feel like the saving grace of this pandemic. Lauren, an architect in Brooklyn, was staring down months of miserable Zoom school for her 6-year-old son when a spot opened up in a pod of kids from his school. After months of struggling to get him to sit still in front of his computer, suddenly he was excited to get up every morning.
Her son's best friend was already in the group, and both the kids and parents quickly formed a close-knit unit. "We came in not really knowing anyone, and now they are some of our closest friends," she says. While she acknowledges that they "got lucky" in terms of group chemistry, she also feels an overwhelming sense of gratitude toward the other parents, who all take turns pitching in to make the pod run smoothly. While there are some minor annoyances — getting tested more often than they otherwise would, for instance — they pale in comparison to the relief the pod provides. (When I ask about diversity within the pod, Lauren says, "It's not a diverse group, but the school's general population is not diverse either.")
For families with young kids, the prevailing mood of the pandemic has often been one less of forced isolation than of forced intimacy. (Let's just say that if you don't have kids, your parent friends are probably jealous of all the time you get to spend on your own.) It's kind of like those stories you occasionally hear about survivors marooned together on an island after a plane crash, or miners trapped below ground for months after a rockslide: While some groups survive through teamwork and resilience and inspirational triumph of the human spirit, others end up eating each other alive.
And if the Lord of the Flies social stress doesn't break you, the microscopic elephant in the room might. Sickness protocols are a factor of every pod, but some test more than others. Melanie* is a former teacher in Dallas paid to run a pod for her 9-year-old daughter and six classmates when they aren't in school (their school has been doing a hybrid model with in-person attendance some mornings and afternoons). Early on, she made the parents fill out a survey appraising their risk levels to make sure everyone was limiting their exposure to the same degree. They agreed to curtail other activities outside the pod, like sports, and to notify the other parents immediately in the event of a possible exposure.
The kids and Melanie wore masks all day during class, making sure to keep windows open when they could and to spend plenty of time outside. She thought she had done everything to make her pod as safe as possible, until one day, one of the moms texted to say she and her son had tested positive after attending a social event the prior weekend. Not only that: She had known about the exposure for at least a day and still sent her son to class.
Melanie had just dropped the kids off at school for an afternoon of in-person class and she rushed frantically to call their teacher to pull them out of class. Her own daughter, who is dyslexic, had been working with the school's special-education teacher in person that morning. "What if I made the only dyslexia teacher at the school sick? It would affect 50 families," she says. "I had one of the moms who has a diabetic mother she had just gone to visit. She felt so guilty." She immediately shut the pod down, and they all went into quarantine, and thankfully nobody else was infected, but the experience left her jaded about entrusting the safety of her family to people she doesn't know so well. "I talked to them one by one, and I said, 'This cannot happen again,'" says Melanie.
When she relaunched the pod after the two-week quarantine, she let every family back in the group — even the mom who broke the pod's contract when it came to disclosing her COVID exposure. "She's a single mom," she says with a shrug. "I understand that life is very complicated for everyone these days, and I was removing several layers of complication for the parents by doing this … many parents are having a really hard time."
Melanie has decided to close the pod for good after the Christmas holidays, even though she is making $7,000 a month and enjoys working with the kids. Around the same time the mom and her kid tested positive, she'd found out that three or four of the other parents had been taking their kids to after-school music and sports classes, as well as visiting the gym and indoor restaurants, in contravention of the group's agreement. "The challenge for someone like me managing a pod is that the parents, because they're paying you, I think there's a little bit of an element of entitlement where they can continue life as if nothing is happening," she says. "That was disappointing because there was a little bit of deception that I felt on my end. Ultimately, I decided it wasn't worth this risk."
But for some parents, the value of being in a pod still outweighs the downsides. No matter how the pods contradicted their stated values, or what unique form of Room 101–style social torture they provided — interminable group chats, forced social hangouts, mean-mom bullying — they seemed better than the alternative, which was nothing at all. Everyone is struggling during this pandemic, but parents with school-age kids are in a particularly impossible spot. While you can stop going to restaurants and the gym and, yes, even school, you can't opt out of raising your kids. In turn, some parents — those privileged enough to make it work — have found themselves opting in to a situation they wouldn't have chosen for themselves in a million years.
As COVID rates spiked in Pittsburgh last month, Kelly's pod decided to split up for good. She doesn't ever see them getting back together. The hospital she works at has run out of beds. Neighborhood social-planner Amy even announced that she was canceling the event of the season, her annual Christmas party — which Kelly was horrified to learn had still been going ahead this whole time (and had apparently been a topic of discussion in the secret cool-mom group chat). Yet when the pod disbanded, the main reason the other moms cited was, well, her.
"They said in the group text, 'Hey, I think we're gonna hold off on this until after the holidays because caseload is up, and we're nervous about the fact that you go into the hospital every day,'" she says, still incredulous. "And I'm like, 'Everybody is better behaved in the hospital than anywhere else!'" Yet as much as she hated the pod's drama and bullshit, the petty group chats and surreptitious hangouts at Amy's, she also doesn't know what she'll do without it. "I have no idea what we're going to do going forward," she confesses. For the first time in our conversation, she sounds wistful. "You know, it was really nice when it worked. And it was really good for the kids. They looked forward to it every single time they went to somebody's house, and they don't understand why they don't get to have that anymore."
*A version of this article appears in the December 21, 2020, issue of New York Magazine. Subscribe Now!
*Names have been changed throughout for privacy's sake.