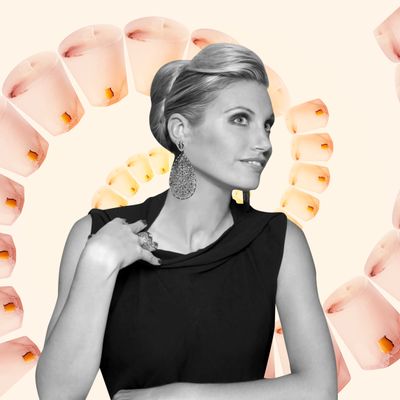 Emilie Bouge.
Photo-Illustration: by The Cut; Photos: Courtesy of Trudon
Scientific studies confirm that, of all the senses, smell offers the best recall. In "Scent Memories," the Cut asks people about the scents they associate with different times in their lives.
Next up is perfumer Emilie Bouge, the nose behind many of the prestigious French candlemaker Trudon's beloved scents, including Cyrnos, Ernesto, Gabriel, and newcomer Héméra. A member of the Alabasters collection of scented candles in luminescent white containers, Héméra is named for the ancient Greek goddess who announces the sunrise. Bouge channeled the candle's namesake through a fresh, spicy, and balmy blend of coriander, pink peppercorn, sandalwood, and cashmere. The Cut recently caught up with Bouge to talk stables, sweat, and solar cream in the south of France.
My first scent memory: It's breast milk, actually, when my mother authorized me to feed my sister when she was just a baby. I remember the scent clearly because it was a really important moment for me. I had that fragile baby in my hands, and I was surrounded by the milky smell because babies smell like milk since they only eat milk. And they can absorb all other smells really well. Have you noticed that? If you give your baby to another lady, when you take the baby back, it is perfumed with her smell. It's just like an ancestral way of extracting flowers, called enfleurage: At the beginning of the 20th century, we used to pick flowers and put them in a block of grease, and the grease would capture all the scents of the flower. Babies function in a similar way. But yes, that scent represents a really magical moment for me because it was the first time I felt so responsible and I felt so comfortable at the same time.
Happiness smells like: The beach in Juan-les-Pins on the French Riviera. I've lived in the south of France since I was young, save for when I did my studies or traveled for work, but I remember my mother used to bring me there three times a week during the summer, and there is a popular smell of sand mixed with the Mediterranean and solar cream [sunscreen], and it's so magical. I was so happy at that time, so it really represents happiness for me.
Love smells like: Orris. True love is deep and resilient, and it's very precious, like orris, the most expensive ingredient in perfumery. It's richer than gold. Orris crawls underground, and it's strong and difficult to destroy. But when you smell it, it's powdery, comfortable, beautiful, and really unique, and that's love to me.
Friendship smells like: I love Julien's answer concerning pizza, but for me, it smells like jasmine. Jasmine is a beautiful flower that climbs upward and grows really strong if you take care of it, but it's also fragile and if there's a cold snap, she dies. I think it's the same with friendship; it can really be strong, it's beautiful, and it's delicious like jasmine, but it's also fragile and rare.
Regret smells like: Something dark, something bitter, and something a bit poisoned, like Dipteryx. It's dark green, almost black, and the principle molecule of Dipteryx is coumarin, which at high levels can kill someone. You can die if you eat too much coumarin. With regret, at first you don't feel it. It's light, but after a time it grows and grows, just like when you throw a stone on the pond and there are small circles at the beginning but eventually, it ripples and takes over the entire pond. Dipteryx has this same power; it's typically in base notes and develops with time, and if you use a lot, it can take over the whole fragrance.
Success smells like: Fresh sweat. The success that really matters to you comes from things that require a lot of effort and sometimes pain. It's not only physical effort that makes you sweat but oftentimes intellectual efforts as well.
The worst smell is: Old sweat and the smell of greasy hair, especially in lockdown, you know? There's no need to makeup and perfume yourself, and it's so comfortable, but you must be careful of comfortable things and easy things because they can be insidious. It's easy, sure, but when you look at yourself in the mirror or in the window, you can start to feel down. It's important to take care of yourself, for you first and then for others. To disrespect self-care is an awful smell to me.
My ideal vacation smells like: I'm a daughter of the sun. I live in the French Riviera, so it's very important for my vacations to smell like the accents of the Mediterranean Sea. It's the opposite of an ocean, which is noisy and strong; the Mediterranean Sea is peaceful, restful, calm, romantic, beautiful, and when the sun hits it, it sparkles. My vacation must also smell like a cocktail, because it must be fun.
My home smells like: My creations. When you create perfumes, especially home fragrances, it's important to test them in-house. Every night after dinner, I switch on a candle. When Julien and I create beautiful perfumes for Cire Trudon, we explore different universes, and it's really important to compare each scent one by one and then all together, to see which one is outstanding. After I work on fragrances, I also love cooking and eating lots of cakes, cookies, and pancakes … so my home smells sweet. It's literally home sweet home.
The first thing I smell in the morning: The smell of my two children. Every morning, I go to their bedroom to kiss them to wake them up. I'm happy to smell them because I know one day they will grow up and move away from home, and I will be very sad.
The last thing I smell before I go to bed: I created a special cologne especially for me that is not on the market, and every night before going to bed I spray some on my neck. It has beautiful golden, citrus, orange-flower notes and musk; it's fresh, and it reassures me. And of course I smell the smell of my laundered sheets.
A scent or smell I love that others usually don't: I love stable smells. I love that. I think maybe in a previous life I was a rider or a horse, because I love the smell of everything that touches horses, even though I don't ride, myself. I find that smell very pleasant. All my friends think it stinks, but me, I love it.
I smell like: My creations, which means my scent changes a lot. With home perfumes and candles, those fragrances are telling you a story from beginning to end, and you have to check each step on your skin as well. I switched on a Héméra candle last week, and there is orris inside and it invaded the whole space. But it's very pleasant because the fragrance is very different from the beginning to the end. I love this fragrance, really. I've done a lot of fragrances for Cire Trudon, but this one is really, really nice.