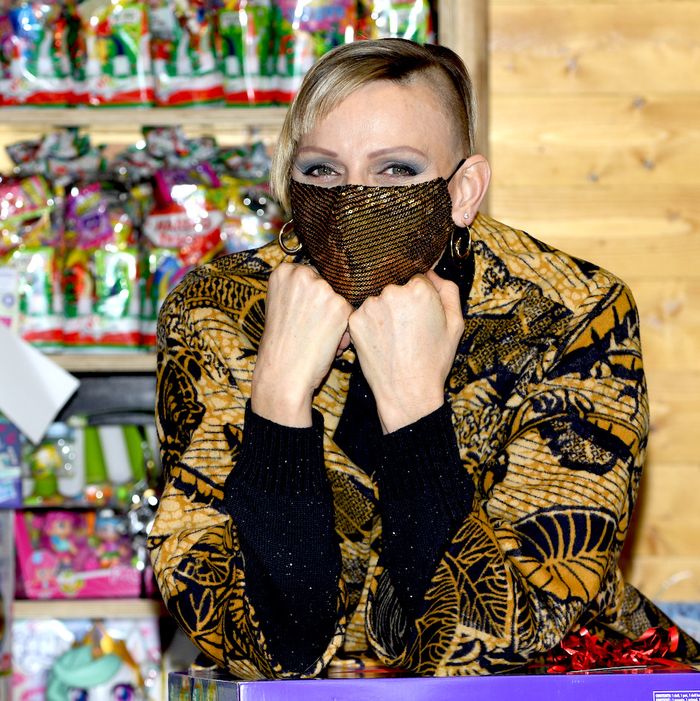 Princess Charlene, everybody.
Photo: SC Pool - Corbis/Corbis via Getty Images
Generally speaking, royals do not seem to go in for dramatic haircuts. Family dramas, big yes; sword dramas, surely; but as far as their follicles go, they tend to keep things reasonably tame. Okay yes sure, there was the time Kate Middleton, Duchess of Cambridge, got trendy curtain bangs, but that stylistic leap pales in comparison to the one recently taken by Princess Charlene of Monaco. Princess Charlene, you see, has just debuted an edgy asymmetrical haircut. One of People's sources described the look as a "punk buzz" and an "absolute surprise," which, yes. But we like surprises.
Charlene reportedly hid her new hair — basically, an updated version of the blonde bob she's worn for a while, but with the left side shaved to her part and an undercut in the back — under a beret during a boat christening on Wednesday. Still, despite the disguise, one person present suspected an avant-garde hairdo afoot, telling People: "Up close I could see where she had her temple and the back of her head, completely shaved."
Suspicions were confirmed at a Christmas gift distribution event later in the day, where the royals handed out presents to kids. Her Serene Highness removed the hat and let her buzz really breathe. Oh la la! Let's lean in for a closer look:
Another angle, if you please:
A royal undercut! Who would've guessed! Certainly not me, although I appreciate the concept. Most important, though, the Princess — who has a documented history of good bold cuts — looks satisfied with the results.
And if Charlene is happy, then we are happy.