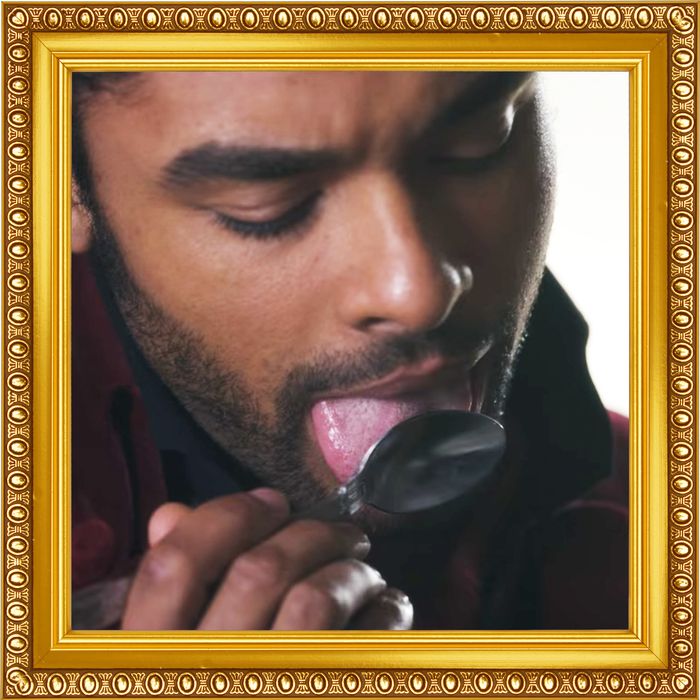 Photo-Illustration: by The Cut; Photos: Getty Images, Netflix
Bridgerton has plenty of very sexy moments. The Netflix show, based on Julia Quinn's historical romance novels, is the perfect 18th-century bodice ripper — literally: Many a corset was passionately torn in the making of this show. However, there is one scene — a blink-and-you'll-miss-it moment — that seems to be taking the world by storm, and it involves one very lucky spoon.
Much like Connell's chain in Normal People, I didn't understand the sexual appeal of a mundane metal object until I watched Regé-Jean Page use cutlery in Bridgerton. Like the swing of Connell's petite silver necklace, there was something about the way Page licks a spoon that made me feel faint:
Page, who is an anatomical marvel, plays Simon Bassett, the Duke of Hastings. A dashing and disreputable bachelor, Simon has issues with his father that run so deep he refuses to have children and continue his family line. In spite of this, he is a well-known "rake" — which is Jane Austen for fuckboy — and Bridgerton is very gratuitous when it comes to, ahem, illustrating this.
That said, while we see lots of the Duke of Hastings's bare chest and butt, there's something about the way he licks a spoon that hits alarmingly hard. While he does this several times throughout the show, there's a moment where he's in pastry shop with his fake fiancée, Daphne Bridgerton, enjoying a creamy dessert, that is particularly upsetting:
Perhaps it's his furrowed brow, the way his expression is almost contemplative. Or, maybe his tongue is the draw: how it lightly caresses — teases? — and then gently envelops the spoon.
I'll stop now, because I think I'm writing erotic fiction. I'll just say that Daphne's sharp intake of breath and expression — as though she's about to drop dead on the spot — is one that I can relate to deeply:
Bridgerton is streaming on Netflix.