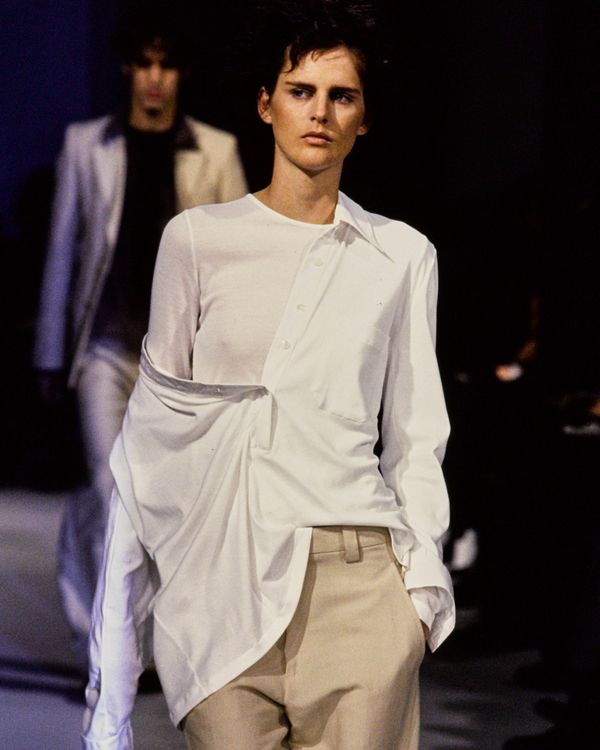 Stella Tennant, on the runway for Ann Demeulemeester.
Photo: Guy Marineau/Conde Nast via Getty Images
Stella Tennant was "very very," trilled British Vogue in the story that introduced her to the fashion world, though "introduced" is a curious misnomer here. That shoot, a Steven Meisel portfolio of punky aristos upending their traditional background ("Anglo-Saxon attitude," ran the headline), was Tennant's first ever-shoot, but she so captivated the jaded fashion types who saw her that, between the time it was photographed and the time it eventually came out in the December 1993 issue, she had appeared on the cover of Italian Vogue with Linda Evangelista and walked the runway for Chanel, Dolce & Gabbana, and Jil Sander. Tennant was more interested in art at the time, not terribly taken with modeling. "It's exciting in part," she told Vogue, "but it can be excruciatingly dull."
And yet that photo in 1993 kicked off a 27-year career, a longevity enjoyed by only a few top models, most of whom earn the sobriquet "super" for their trouble. She did not have the name recognition of some of those peers—no Cindy, Naomi, Christy mononym—but was revered by designers as disparate as Karl Lagerfeld, her early champion, and Helmut Lang. In photos she could be feline or imposing, a quick-change artist who could look like a queen or a princeling, or one disguised as the other.
"She encompassed everything and she fit in everywhere, from the country to the palace," said the stylist Grace Coddington, a former model herself. She'd wear "whatever she grabbed, then the next minute she could look like the chicest thing you'd ever seen." And unlike many models of her vintage, Tennant was still working regularly, covering magazines, walking couture shows as recently as January, until her sudden death on Tuesday. Scottish police, who were summoned to her home in the Scottish borders, confirmed the death and said there were no suspicious circumstances. Her family, in a statement released to the press, called her "an inspiration to us all" and asked for privacy. No cause was given.
Looking at that first picture now, Tennant's stardom seems a foregone conclusion. Even among the other society girls in the spread, with their riches-to-riches London backstories—Bella Freud, daughter of the painter Lucien Freud; Plum Sykes, who went from Oxford to the Vogue fashion closet; Lady Louise Campbell, who'd been helicoptered into the shoot from the Moët et Chandon chateau in France; and Honor Fraser, whom Tennant later remembered as "just out of a convent and already renowned as a model"—Tennant stands out. She was a gorgeous androgyne, with short, shaggy hair and black-rimmed eyes, and, most shocking of all, a silver hoop through the septum of her nose, long before such things were widely popular for girls like her. That nose ring was such a sensation that the New York Times had already covered it. "Piercing Picks Up," Amy Spindler wrote in her column that October. Tennant was the "model of the moment," her pierced nose and navel a shock on the Gaultier runway. "The aristocratic beauty said she did it to contradict assumptions people might make about her," Spindler wrote. Tennant told her, "The nose ring definitely makes people remember me."
If the nose ring fixed her in the mind of the American press, her titled family did so in the mind of the British. Tennant's family was titled on both sides: she was the granddaughter of the Duke and Duchess of Devonshire (her grandmother, who in her final years was known as Deborah, Dowager Duchess of Devonshire, was born Deborah Freeman-Mitford, one of the famous Mitford sisters) on her mother's side, and of the 2nd Baron Glenconner on her father's. The family spent Christmas at Chatsworth, and she later recalled rollerskating with her sister through the house. "Everyone wants to write about me because my grandparents are titled, because I'm the granddaughter of the Duke and Duchess of Devonshire," she complained in 1996. "Sure, that's part of who I am; I mean, I love my family, but that's not who I am. I grew up on a farm in Scotland."
That wasn't enough to quell the fascination, naturally, and though Tennant wore her status lightly, she didn't always lean away from it. She not only modeled for Burberry, Britain's native label, she served as consultant for it too, offering up what the New Yorker called "bits of country-house detritus," like her mother's floral bedcover, to inform the house's designs. Bruce Weber and Martio Testino both photographed her with Debo at Chatsworth, occasions the Cavendish women remembered fondly but airily. "The 'shoot,' when Stella arrived with Bruce and his eleven assistants, was of a very different kind to when King Edward VII and Queen Alexandra came to shoot at the beginning of the last century," the Duchess wrote in her memoir. "Pheasants were the target then and photographers were kept at bay." ("Fashion," she wrote to her correspondent, the English writer and adventurer Patrick Leigh Fermor, "is as queer as folks.")
But as the years went by, Tennant's prodigious body of work eclipsed her background and the punk shock of the nose ring. (The creeping spread, and ultimate ubiquity, of piercings helped.) For someone with such a specific look, she could be thrillingly versatile, as regal as she was punk, as feminine as she was androgynous.
Designers and photographers worshipped her; she was a muse to many. "From the first time I met Stella I was completely blown away," Marc Jacobs wrote on Instagram today. "Her beauty, style and body language combined with her manners, kindness, sense of humor and personality were like no other." "I am deeply heartbroken, in shock, and at a total loss for grand words," Helmut Lang wrote today. "The 26 years with you as kindred spirits I will treasure forever. You were my friend, family, and muse."
At modeling's equivalent of the All-Star game, the opening of the Met's The Model as Muse exhibition in 2009, she looked, as Cathy Horyn recalled, "the chicest of anyone." "She was evergreen," Horyn told me. "I was always glad to see Stella on the runway. She was always fresh. She was a connection to fashion of the last couple decades."
In 1999, she married David Lasnet, a former assistant of Mario Testino's and a photographer in his own right, and had four children: Marcel, Cecily, Jasmine, and Iris. (Testino photographed their wedding; the bride wore Helmut Lang.) She continued to work, but also found refuge back with her family in Scotland. "Stella was the very definition of original in everything that she did and through everything she stood for," Anna Wintour said, and suggested that her long career and the fascination she inspired from each new generation, was in part due to her ability to step both into fashion and back out of it. "Stella was a wonderful collaborator and colleague to so many of us over the years," Wintour said, "but she was never happier than when she could leave fashion behind, and return to her beloved family and friends, and to a life far away in Scotland." Did darkness begin to encroach on that happiness? It's hard to know. The tabloid press in the U.K. has not shied away from pointing out that Tennant and Lasnet had separated this year.
Many who knew her reacted with shock to news of her passing today, a tremor unsettling what might otherwise have been the quiet slide into the Christmas holiday. Coddington, a longtime collaborator and friend, said her phone has been ringing all day. It was with Coddington that Tennant took one of her most famous photos, in tweed suit and country Wellies, diving into a swimming pool on their first shoot together, in the Hamptons in August of 1995. "She was just game for anything, always, always, always," Coddington said. "It was very hot and these were winter clothes. I guess we'd done this picture and she said, 'My god, I could just jump in the pool now.' We said go for it. She did one absolutely perfect dive. That's how she was—she was always up for anything. I think that's why everyone adored her."