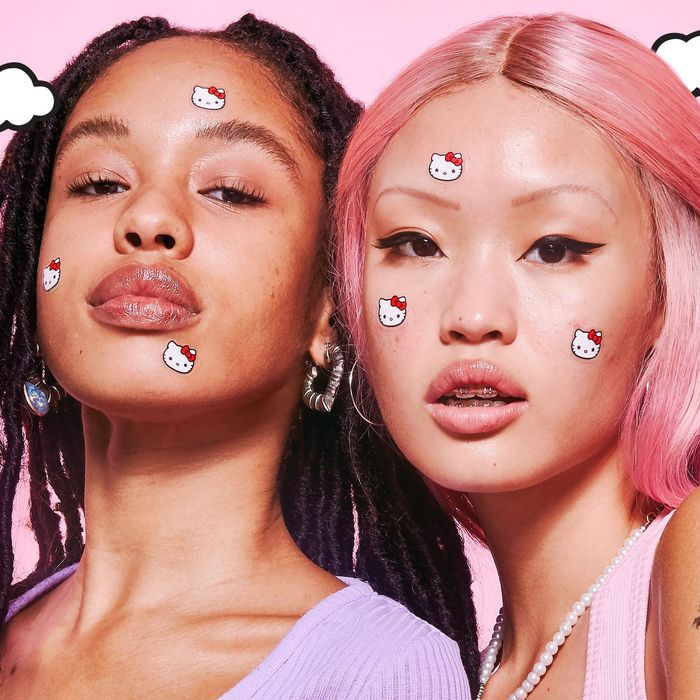 Not a lot is known about Hello Kitty. We know that she is Japanese, that she was born in 1974, and that she favors one red bow, worn precisely on her right ear. With her Mona Lisa–like gaze and mouthless visage, Hello Kitty is the Buddha of pop-culture icons, free for us to anthropomorphize her with our values and desires.
And it turns out that Hello Kitty is okay with pimples. Maybe loves them, even. She accepts them as a reality in life, just like many of us are starting to. And now, she's teamed up with Starface for a limited-edition collaboration, so you can buy zit stickers with her face on them. Have a blemish? Just stick on Hello Kitty, and she will flatten your zit while patiently and nonjudgmentally preventing you from picking at it. (Hello Kitty is a nonjudgmental queen).
This is the cutest beauty product maybe ever. Hello Kitty even has stars for eyes. Each sticker is generously proportioned so it can cover blemishes of any size. Unfortunately, Hello Kitty x Starface is so popular that the carrying-case set is already sold out. But you can still buy the stickers themselves.
If you buy something through our links, New York may earn an affiliate commission.