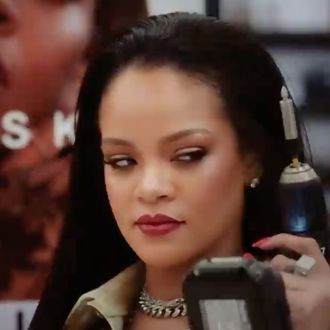 Rihanna building things.
Photo: @fentyskin/Instagram
Rihanna can make anything look cool, and that includes sneaking into someone else's establishment late at night while wearing a matching set to leave behind packaged items during the holiday season. Today, Our Pope played Santa for a new Fenty Skin promo. She's a stylish one who's definitely seen Ocean's 8, and sneaks her newest beauty line into a closed Sephora with a trunk instead of a sack, heels instead of boots, a shiny red lip instead of a hat, and a power drill for good measure.
This is all going down to remind you that (1) if you want something done right, let Rihanna do it, and (2) starting on December 26, her new Fenty Skin line will officially be living under the same roof as her beloved Fenty Beauty line, in Sephoras around the world and in Harvey Nichols and Boots in the U.K.
Thanks to Rihanna's skill with cordless screwdrivers, everything will be united like one big happy family on the first day of Kwanzaa, meaning the Total Cleans'r, Fat Water toner serum, Hydra Vizor SPF 30, Instant Reset Overnight Recovery Gel-Cream, and the three-piece Fenty Skin Start'r Set will be right next to your Pro Filt'rs, Killawatts, and Gloss Bombs, so you can simply proceed to the Rihanna section of the store.
Come for the full, multilayered Fenty Face, stay for the sizable banners of Rih and her maybe-boyfriend A$AP Rocky sitting in a tree, m-o-d-e-l-i-n-g.