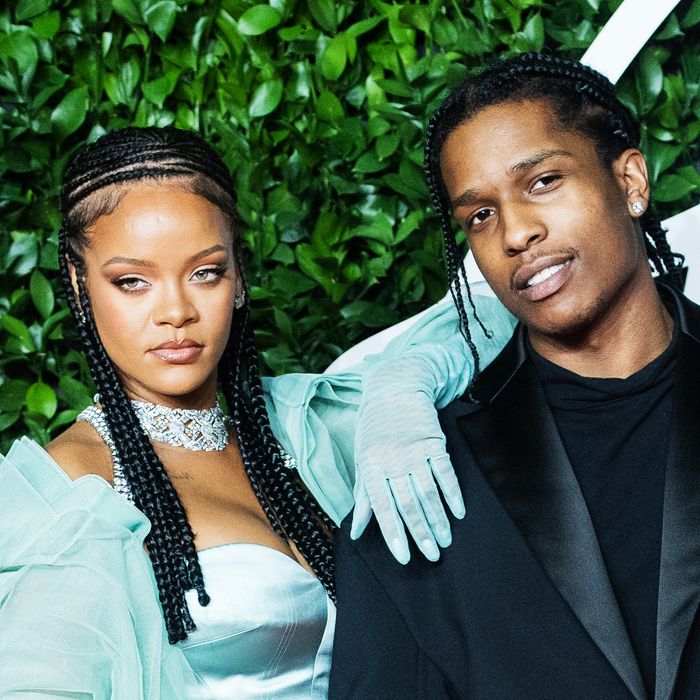 An official item?!
Photo: Samir Hussein/WireImage
For months, the evidence has been mounting: Rihanna and A$AP Rocky are dating, they say. First, it was the hotel room they reportedly shared at the beginning of this year, in the immediate aftermath of Rihanna's split from her billionaire boyfriend. Then, it was the simple fact of spending a lot of time together — although Rihanna and A$AP Rocky are longtime friends, so the public dinners and walks around New York City did not necessarily scream romance. But anonymous the sources kept insisting: these two are "inseparable," and Rihanna "seems very happy dating A$AP," who has allegedly "been very into [her] for years." All plausible, particularly that last one, but where is the hard proof??
Hm, well. How does a cozy Christmas with Rihanna's family strike you?
According to Entertainment Tonight, the purported couple spent the holiday in Barbados, where Rihanna was born — an "obvious step" in their relationship, according to ET's source.
"They've known each other for so long as friends and in a work setting, which makes it so easy for them to get along, travel together and be involved in each other's lives to the full extent," the source added. "They always have such a good time together and definitely seem in love."
And not to belabor the point or anything, but these two have been friends for a long time — they have collaborated together for musical purposes, and also for the purposes of a Fenty Skin campaign. According to a previous ET report, this "trust [in] each other as friends first and foremost … has made their romantic relationship very strong." Although neither Rihanna nor A$AP Rocky has personally confirmed the rumors in public, bringing a new partner home for the holidays would indeed send a message. So! Big congrats to the happy maybe-couple, and our sincerest condolences to Drake and his sex watch.