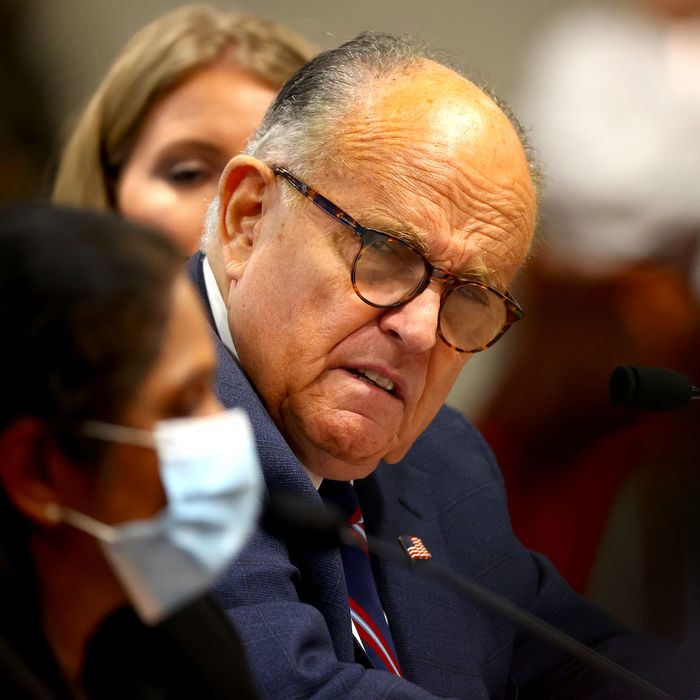 Rudy Giuliani
Photo: Rey Del Rio/Getty Images
Following months of routinely defying basically all precautionary coronavirus guidelines, Rudy Giuliani, attorney to President Donald Trump, has tested positive for the virus. The announcement first came from President Trump on Sunday evening, who tweeted that "the greatest mayor in the history of NYC" had tested positive for "the China Virus," employing a racist moniker for which he has repeatedly been criticized. Giuliani later confirmed the news; he is currently receiving treatment at Georgetown University Medical Center.
"I'm getting great care and feeling good," Giuliani tweeted on Sunday evening. "Recovering quickly and keeping up with everything."
Indeed, as the president noted in his tweet, Giuliani, 76, "has been working tirelessly" over the past few weeks to prove increasingly far-fetched election-fraud allegations and conspiracy theories. That has been the Trump campaign's strategy to avoid conceding defeat, and so far, it hasn't shown much promise. In line with that effort, though, Giuliani has been traveling across the country, meeting with lawmakers in different states, attending lengthy hearings, and convening shouty press conferences. He rarely wears a mask, and in fact, has cast doubt on the medical efficacy of facial coverings.
In recent months, the White House has sparked multiple coronavirus outbreaks, one traced to a crowded reception for Supreme Court Justice Amy Coney Barrett in late September, and the other to Trump's indoor Election Night watch party. Dozens of people have contracted COVID-19 as a result — including Giuliani's son, Andrew, and Corey Lewandowski, Giuliani's partner in the Four Seasons Total Landscaping fiasco. Giuliani himself has been exposed to the virus on numerous occasions, and in early October, quarantined after Trump tested positive.
It's still unclear where Giuliani might have contracted the virus, though he did recently return from a trip to Arizona, Michigan, and Georgia, where he regularly declined to wear a face mask. The Trump campaign says that Giuliani "tested negative twice" before he ventured off last week on his election-results battle, and that Giuliani "did not experience any symptoms or test positive for COVID-19 until more than 48 hours after his return." However, someone in contact with Giuliani told the New York Times that he began feeling sick toward the end of last week.
This story has been updated.