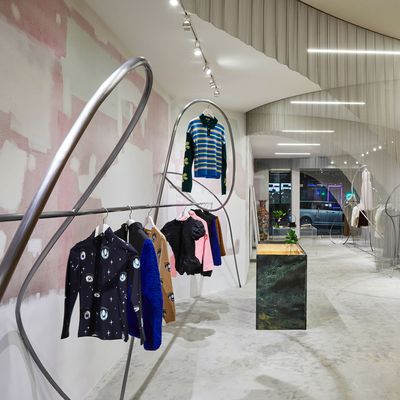 New York–based and –bred designer Sandy Liang has opened her first physical store on the Lower East Side, where her family has resided since the '70s. Liang's quirky designs hang neatly on display in the pink- and white-walled wonderland, replete with metal-mesh curtains and bright lighting.
Each of Liang's pieces is named after a friend or family member, but the familial ties don't stop there. She hired her father's contracting company, Sun Sun Contracting, Inc., and her partner's design firm, Almost Studio, to put the store together.
Liang's designs often draw from nostalgic childhood experiences, and the new store does, too, using playground equipment for furniture. Swirly metal rods designed by Almost Studio, which also produced Liang's spring-summer-2020 runway set, divide the space, adding another childlike touch.
"I like to think of the store as a physical extension of my general approach to clothes: I don't think anything needs to be ultraserious. I appreciate a bit of humor and playfulness in everything," Liang says. "And I want to pay homage to where I came from and who my community is. The community is such a large part of myself, my family's history, and how I think about design — so, in a way, the store will be the spatial representation of the brand. I'm so excited to share that because it will be the first time customers can see who we are outside of what we post on social media and our collections."
Dorian Booth, the Almost Studio co-founder and Liang's partner, noted that the space, like Liang's designs, will continue to change and always be "in process, almost complete," continuing to pull out new ideas and sources of inspiration.
The whimsical boutique is now open at 28 Orchard Street, just in time to provide some funky holiday attire.