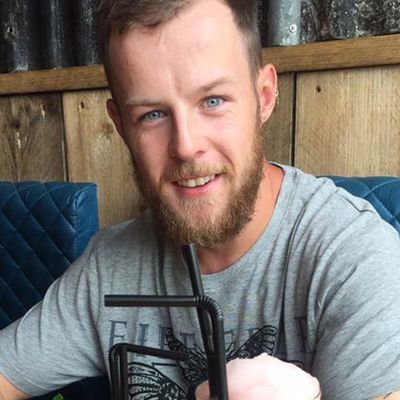 Photo: Dale McLaughlan/Facebook
A modern day Shakespearean saga of star-crossed lovers, separated by rugged terrain and the rule of law, has occurred somewhere called "the Isle of Man." Dale McLaughlan, whom the Daily Mail has dubbed "the Romeo roofer," took an illicit 25-mile trip across the Irish Sea from Scotland to the Isle of Man to see his girlfriend, completing the entire thing on a jet ski, and has now been thrown in jail. As they say, the course of true love never did run smooth, especially not when you are riding along it on a personal watercraft in violation of pandemic regulations.
McLaughlan, a self-employed roofer from Scotland, allegedly met his beloved, Jessica Radcliffe, while working temporarily on the Isle of Man, located between England and Northern Ireland, in September. The Isle has strict COVID-19 regulations on travel that prohibited McLaughlan from getting permission to return; not to be kept from his sweetheart, he devised an ill-advised plan: Buy a jet ski and ride it over to her.
So last Friday, McLaughlan saved up for and bought his noble steed, riding it in December temperatures over four and a half hours from Scotland to the Isle of Man. Once there, he then walked 15 miles to the capital of the island, where he met up with Radcliffe, who apparently had no idea of his arduous journey and assumed he was there for work. They had a night out, meeting up at the bar where they had first locked eyes, and then at a place called "Bordellos." McLaughlan was arrested the following day for breaching the island's COVID-19 policies and being there without permission. He will be in jail for four weeks.
Several details have since emerged that makes this amorous feat even more astonishing. McLaughlan had never ridden a jet ski before. He apparently thought that the trip would only take 40 minutes; he had only ten minutes of fuel left in the jet ski before he arrived at his destination. A family source told the Daily Mail that McLaughan is "a nice lad, but thick as a brick." "The craziest thing is he can't even swim," they said.
McLaughlan's mother is understandably cross with him, because, as she put it, "He will miss Christmas and could have died." Yes, he was reckless; yes, you should never break pandemic protocols. But imagine how you would feel if someone who couldn't swim rode a jet ski across the ocean just to take you to Bordellos. A truly grand gesture, one that hopefully will never be replicated.