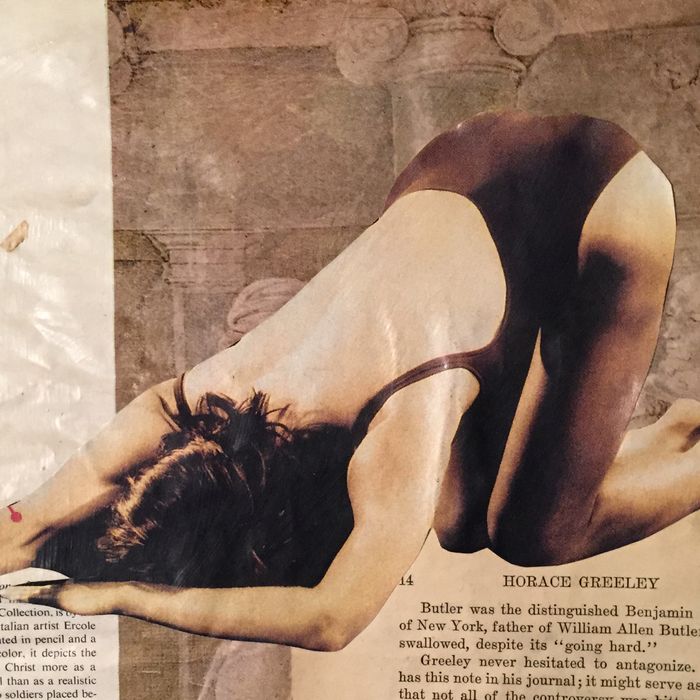 Photo-Illustration: James Gallagher
This week, a woman lusting after a man twice her age but getting her needs met by someone else: 25, single, Brooklyn.
DAY ONE
8:45 a.m. It's been 8 months now of working side by side with Max, a guy in my building. Our apartment complex has 6 units and some of us have taken to working from the vestibule on the top floor—it's spacious, there's great light, and the only person who lives up there has been gone for months. Usually there are 3 of us: me, Max and a guy Robbie, who writes for some publication; I haven't eavesdropped enough on him and my earphones are always on. We all sit up there with our laptops and earphones and all work quietly. Max is married with kids and I'm single, living with my younger sister. I think he's around 50 and I'm 25. Anyway, we're totally going to fuck soon. I'm super attracted to him and he's giving me the big time vibes.
9:45 a.m. Max gets up to go to his apartment. We all know each other's routines by now. We know each other's coffee runs, and when we need fresh air, and when there's a Zoom that's too private to do in front of others.
2 p.m. This is when I'm too starving to keep working and go out on the street to find some lunch. I usually scarf down a burrito on the walk home, or a falafel, or a few slices of pizza. I don't want my "office-mates" to see me eating—that feels too intimate, and the smells of our lunches is just something we've spared each other from. It's not a big space.
4 p.m. I step outside for this Zoom. I work for a production company that's based in Los Angeles. They have one executive here in New York, which is who I work for. It's an amazing job but also very stressful. It never ends and the stakes always feel high. Max is a lawyer, also for a big media company. I googled him and found out that he's pretty successful, which explains why he has the only duplex in the building but not why he can't afford a nicer work space. I guess this is convenient and "safe." (We all wear masks). He has three kids so I imagine there's no room for a home office in his apartment and his wife doesn't work, so I see why he needs some space. He's asked me to grab a drink a few times after our work days but I can never leave because my Zooms are so late at night because of the West Coast time difference. I'm going to make time this week though.
10:30 p.m. I recently found my vibrator which had been hiding under my mattress. I get off imagining Max touching me. I bet he has a really big dick.
DAY TWO
10 a.m. My boss asked me to scout a few locations today so I'm out in the world. I hope Max is wondering where I am. I hope he's missing me. Next step, we need each other's numbers so we can text flirt a little.
3 p.m. I tell my sister that I want to fuck the dad with the duplex. She basically just rolls her eyes at me. She's been with the same guy since high school and thinks I'm such a slut. Before the pandemic, I was sleeping with a bunch of random guys, mostly who I met online. I think it was healthy New York City style dating. I'm proud of the fact that I enjoy sex and have agency with it.
5 p.m. I go to the 6th floor much later than usual today. And I make sure to have on a short crop top and mom jeans. Max is here. The other guy isn't. "Hey," he says. "Missed ya today!" If you want to imagine a slightly less hot Chris Noth as this person, you wouldn't be wrong. Maybe I'm reenacting some Mr. Big fantasy. Now that's embarrassing. "We should have that drink soon," I say, trying to sound like a burnt out adult whose job is stressing her out, more so than a horny girl trying to seduce a married man. "Let's go right now!" he says, and I'm not sure if he's acting more like my Dad or a potential lover. Regardless, I go.
6 p.m. There is only one outdoor bar that's close to our apartment. The fact that it's so close to home makes me wonder if he's not interested in me sexually. Wouldn't he want to hide me from his wife? We're out in plain view. He buys us both a beer, and asks about my day. I'm getting Dad vibes. It's weird. It's hot, but it's weird. His phone rings, and he looks at it, and puts the phone away. Was that his wife?
6:45 p.m. Both our beers are empty. I'd love another one. He says he has to get home. As we walk that way, our hips are touching, and it feels like there's a vibration between us. I pull him behind a building and start kissing him. It's amazing—I love the taste of his mouth, the beer and the scruff around his lips. His hands are on my ass and we're up against the building now, and his dick is hard. I pull back and say, "Let's go." The rest of the walk home is quiet; we're both being kinda shy, but in a good way. I'm buzzing.
7:30 p.m. I tell my sister about the kiss. She calls me a homewrecker and goes back to her FaceTime with her boyfriend.
DAY THREE
9:30 a.m. Back on the 6th floor. Max and other guy are there. When other guy goes for his coffee break, I ask Max for his number. I'm now kind of obsessed with sexting him. He nods his head no, but not in a mean way. "That's trouble," he says again like a dad, or Mr. Big, or someone older and wiser. I don't push it.
11 a.m. Luckily I'm legitimately busy today so I just keep my head down and work and so does he, but I have to say it's surprisingly not awkward.
1 p.m. I go to grab lunch and hope Max will follow me but he doesn't.  My stomach has butterflies, so I only have an appetite for a pastry and a large coffee.
1:45 p.m. On my way in the building I see Max's wife getting one of the kids into an Uber. She seems nice, pretty and normal Brooklyn wife-ish. I feel no guilt! Am I a sociopath?
5 p.m. "Another beer?" I say to Max when Other Guy leaves for the day. "Let's make it tomorrow," he says" On his way out, he kinda taps me on the head, or gives me, like a 2-second head massage. I'm not sure what it is actually, but it makes me wet as fuck.
DAY FOUR
8 a.m. I told my sister I'd do virtual yoga with her this morning. We get really into it. The light is just right and so is the mood. My sister is my best friend even though we are so drastically different. I'm fortunate to have her living with me. Our parents are on the West Coast so I'd be unimaginably lonely without her.
9 a.m. As we get dressed for the day, I ask her if she has anywhere to go tonight. Just in case I want to bring Max upstairs. I'm so horny for this man, it's ridiculous. She says she has nowhere to go because of Covid. Of course. It's not like I can make her go hang out somewhere just because I want to fuck someone. I guess we'll have to wait and see what happens.
10:30 a.m. I'm finding it hard to focus up on the 6th floor, although Max seems totally normal.
5 p.m. Max steps out to take a work call out on our stoop. When he comes upstairs he seems a little bit stressed. I'm worried he's going to bail, and then he does.
5:30 p.m. He bails.
10 p.m. I masturbate thinking about him again. I feel let down.
DAY FIVE
9 a.m. Working in my apartment this morning. I just want to pull it together before seeing him again.
11:30 a.m. When I do go up, Max gives me a high five on the way to my spot. We lock eyes and I can tell he feels bad about flaking on me. I try to conceal my feelings about it, but I fear my eyes say everything.
5 p.m. It's just us up there and he says, "let's get a quick drink now!"
5:15 p.m. He puffs on a juul on the way back to the same bar. I'm kind of turned off by it but it also makes me wonder what other secrets he has. What else don't I know?
5:45 p.m. During our beers, I ask if he's cheated on his wife before. He takes a long time to answer and finally he says, "Yes." I learn that they have tried open marriage before since both of them have had "indiscretions" and they're still trying to figure it all out. They've been married over 20 years, and they're both attractive and desirable, and I think it's just hard to be monogamous even though they still love each other. He ends the conversation by saying that technically their marriage is closed right now, so this thing between us can't go any farther even though he would love nothing more. "No problem," I say, taking my leg under the table and touching it against his.
6:15 p.m. On the way back home, we make out in the same spot. He puts his hands in my pants and starts to get me off. But we both get nervous being out on the street and head back to our building.
DAY SIX
10 a.m. Weekend! No sixth floor. I go online and swipe around a bunch of the apps. I'm feeling sensual and hopeful about meeting guys after this week.
1:30 p.m. As I chat with a few guys, I hear Max and his family on the stoop. They sound like they're having fun and I'm happy for him.
3 p.m. I plan to meet a new guy tomorrow for some day drinking. His name is Tony and he's more age appropriate. Also, not married.
DAY SEVEN
10 a.m. I decide to look super fucking hot for Tony, just in case Max catches me coming or going. It feels great to be stylish after so many months of sweats. I even wear dark red lip stain under my mask.
12:30 p.m. Tony is somewhat cute. He's in law school at night, but he works for the government during the day. I'm interested in seeing where the day drinking goes.
3:30 p.m. We're drunk and I invite him to my apartment. As far as I know, Max doesn't see me bringing a fuck boy home. I hope he doesn't. I don't think he'd find it hot to know I like to sleep around. Or maybe he would. Well, whatever.
4:30 p.m. My sister isn't home which is kind of a miracle, so I throw Tony down on my bed and proceed to fuck his brains out. We both get weekly Covid tests because of our jobs, so I'm not too worried. It's pretty good sex, but I don't need to see this guy again.
9 p.m. I'm in bed with a sheet mask on. I have a huge week coming up with work. And I can't wait to see what happens with me and Max.
Want to submit a sex diary? Email sexdiaries@nymag.com and tell us a little about yourself (and read our submission terms here.)