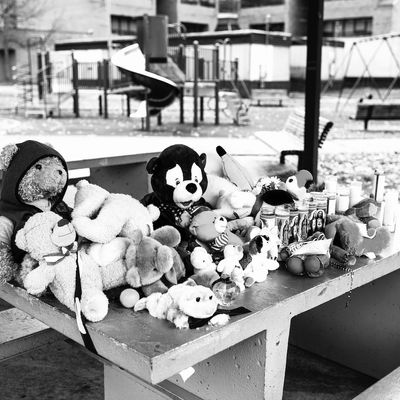 A memorial at the site where Cleveland police officers fatally shot 12-year-old Tamir Rice.
Photo: Angelo Merendino/B) Angelo Merendino
More than six years after former Cleveland police officer Timothy Loehmann shot and killed 12-year-old Tamir Rice, the Justice Department has officially declined to bring charges in the case. The DOJ announced its decision in a news release issued Tuesday. "Although Tamir Rice's death is tragic," the release notes, federal prosecutors could not conclusively prove that Loehmann had acted with willful malice.
"Federal investigators must also consider whether the evidence proves the statutory element of willfulness — meaning, that, in shooting Tamir, Officer Loehmann knew what he was doing was wrong and chose to do it anyway," the release notes. "An accident, a mistake, an officer's misperception, or even an officer's poor judgment or negligence does not constitute willful conduct," it continues, and therefore, cannot be prosecuted under federal law.
The DOJ's prosecutors reportedly examined surveillance footage from the Cudell Park Recreation Center, where Rice — who was Black — was playing with a pellet gun on November 22, 2014. That afternoon, Loehmann and another officer, Frank Garmback — both of whom are white — arrived on the scene to follow up on a 911 call about a "guy," "probably a juvenile," pointing a gun at passersby. The caller noted that the gun might be "fake," details the dispatcher reportedly failed to pass on. About two seconds after the officers showed up, Loehmann got out of the car, pulled his gun on Rice and fired, hitting the child in the abdomen. Rice did not appear to have aimed his toy at the officers, who reportedly neglected to administer first aid and did not try to resuscitate him. Rice died hours later at a nearby hospital. His death, just three months after Michael Brown's in Ferguson, Missouri, became a focal point in a growing national conversation about the racialized use of deadly force by police officers.
Although the Cuyahoga County Medical Examiner's Office subsequently declared Rice's death a homicide, and although a judge advising on the case ruled that murder charges were warranted, a grand jury declined to indict the officers responsible. Loehmann remained on the Cleveland police force until 2017, when he was ultimately fired for administrative violations during his hiring process — including a failure to disclose that former supervisors had deemed him "unfit to be a police officer."
Concluding its independent investigation into the case, the DOJ noted that Loehmann and Garmback "repeatedly and consistently stated that Officer Loehmann gave Tamir multiple commands to show his hands before shooting, and … repeatedly and consistently said that they saw Tamir reaching for his gun." The footage that DOJ prosecutors reviewed showed a time-lapse of the event that purportedly lacked "detail or perspective," along with audio, which the Department said made it difficult to pin down precisely what happened. According to the DOJ, the video split expert opinion: Four use of force experts, retained by the Cuyahoga County prosecutor's office, concluded that the shooting was objectively reasonable, while the three experts hired by the Rice family concluded it was not.
"Based on this evidence and the high burdens of the applicable federal laws, career prosecutors have concluded that there is insufficient evidence to prove beyond a reasonable doubt that Tamir did not reach for his toy gun," the statement says. "Thus, there is insufficient evidence to establish that Officer Loehmann acted unreasonably under the circumstances."
In October, the New York Times reported that the Justice Department had effectively closed the case in August 2019, without a full investigation. Responding to Tuesday's news release, the Rice family's attorney, Subodh Chandra, told the Associated Press that the DOJ'S "process was tainted," adding: "It's beyond comprehension that the Department couldn't recognize that an officer who claims he shouted commands when the patrol car's window was closed and it was a winter day is lying. The Rice family has been cheated of a fair process yet again."