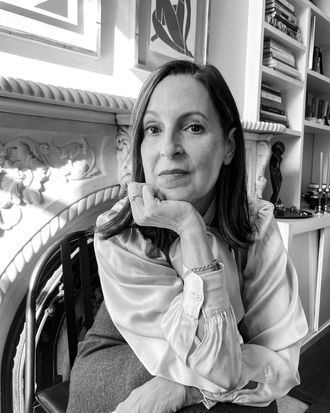 Maria Turgeon was inspired to launch her own label after coming across a sleek, 1970s-era necklace that once belonged to her mother. With 20 years of design and creative-direction experience at British lifestyle brand Cath Kidston and Coach (under Reed Krakoff), she was amply prepared, and along with partners Erin Edwards and Annie Dorosz, she founded 3wilder3 in 2019.
3wilder3 is anti–fast fashion, seasonless, and avoids trends. With an emphasis on clean lines, high-quality materials, and small-scale production, the label makes pieces you'll likely keep forever, including colorful leather bags, silk scarves, and 14K-gold-filled chains. And Turgeon says that everything, particularly the French lambskin leather, actually gets better with age. Her love for the easy, sleek glamour of New York in the '70s and '80s is at the heart of her design inspiration. "I knew I wanted others to be able to express themselves through my pieces — both perfect and enduring," she said.
We spoke with Turgeon about handbags, self-expression, and the best pasta you can buy from Amazon.
What's one piece you've designed that's especially meaningful to you?
The Chiclette bag, definitely! It's so beautifully made out of French lambskin that gets better with use. It's colorful and happy, like a little amulet.
How do you thank someone for a gift?
For me, a personal handwritten note is the only way to go.
What would you never wear?
Athleisure, at least out in public.
What's your dream vacation?
A beautiful hotel as a base. Museums, shopping, and exploring during the day. Dressing for cocktails and dinner in the evening.
What's a good book on your coffee table right now?
The Apartment Book by the editors of Apartment Life, which was a magazine from 1974 to 1998. It's focused on how urbanites lived and transformed their space. It's fabulous and so inspiring.
Last show you binge-watched?
Columbo.
What's your guilty pleasure?
Baths.
Secret to hosting a good party?
Music, lighting, and Champagne.
What is a trend that you like right now?
Individuality, self-expression, and acceptance.
One you don't understand?
Skinny jeans.
Favorite restaurant in New York?
Odeon and Chelsea Square Diner. Both are so iconic to the city.
What's the one thing you could eat every day for the rest of your life?Spaghetti Bolognese.
Shoes you wear most often?
Espadrilles in the summer and boots of every variety in the fall and winter.
What are five inanimate objects that bring you joy?
"Hands down the best dried pasta ever. It's from Naples."
"I can't be without this. It's like having a facial everyday."
"A smoky-rose heaven fragrance."
"The proportions and color are so unique and sexy."