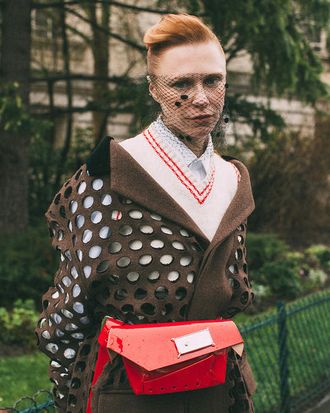 Photo: Courtesy of Courtney Trop
Courtney Trop is a Los Angeles–based fashion chameleon whose life and style is constantly evolving. And clearly, her changes have struck a chord. The influencer has almost 350,000 followers, sits front row at fashion shows, and partners with tons of luxury and indie labels. It all started in 2013 when she started a blog called "Always Judging." That might not sound very chill, but Trop is, in fact, so chill that she launched a CBD brand this year with fashion people in mind.
The brand is called Stevie (after Nicks, of course). Trop handed out first runs of her CBD tincture to stressed-out Fashion Month attendees last February. "The fashion industry needs CBD. The people around me at Fashion Week are always stressed out, in pain, and anxious," she told the Cut. "They also buy products differently than other people. Not only do they care about effectiveness, but also packaging and being part of a cult brand." As an everyday cannabis user, she also felt that CBD was a natural fit for her. And when many influencers are expected to start a fashion brand, she wanted to use her platform to promote happiness and wellbeing.
We spoke to Trop about her plans for Stevie, the dreaded sneaker wedges of the '00s, and being naked in public.
Tell me about your first product.
The tincture is the most important because it's essentially the raw material. Everything after this will contain the same active ingredient, CBD, but in the form of a body salve, bath salts, or the actual CBD flower. We're coming out with CBD pre-rolls in the next few weeks. They have all the same great health benefits, like relieving stress.
How do you thank someone for a gift?
Tell them I love them so much and then explain why I love the gift and where I'm going to wear it, put it, etc.
What would you never wear?
The only thing I can certainly say that I will never ever wear in my life again are the Isabel Marant sneakers with the wedge heel. Never. Worst trend I ever participated in. I love Isabel Marant for other things, but I just dislike that style.
What's your dream vacation?
Italy, all over. Wine country and the South. With tons of good friends. The company you keep can make a good vacation fantastic.
What's a good book on your coffee table right now?
Araki: Tokyo Lucky Hole. I like nakedness in general — seeing people naked and being naked. It fascinates me, and when I'm naked I also don't really even remember I am. I'll go get my mail outside and then halfway there remember I don't have a shirt on.
Last show you binge-watched?
The Queen's Gambit. So good. Wow. And the Prada style she wears. It made me want to dye my hair red-orange again, too.
What's your guilty pleasure?
I get a manicure every three or four days. It's outrageous. But I feel dirty if my nails aren't really manicured and cleaned.
Secret to hosting a good party?
Good music.
What is a trend that you like right now?
Not sure about a trend, but I really want the flat black pointy Miu Miu shoes from the SS21 show.
One you don't understand?
I may not wear every trend, but I understand every trend is authentic to someone — including the Isabel Marant wedge sneaker.
Favorite restaurant in New York?
Kiki's, Lucien, Dimes, Lovely Day, or that one in the alley in the East Village. I forget the name.
What's the one thing you could eat every day for the rest of your life?
Pork and rice with pierogis. I'm Polish so I grew up eating all of that. It's what my stomach likes the most, and it doesn't make me feel sick. I have a ton of food allergies so this is my safe food.
Shoes you wear most often?
In L.A. since March, Asics x Kiko Kostadinov sneakers.
What are four inanimate objects that bring you joy?
"I'll wear this with the cutout Margiela trousers to match. Sets make my life easier."
"The Tabi style is one of my favorite and most comfortable styles in my wardrobe so I really love the higher version."
"Investing in Dries Van Noten every season builds a strong closet of pieces that don't go out of style and that you'll never get rid of."
"Any high black patent boot that's a little harder-looking makes me feel really powerful, especially paired with some sort of kilt and oversized sweater or tee."