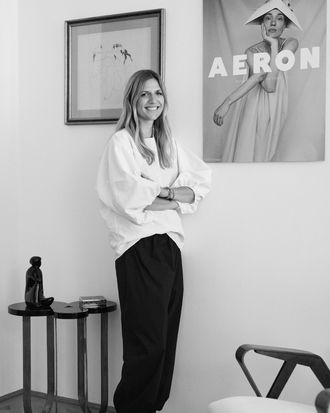 Countless brands have emerged from fashion capitals like New York, London, Milan, and Paris. But lately, cool labels have unexpectedly popped up in another place: Budapest. Further putting the city on fashion's radar with her brand, Aeron, is Hungarian designer Eszter Áron.
Raised by a mother who worked in the textile industry and a father who was an actor, Áron told the Cut, "I was lucky to grow up in a supportive environment where I was free to explore my creativity." This ultimately led her to design understatedly elegant womenswear with clean tailoring and hints of dramatic elements — like exaggerated shoulders on sharp blazers — all made from luxurious and sustainably sourced materials. "I play around with texture and color to refresh classic silhouettes."
Each collection takes inspiration from various powerful women. German dancer and choreographer Pina Bausch was central to Aeron's latest resort 2021 collection. Think jumpsuits, oversize shirts, and monochromatic sets in floaty fabrics, like recycled satin, that move the way a dancer would.
On the heels of the resort-collection debut, we spoke with Áron about wearing color, work-life balance, and shoulder pads.
What's one piece you've designed in the resort 2021 collection that's especially meaningful to you?
One of my favorite pieces from the collection is the Pique midi dress: a buttery soft leather midi dress in a striking mustard shade, with a unique gathered neckline and ruched waist. I've always loved working with leather but often design in more traditional and masculine shapes. Utilizing leather with this technique and color brought out a much more feminine side to it, which I hadn't yet explored. It really seemed to capture the duality of Pina Bausch and her work.
How do you thank someone for a gift? 
I love to host! Pre-pandemic, I would always invite friends, family, and colleagues to my flat to show my gratitude for their generosity. But recently I've resorted to a more traditional approach. I think a handwritten thank-you card sent in the mail is always meaningful and a beautiful sentiment.
What would you never wear? 
I tend to steer away from strong, vivid colors. I'm not the biggest fan of the color pink either.
What's your dream vacation? 
I'd love to visit Australia and travel across the country. I have relatives in Sydney and have always hoped to visit. It's such a beautiful place rich with nature and beautiful landscapes.
What's a good book on your coffee table right now?
Right now there are several books on Tadao Ando, the architect. I really adore his designs and the way he thinks about creativity. I also started boxing after finding out that he was a professional when he was young. This further strengthened my admiration for him.
Last show you binge-watched? 
I just finished The Queen's Gambit. It was incredible! I loved Anya Taylor-Joy's character. She's a wonderful actress. I always enjoy watching a series with a strong female lead. Visually, it was beautiful to watch. I loved the aesthetic and costume design.
What's your guilty pleasure? 
Balancing work, my personal life, and raising my young daughter Roni is certainly a challenge. I love to sleep in late on the weekends — a pleasure I don't have too often but am always deeply appreciative of!
Secret to hosting a good party? 
Delicious food is at the core of a great party. It's important to invite the right group of people complementary to one another, creating an environment that feels warm and welcoming. I prefer smaller groups, which enables conversation. And lots of wine, of course. One of my favorites is from a New Zealand winery called Matua.
What is a trend that you like right now?
I've always loved shoulder pads and structured tailoring, even when it wavered out of style. At the moment, I'm really enjoying structural sleeves as well.
One you don't understand?
I'm not keen on synthetic or unnatural fabrics. Textiles are a huge part of my design process at Aeron, so I'm very particular about which I will use when designing and also when purchasing clothing for myself.
Favorite restaurant in New York? 
The restaurant scene is ever-changing, but I always gravitate toward Mexican food. There are so many incredible spots in New York and such a limited offering of Mexican cuisine in Budapest that it makes it even more special.
What's the one thing you could eat every day for the rest of your life?
A pasta dish. I love spaghetti alle vongole and aglio e olio.
Shoes you wear most often? 
I'm always wearing sneakers. The convenience and comfort are hard to beat.
What are five inanimate objects that bring you joy?
"My everyday perfume — the perfect scent."
"I find the structural, asymmetric shape to be so unique. It's a nice variation to a more classic gold hoop. They look fantastic with a more traditionally feminine outfit."
"Like the rest of the world, I am hooked on my AirPods. They really make multitasking that much easier!"
"I love these Manu Atelier shoes. We just used them in Aeron's pre-fall 21 look-book shoot. They're such a flattering shape in a beautiful brick red shade, and the matching chain anklets are the perfect understated accessory."
"One of my favorite books to show my daughter Roni. She loves the illustrations!"