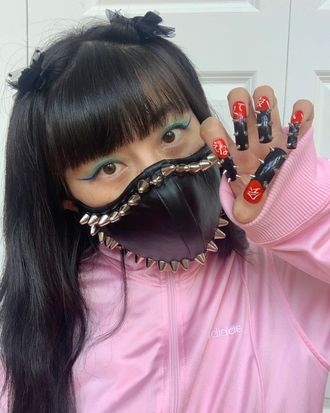 Photo: Courtesy of Mei Kawajiri
Whether she's doing nails for celebrity clients like Dua Lipa and Gigi Hadid, designing runway sets like the one she did for Marc Jacobs's spring 2020 show, or simply having fun with her craft, manicurist Mei Kawajiri is always creating tiny masterpieces.
Kawajiri's manicures are far from average. Think nails attached to long chains, rhinestoned nails with Hello Kitty, nails that look like pencils with mini-notebooks attached, and nails covered in little bows. "I always loved tiny art, and I chose nails as my canvas because I can also change them easily if I change my mood!" she told the Cut. "Also, I can show many people if I have my art on my nails."
Last December, Kawajiri was named one of the "2019 New Wave: Creatives" at the British Fashion Awards. And now, her work is available to easily recreate with at-home kits in collaboration with ManiMe. We spoke with Kawajiri about anime, her imaginary club, and living in a fantasy world.
What's nail art you've created that's especially meaningful to you?
My collaboration with ManiMe! There's three different sets that are really cute and stay on for two weeks. Another is the "会えなくて寂しい" (Japanese for "I'm missing you") nails I created during lockdown because I was missing so many of my friends and family. Then the cartoon nails I made after watching anime almost every night. I wanted them, so I just did it!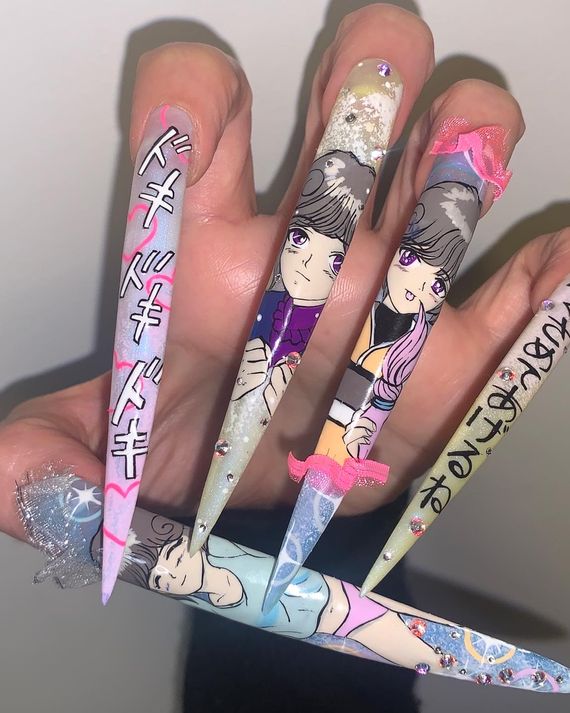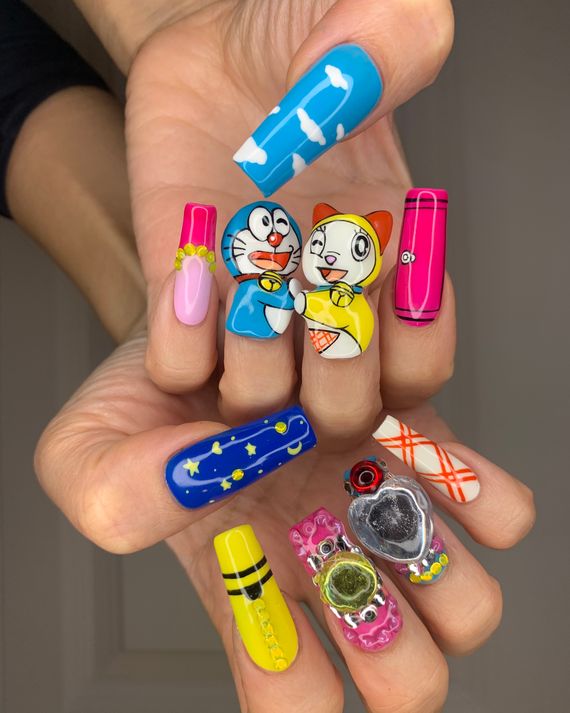 How do you thank someone for a gift?
I'll draw, dance, sing, write a letter, or cook.
What would you never wear?
I'll never wear skinny (especially stretch) denim, flip-flops, or snow boots. It has to be cute, and I'm convinced they're not cute.
What's your dream vacation?
To go on a road trip all around Europe and all of Asia to see all the beautiful, dream-like views.
Last show you binge-watched?
Doraemon.
What's your guilty pleasure?
Reading manga alone with no music or drinks. Afterward, it's hard to get back to reality.
Secret to hosting a good party?
I am really good at hosting parties! In lockdown, I even created an imaginary club called "Mei's Bar," and I learned to how to make cocktails at home. I have a projector, so I play music and dance all night!
What is a trend that you like right now?
I just started buying Lolita aprons because I'm obsessed with aprons. "Good school girl" style is also my new favorite, like Prada loafers with white socks. And of course '80 and '90s Japanese anime.
One you don't understand?
I don't understand reality. I live in the fantasy .
Favorite restaurants in New York?
Ramen Ishida, Kiki's, Sakagura, and Sushi Amane.
What's the one thing you could eat everyday for the rest of your life?
Ramen.
Shoes you wear most often?
White Nike Shox Nova 2's outside and big bear slippers inside.
What are five inanimate objects that bring you joy?
"This is the best oil. It really makes my skin soft."
"This is very smooth and perfect for everyday."
"Really cute for the "good school girl" look!"
"This video game from Balenciaga is the most amazing way to show collection I ever seen! Super creative."
"The songs I made during lockdown with the Royal Thieves."