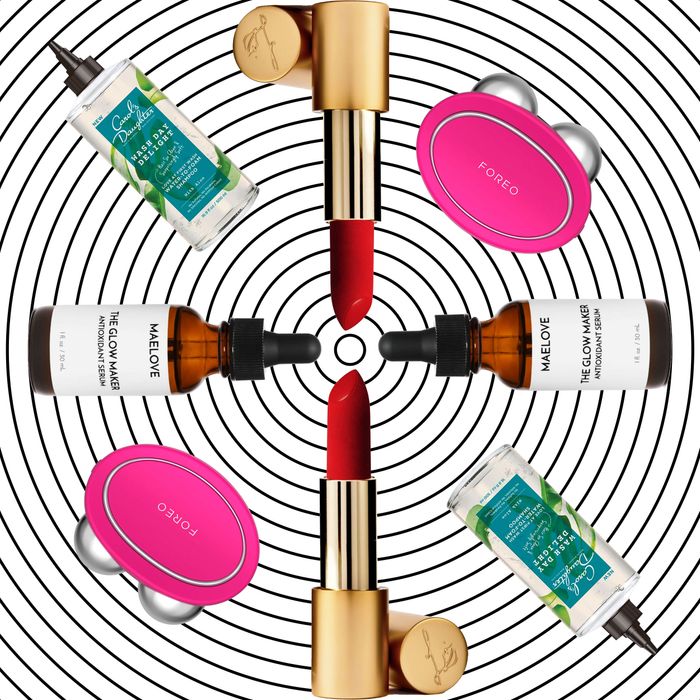 This hell year has felt like five, but as we speed toward its demise, we'd like to get a little sentimental and thank some of the beauty products we got to hang out with during these Unprecedented Times.
After racking our brains to remember what we actually tried over the past 353 days, we found that 16 memorable products stood out among the rest. From a stone made of lotion to a fun face-zapping tool, here are the items that earned glowing reviews, became our go-to recommendations, and managed to help us feel a little better in 2020.
An Overachieving Toner
If you like your skin-care products to be uplifting multitaskers that smell good and feel good, this toner is for you. It's gently exfoliating yet hydrating at the same time. It keeps breakouts at bay, has a bouncy texture, and smells refreshing yet energizing in a not too overly watermelon-y kind of way. It's viscous enough that you can just slap into your skin with your bare hands. After you do, you look considerably glow-ier and feel considerably better, and for me, a good mood was a hot commodity this year. —Erica Smith, beauty writer
A Pencil That Draws Believable Brows


I ditched most makeup this year, but I'll fill in my brows when I want to feel something again. A lot of brow pencils have the right shape and size, or the perfect formula consistency, but the darker shades often look too gray or too crayon-brown once on. I keep coming back to this pencil because its shades look believable from the get-go, without requiring a lot of blending out or brow gelling afterward. The skinny precision tip makes it easy to get believable hair-like strokes, the pigment glides on without scraping your skin, and once it's on, it doesn't budge for the rest of the day. —E.S.
An Affordable Vitamin C
My friend Julie Schott says that vitamin C antioxidant serums are like "condoms for the face," and I agree: You don't know that they're not working, until they don't. This serum, like Skinceuticals FE Cerulic and other popular vitamin C serums, is for prevention — blocking free radicals, pollution, and UVA/UVB rays from messing up your skin. But unlike those other serums, this one blends easily, doesn't have a brine-y smell, and comes with a wallet-friendly price tag. (Consider it to be the Durex of face protection. Are fancy condoms really that much better, anyway?). You won't really notice any immediate effects from using this, but you'll be glad that you didn't stop. So keep going. —Kathleen Hou, beauty director
A Micellar Shampoo


Making wash day delightful is quite the feat, but this water-to-foam shampoo manages to do it. The liquid formula and spout applicator made it easy to apply the cleanser directly to my scalp while I was wearing protective styles in the spring and summer, and the lightweight formula foams without a lot of tangle-encouraging friction, which was much appreciated after my curls were back out. In both scenarios, the micellar water frees hair of buildup without leaving any of its own product residue behind in the process, which cuts down on both time and annoyance. —E.S.
The Good Hair Towel


Photo: Crown Affair
Surprisingly, the secret to making my straight, boring hair look good is … a towel, of all things. But this towel allows me to securely — but not too tightly — wrap my hair up, straight out of the shower, like I'm ready for a Mario Testino towel shoot. Made of some type of super-absorbent material, it soaks up all the wetness from my hair so it can look like it's been lovingly and gently dried by the sun. And it does it fast! Quicker than any other hair towel I've tried. —K.H.
The Stone Made of Lotion
I discovered this product in March, an especially hard month — a time when I was thinking so much about what things not to touch. This lotion bar, which uses the heat from touch to activate, felt like a salve. Soft skin feels better than dry skin, that's just a fact. I would run this lotion dome all over my body multiple times a day as a form of self-soothing, rolling it over my knees, ankles, and hunched-over shoulders. —K.H.
The Body Butter That Should Be Back in Stock Soon
If you prefer your lotion to feel more like straight-up butter, these Ghana-sourced mango and cocoa butters are the best. They're so popular that every single one is sold out for the holidays, but I am including them here so that you can eagerly anticipate their return. I'm told that they're also great for eczema and psoriasis. —K.H.
Gummies That Actually Do Something


The bottle really emphasizes the whole "hair" aspect (as most biotin gummies do), but I must say, after taking these, my nails have never been harder, stronger, shinier, or more resilient. Typically, I'll think I notice a little more nail-growth, but with these, the difference was evident: My nails were thriving, and so much better at retaining their length. I noticed less hair-shedding as well, but over a longer period of time. If you have flimsy nails, need to see tangible results relatively quickly, and would like another reason to eat gummy candy in the middle of the day, I'd start here. And while we're on the topic, yes, these are delicious; citrusy and tangy, with a consistency close to that of Welch's Fruit Snacks. —E.S.
The Very Fancy Hair Conditioner
I'm not going to bury the lede: this is very pricey for conditioner — a product you will literally wash down the drain. But if you have a friend whose entire personality is their hair or a precious, glamorous aunt whose hair is legendary in the family, they'll love this. My hair is straggly and has the texture of straw since I haven't cut it since 2019. But using this softens the ends and is almost as good as a fresh haircut. —K.H.
A Silky Eye Serum


Eyes have had a rough year, and I'm glad I had this handy at the top of 2020. It packs all the benefits of an eye cream into a silky serum that under-eye bags can easily drink up. The built-in applicator ensures mess-free application, and the lightweight texture ensures you don't wake up with weird pilling or extra eye crusties. Like the vitamin C serum it's based off of, this lightweight, eye-specific version brightens, firms, and smells like a spa facial. —E.S.
These Mysterious K-Beauty Ampoules


Maybe about a year ago, Alicia Yoon of Peach & Lily invited me to meet Shangpree. If facials were an Olympic sport, the Korean spa brand would win the gold medal every time. Shangpree facialists train for a minimum of three years before they're allowed to touch a client's face. Numerous K-pop stars go there for weekly facials. Naomi Campbell just went last week. Diana Tsui, the Cut's former senior market editor, went once and had the most painful and simultaneously sculpting facial of her life. Shangpree also has a product line, and Yoon gave me these mysterious ampoules. They're little capsules containing moisturizing oils, anti-oxidant fighting algae, and salmon sperm (?, I know) which allegedly help with skin regeneration and plumping. It feels like a very silky serum, and whenever I slather it on after moisturizer, I feel like I just activated "nitrous" from The Fast and Furious, but for my moisturizer. My skin looks instantly brighter and bouncier the next day. It also comes in a very fancy beveled box with a leaping salmon at the top, which makes me laugh. —K.H.
A K-Beauty Body Lotion


This lotion makes moisturizing limbs feel more like skin care instead of just that thing I have to do after I get out of the shower. Consistency-wise, it's a lot thinner than the thick creams my dry legs and I usually gravitate toward, but it quickly sinks into the skin to get to work, and it does its job extremely well. There's no sitting there rubbing it in and waiting for it to disappear, no fragrance, and no sticky residue whatsoever. You can immediately slip into a sweatsuit and socks without that unsettling clingy feeling following you around. —E.S.
The Moisturizer I Don't Quite Understand


This moisturizer is by Tina Craig, the influencer also known as Bagsnob. She has explained to me very patiently, multiple times, that her company has developed a proprietary, compressed long-chain hyaluronic acid which is stronger and better at attracting water to it than any other one currently on the market. I don't fully understand it, but here's what I do know: This is the moisturizer that my bougie-beauty-loving mom and I can't stop reaching for. She tried it blindly, not knowing anything about its formulation, and told me the next day that it made her 60-something skin incredibly soft. As usual, my mom is right. It's a light fluid, not even a heavy cream, but my skin feels noticeably silky and more supple the morning after I use it. I know the bottle doesn't look like it holds a lot, but you need one pump, maybe one-and-a-half pumps at most for your entire face. —K.H.
A Fun Face Workout
Electrocuting your face sounds a bit scary, but this adorable bear-shaped tool makes it feel more accessible to those new to the practice. The shape is easy to grip, and the tool connects to an app that guides you through face-sculpting workouts, and starts and stops your device if you still have no idea what you're doing. You can also customize your routine with five different microcurrent intensities that are accompanied by stimulating pulsations, if you feel ready to move up to the front of the class. You'll actually start to see a difference in your face with regular use, which is always encouraging when you splurge on something, and since the bear is so portable and cute, it's easy to stay on schedule. —E.S.
The Perfect Matte Lipstick
The queen of beautiful-yet-functional YouTube beauty tutorials, Lisa Eldridge, has created the best matte lipsticks in existence. In the tube, these lipsticks look textured like actual velvet. They should probably be studied as a cosmetic and formulation marvel. Eldridge says she almost gave up on her dream of making a perfect matte lipstick because it was so difficult, and I can see why. These are somehow creamy, pigmented, lightweight, hydrating, matte, and a tiny, tiny bit shiny (she says she wanted to re-create the slight sheen of a ribbon in motion) all at the same time. Best of all, despite being longwear, they don't leave a ring on your lips, but wear off prettily and evenly over time. In other words, they're perfect. They come in 17 colors, including pinks and nudes, and I want every single one. —K.H.
The Design Snob's Electric Toothbrush
I am 100 percent confident that the best toothbrush is an electric one, especially if you are cavity-prone as I am. It doesn't actually matter that much which one you get — just know that like hi-speed internet, an electronic toothbrush, while pricier, will always be better than an analog one. Rosie Huntington-Whiteley and I use this one, designed by veneers dentist-to-the stars Dr. Apa and Jonathan Adler, but there is also this one, long rumored to be used by Beyoncé.
Every product is independently selected by our editors. Things you buy through our links may earn us a commission.