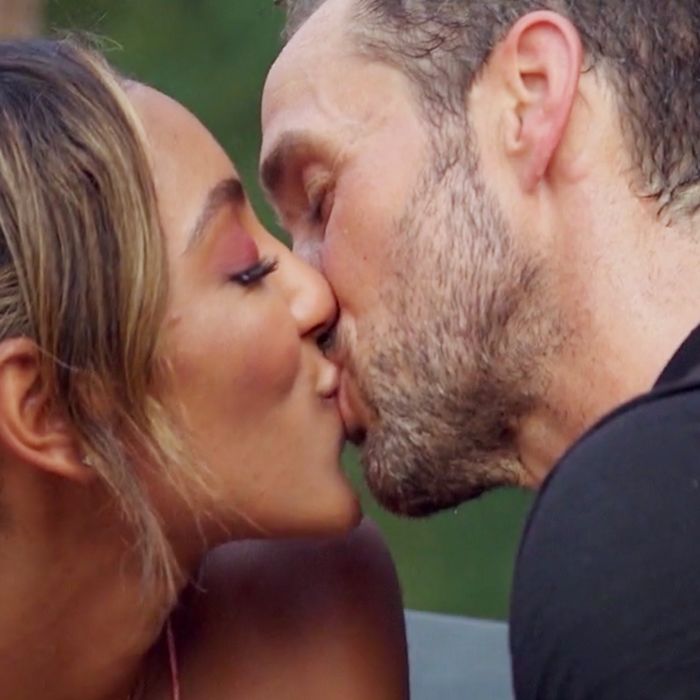 Hello and welcome back to the Cut's Bachelorette recaps. It's week 11, one week until the finale, and to help move things along, we got two episodes: "Men Tell All" on Monday, and then "Hometowns" on Tuesday.
To summarize "MTA," it was a romantic bloodbath: Tayshia sent home Blake, who looks like Wreck-It Ralph; Riley, who opened up to her about how his real name isn't actually Riley; and both Noah and Bennett, who ultimately seemed more interested in fighting with each other than in connecting with Tayshia.
To summarize hometown week: Everyone was sweaty.
As you know, due to Covid, this season of The Bachelorette was filmed in a quarantine bubble at the La Quinta Resort & Spa in Palm Springs, an area which, based on last night's episode, experiences the same temperatures and weather patterns as the surface of the sun.
Since production couldn't fly Tayshia out to the final four guys' hometowns, they brought the guys' families to the La Quinta Resort & Spa, had them quarantine, and then created little simulacrums of their hometowns.
Here's Brandon sweating at a makeshift carnival.
Here's Zac losing half his body in sweat while taking Tayshia through cardboard cutouts of New York City.
Here he is later, losing even more electrolytes while talking to his mom.
Then there's Ivan sweating indoors before making lumpia, Filipino spring rolls, with Tayshia.
Here he is sweating with Tayshia after she met his family. At one point, Ivan lays out for Tayshia all the health problems his elderly father has faced, and why he's at an especially high risk for Covid, but production still chose to fly him out! Okay!
And finally, there's Ben, who was savvy enough to plan a date that included swimming, but who eventually succumbed to the heat while chatting with his best friend, Antonia from Top Chef (?), about how he's fallen in love with Tayshia.
Tayshia, of course, the demigoddess that she is, remains perfectly dry and glowing at all times. But couldn't the producers help the guys out? Maybe give them a handheld fan between shots? Or an industrial water vacuum to soak up the ankle-deep puddles of sweat that had surely accumulated around their pristine white sneakers? An IV to replenish their fluids? As someone who immediately starts sweating profusely the second the temperature creeps over 75 degrees (sexy?), I felt enormous sympathy for these absolutely drenched men. Justice for us sweaties!
Anyway, in the end, Ben sweating out his love for Tayshia with his best friend, Antonia from Top Chef, wasn't enough, and Tayshia sent him home because he couldn't open up to her. After she sent him home, she tried desperately to connect with him, to get him to say something, anything real, but he fully shut down, and just kept saying he would be fine. It wasn't until Ben was alone in the SUV on his way out that he was able to talk about how much Tayshia meant to him. It was painful to watch, but at least the SUV had climate control.
Next week is fantasy suites and the finale. It looks like everyone does It (sex, probably) in Airstreams, which is kind of cute. Who will Tayshia pick? Will makeup help keep the men's faces from melting off between takes? We'll have to see.