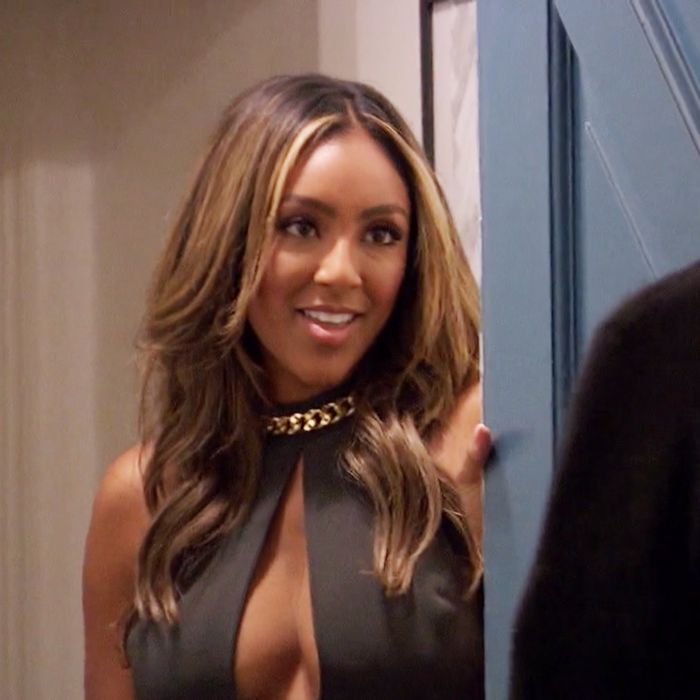 Here we are, friends, the homestretch. We've been through so much together: Remember when Clare Crawley arrived at the La Quinta Resort & Club — the show's chosen COVID-bubble location — and met the suitors she would then proceed to ignore in favor of contestant Dale Moss? Or when Dale proposed to Clare in the courtyard of the La Quinta Resort & Club? And when Tayshia Adams took Clare's place and started going on elaborate dates around the grounds of the La Quinta Resort & Club? And now, in just a matter of hours, we'll find out whether Tayshia will leave the resort with a La Quinta Fiancé & Ring or not. But first, Fantasy Suites — the episode where, historically, the Bachelorette and her remaining three suitors get to spend an off-camera night together to talk and do other stuff (sex) if they want.
The prospect is awkward for the suitors. In between all of their individual dates with Tayshia, the men — Ivan, Zac, and Brendan — sit around on a massive brown couch and struggle to make eye contact because they all resent the others for potentially hooking up with the girl they like. As Zac puts it when Ivan heads off for his date with Tayshia: "Ivan is a good dude. I would let my sister date him … I don't know about my girlfriend."
Anyway, Ivan and Tayshia break the world record for the longest, coldest kiss together by making out in ice baths for over six minutes. My personal view is that the more hyperspecific the record, the less impressive it is to break, but I applaud them nonetheless. At dinner, they profess their love for each other, and then spend a romantic, off-camera night together in an Airstream. The next morning, Ivan says he's ready to propose to Tayshia, and Tayshia eats the honeydew melon out of a fruit salad — which is nuts because honeydew is always the worst part of a fruit salad.
For her date with Zac, the two strip down to their skivvies, cover themselves in paint, and "paint" a canvas on the ground using their bodies. The whole thing is incredibly horny. Zac declares his love for Tayshia at dinner, and then the two go to their Fantasy Suite together. Luckily, production was respectful enough to get them a different room, so they didn't need to spend the night in the same Airstream Tayshia and Ivan shared.
On her third and final date, Tayshia gets dumped. She takes Brendan to meet Neil Lane, the jeweler, and to look at earrings and engagement rings together. (No one mentions whether Neil Lane had to quarantine at the La Quinta Resort & Club for two weeks before greeting them.) The engagement-ring shopping brings up a lot for Brendan, who's been married before, and that evening, he tells Tayshia that he's broken, and she deserves someone who is whole.
So Brendan is out, and it's down to Zac and Ivan. Only, hold on … What's this? Ben is back! Ben, as you may recall, left after hometowns, to which he brought his sister and family friend, Antonia from Top Chef. Tayshia didn't give him a rose because she felt he hadn't opened up to her, and in response, he fully emotionally shut down. He wasn't happy about that, though, so now he's back, knocking on the door of Tayshia's suite at the La Quinta Resort & Club, telling her he's in love with her and he wants to be with her. Will she allow him to return to the show? We don't know. We'll find out about that, and who Tayshia ends up with, during the finale tonight. Hopefully the guys are given more access to cooling fans and climate control than they were last week.