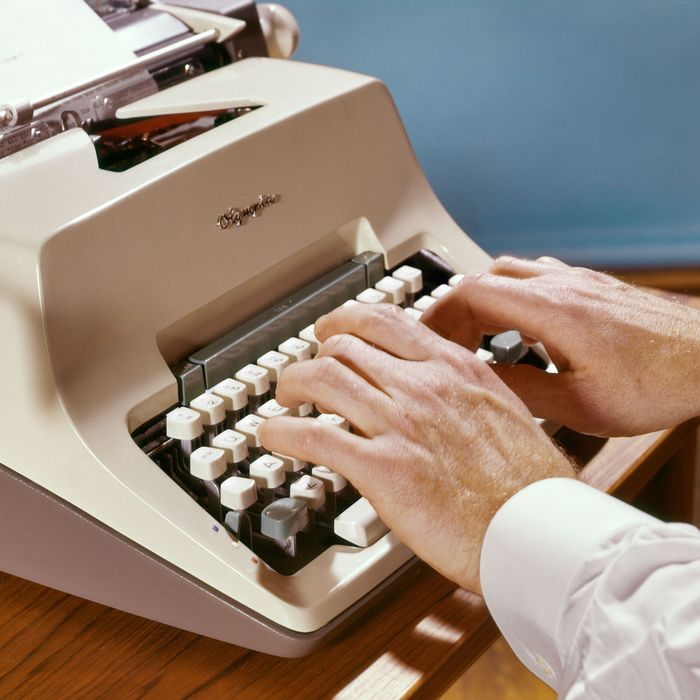 The news comes as a major blow.
Photo: H. Armstrong Roberts/ClassicStock/Getty Images
Every year since 1993, the industrious editors at the British magazine the Literary Review have sat down with steaming cuppas and pored over some of the most wretched sex writing in fiction from the past year, seeking out the "most outstandingly awful scene of sexual description." And then, once they've identified the most appalling passage — which, in the past, have included the phrase "a coil of excrement" and used the word "cum" seven times — they bestow the writer responsible for it the honorable Bad Sex in Fiction Award.
While all the passages that the editors consider — which they deliver in the form of a shortlist — unfailingly inspire revulsion, every year we look forward to learning what men think sex is. But this year, we will be denied this rich source of both disgust and joy: The magazine has called off the prize.
According to a statement released yesterday, this decision was not made lightly — rather, the judges reached it "after weeks of deliberation," and even still, it was "difficult." But why deny us bad sex (writing)? Apparently, the Literary Review "felt that the public had been subjected to too many bad things this year to justify exposing it to bad sex as well."
While it appears the judges were not motivated by animus, this news nevertheless comes as a major blow. Were it not for the awards, we probably wouldn't know that in 2018, a man wrote, "They stay in this position for a long time, Anna sucking and slurping with the same lazy persistence you'd use on a gobstopper or a stick of rock." Or that in 2005, another writer compared an orgasm to a "demon eel."
While the judges warned in their statement that "the cancellation of the 2020 awards should not be taken as a license to write bad sex," we disagree. Rather, when the prize recommence next year, we hope the entries are filthier than ever to make up for the lost year. After reading the shortlist, we want to feel unmoored. Game on, James Frey.