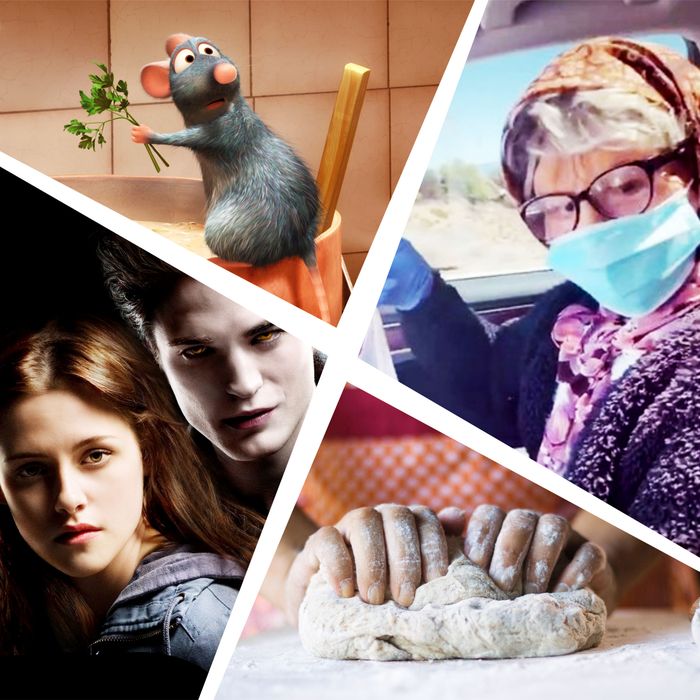 Photo-Illustration: by The Cut; Photos: Shutterstock, TikTok
Yes, 2020 was disastrous, but at least we had TikTok to dull the pain. If you embraced this chaotic app, your screen time likely went way up, you learned how to make bread, you pranked your roommate, you did some dances, and you found even more ways to escape the awful, constant onslaught that was the news this year. To revisit all TikTok had to offer, keep scrolling.
Making Bread … Obviously
Bread-making was the activity that saw us through the beginning of quarantine what feels like a million years ago. Thank you, TikTok creators, for teaching us how the heck to use yeast, the way to knead a focaccia, and what goes into that crazy, colorful cloud bread.
Viral Dances That We Just Had to Learn
This trend is still going strong, but there was nothing like the early dancing days, which brought us "Renegade," "Savage," and "Cannibal." Back then, Charli D'Amelio and Addison Rae just danced — there was no Hype House drama. Remember attempting to learn the moves while your ciabatta was in the oven? Ahh, a simpler time.
Ratatouille the Musical
Arguably the saving grace of 2020: Tons of creators banded together to make an entire musical based on the film Ratatouille. These TikTokers covered every aspect of the show, from writing the score and choreographing dance numbers to designing sets, merchandise, and a playbill — all at home.
And now the musical is going to Broadway in 2021. Well, kind of. Broadway production company Seaview recently announced that it will be partnering with content creators for a virtual show on January 1 to benefit the Actor's Fund. We have no idea what this will look like, since thousands of different #ratatouillethemusical TikToks have been uploaded, but we're excited.
The Twilight Comeback
Thanks to the series's appearance on streaming platforms, the resurgence of the Twilight films during quarantine was nothing short of iconic. While we were confined to our homes, influencers took to TikTok to point out just how corny the movies were, satirizing Kristen Stewart's nervous lip-biting and Robert Pattinson's weird smolder, or to talk about how hot all of the dads were. Others spent time making in-depth explainers of the books. Some even traveled to the Cullens' glass house in the woods of Forks to twerk to the soundtrack.
Teens Disguised As Grandmas to Buy Alcohol
Gone are the days of asking your friend's boyfriend's cool older brother to buy you a case of beer. Just dress up like a grandma and cut out the middleman. Over the summer, some young TikTokers constructed elaborate disguises, posing as mask-wearing senior citizens in order to buy some booze. We're talking pedal-pushers and wigs and full-on makeup. (Most of these videos are no longer available, probably because they purport to show illegal activity.)
The #PatienceChallenge
This one really had a moment around Halloween. Parents would give a child a treat and then leave the room, telling them not to eat it until they came back. With a camera in place, we could see the kids go through a major internal struggle, not wanting to succumb but also wanting to just eat the dang treat. Some even posed the challenge to their dogs! And we can't talk about this trend without mentioning sweet Stormi Webster saying "patience, patience, patience." We wish we had patience like Stormi.
Parents Impersonating Their Kids
Kids film their parents pretending to be them, and boy, do they deliver. Parents act out all the annoying things their offspring do: leaving their shoes right at the front door, asking what's for dinner, going out without giving notice, and constantly requesting Starbucks. Now kids are impersonating their parents' shenanigans, spouses are impersonating each other … and it's just as good.