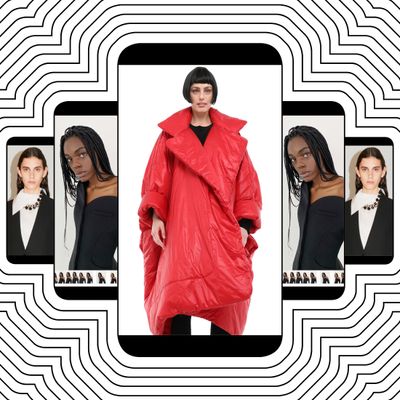 Photo-Illustration: by The Cut; Photos: Courtesy of Norma Kamali, Coperni, Jil Sander
Now more than ever, people are experiencing fashion through their phones. In "Screen Time," fashion writer Emilia Petrarca shares all the screenshots, double taps, and swipes she made this week.
This week really bashed me over the head with the fact that 99.9 percent of my interactions with clothing are through a device right now. I've been waking up in the morning and throwing on a sweatshirt, diving into Balenciaga video games, scrolling through the new collections on Vogue Runway, and inevitably buying something I don't need just to feel alive. And then I do it all again the next day. By Thursday, I needed a break from the Simulation, so I put on some pointy-heeled boots and a blazer — even earrings! — and got all dressed up to go have a dollar slice of pizza with a friend. The finishing touch was my Norma Kamali sleeping-bag coat.
Below is my week in scrolling. Here, some outfits I'd like to wear in real life — and some other things that inspired me.
An Aughts-Era Handbag That's Having a Comeback
On Monday, Balenciaga released its fall-2021 collection in the form of an online video game titled Afterworld: The Age of Tomorrow. It's actually really cool and full of amazing little details — like the presence of the City Bag, one of the "It" bags of the early 2000s. I would have totally missed it if the Schmatta Shrink, a vintage guru, hadn't brought it to my attention on Instagram. The style launched when designer Nicolas Ghesquière was at the helm of the brand. (It's now Demna Gvasalia.) You might remember celebrities like the Olsen twins carrying it around. It's not unusual for a brand to bring back past handbag hits, but this resurgence feels particularly on point. The bag has a grittiness to it; it's not so in your face. A comeback seems inevitable, so, of course, I set an eBay alert.
A Non-WFH Look to Play With at Home
The Balenciaga video game ends with a breathing exercise. Inhale. Exhale. The real prize is turning the game off and existing in the physical present. But that lasted for about two seconds before I was back to scrolling again. This season, the New York–based brand Khaite did something unusually high tech for its pre-fall-2021 collection. If you go to its website on your phone, you can place the model anywhere in your immediate surroundings using augmented-reality technology. For example, I put my favorite look — a poofy evening dress worn with a cropped blazer — on top of my toast.
A Blazer With a Human Touch
The French brand Coperni also played with our current digital reality for its resort 2021 look book, which was presented, just like this column, in the form of iPhone-camera-roll screenshots. How meta! One look I screenshotted while swiping through the Vogue Runway app was this off-the-shoulder blazer.
A Styling Trick to Try IRL
I love scrolling through the Vogue Runway app. It's such a soothing activity for me — pinching my fingers to zoom in on each look — and I'm so happy there's more new stuff to see (even if I can't experience it in person). Garage features director Laia Garcia-Furtado pointed out on Instagram the way Jil Sander designers Luke and Lucie Meier styled jewelry over these big floppy collars this season. I think it's such a fun, subtle trick to add to the list.
A Fashion Documentary to Dive Into
It was so cold this week in New York that I didn't leave the house. Like, at all. I figured if I couldn't get dressed up to go out, I would use being cooped up inside as an opportunity to catch up on my film and fashion history. The documentary Martin Margiela: In His Own Words came out around this time last year, but I never got around to watching it. I had no idea what I was missing!!! Margiela is a notoriously mysterious figure, so the amount of access granted here is incredible. As he takes viewers through his meticulously organized archives and explains his thought process, I realized that I really miss breathing the same air as creative people. I highly recommend. It will make you want to stop dressing like such a buzzkill.
A Reason to Put on a Bra Again
When I ran out of fashion documentaries, I started watching music ones, because they're basically fashion documentaries. (Miles Davis: Birth of the Cool is a good place to start.) The new Netflix show about Selena Quintanilla made me want to know more about her. I couldn't find a documentary out there — only a movie starring Jennifer Lopez, which is fine — so I went down a YouTube rabbit hole instead. Selena was so stylish. (She also had her own boutique.) All this footage made me want to wear a bedazzled bustier and tight pants and dance around.
Some Inspiration to Move Your Body
Unfortunately, instead of getting off my butt, I've now just watched this video 100 times.
A Depop Discovery
Did you know Anna Sui was on Depop? Because I did not. I think that's so smart. It's the perfect audience for her '90s baby-doll tops and sweet silhouettes.
A Coat That Takes Up Space
I recently became the proud owner of a Norma Kamali sleeping-bag coat, and it was finally cold enough this week for me to wear it out of the house. Kamali first designed the sleeping-bag coat in the '70s after going on a camping trip upstate. (You can read about its origin story in New York's new Encyclopedia.) Being both stylish and warm — a rare combination — the sleeping-bag coat became a go-to for the doormen at Studio 54, who influenced everyone else to buy one too. (Kamali was dating co-owner Ian Schrager at the time.) Kamali has always had success selling the coats, which come in a range of styles and colors. But their popularity tends to spike during periods in history when people feel, well, like they need a hug, as she recently told me. This is definitely one of those moments. After finally wearing one out, though, I realized their appeal isn't just about comfort and warmth; they also take up physical space. I feel more present when I swish down the street wearing it. Plus, it invites personal interaction. When I wore it out, a stranger gave me my first compliment in months: "Nice coat!" they shouted from a safe distance.
A Tweet That Brought Me Back to Reality
A reminder that all trends are made up and everything is a joke!
Average Daily Screen Time This Week: 3 Hours, 57 Minutes
Up 16 percent from last week. Yikes … Get me out of here!