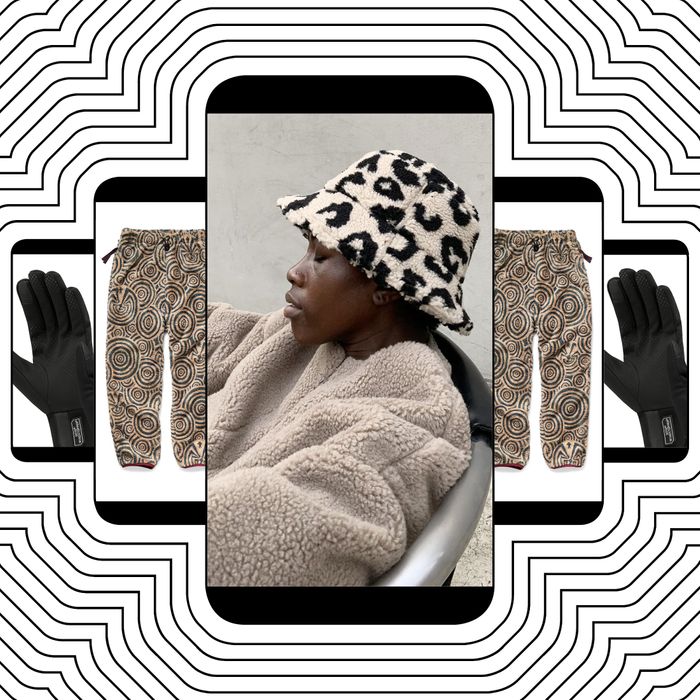 Photo-Illustration: by The Cut; Photos: Montbell, Mannahatta, Sincerely Tommy
Now more than ever, people are experiencing fashion through their phones. In "Screen Time," fashion writer Emilia Petrarca shares all the screenshots, double taps, and swipes she made this week.
The past week has been one of strict quarantine for me. My days have been long and dark, spent mostly in front of screens. I watched Lord of the Rings and binged eight episodes of Industry on HBO in three days. (The Pierpoint office holiday party … wow.) I googled "Best Christmas movies" and Catch Me If You Can came up, and I was like … sure. In the middle of the movie, my roommate turned to me and said, "Can you imagine if you dated someone who turned out to be a fraud?" I said, "That literally happened to Anne Hathaway!!!" She didn't believe me, but it's true. Google it.
I also spent the week searching for winter-appropriate gear. I don't know if you saw on Instagram, but it snowed in New York on Wednesday. I realized that I don't have proper gloves or a hat. It's funny, for all the hours I've spent inside this year, my purchases have been oriented mostly toward avoiding the elements — being outside without getting cold, or wet, or uncomfortable. It was satisfying for a while, but now I'm actually kind of bored by it. After spending way too long on the Arc'teryx website this week, I'm ready for a bandage dress and some 6-inch pumps. You bet I'm going to watch Phantom Thread this weekend now that it's on HBO.
Below, my week in scrolling.
A Statement Hat
When it comes to winter gear, I think hats should be the most outrageous part of your outfit. I refuse to buy a simple knit one. Vintage is best — all hats used to be outrageous! — but I also like a fun print and material, like this fleece cheetah print bucket hat from Sincerely, Tommy.
Some Serious Snowball Gloves
Montbell is now my go-to for affordable but stylish outdoor gear. (I purchased my fanny pack from there over the summer.) I want my gloves to be sleek and elegant, but also capable of sculpting a perfect snowball. These look like they would do the trick.
A Knit by the Vice-President's Stepdaughter
Are you aware that Vice-President-elect Kamala Harris has a stepdaughter named Ella Emhoff, and that she makes funky knit sweaters? This seems like something everyone should know.
A Shrek Shell and Matching Pants
For some reason, it feels like everyone I know has a Shrek-colored Arc'teryx jacket this year, and now, unfortunately, I also need a Shrek-colored Arc'teryx jacket.
And maybe some expensive Arc'teryx pants, too? Who am I?! I think I just want these because they're expensive, but I imagine that if I was climbing Mount Everest they might prove handy. You really just never know.
Warmer Bottoms for Staying Inside
Editor-at-large Stella Bugbee made me want a pair of these pants by the Japanese brand Kapital. I really like the "Maze" print that she has, but this leopard pair on eBay seems more my speed.
Simple Black Boots
Unlike hats, when it comes to winter boots, I don't mess around. A Vibram sole is all a girl like me needs. These boots by Jil Sander are perfectly simple, but the price tag makes them extremely out of my range. This pair by Loeffler Randall seems like a pretty good dupe?
Something a Little Less Practical
Pre-fall collections continued to roll out this week, and Givenchy designer Matthew Williams demonstrated that freaky footwear is not going to be a onetime thing for him. (You might recall his toe shoes from last season.) Obviously, I found myself zooming in on these studded, Croc-like slides while swiping through the Vogue Runway app.
A Perfect Combination of Hard and Soft
As GQ style editor Noah Johnson recently wrote, "hard clothes," or clothes with texture, structure, and weight that aren't sweatpants, can actually make a person feel really comfortable. I tend to agree with this, and I think if you've spent quarantine wearing anything like Patagonia Baggies shorts or Arc'teryx shells, you might, too. But, of course, life is a balance. Alexander McQueen designer Sarah Burton was onto something with her spring 2021 collection, which will hopefully be worn in a very different world. It used tailoring to masterfully combine hard and soft — corset tops with flowing tulle skirts, and leather biker jackets with airy, winglike sleeves. This is what I want to wear. No more crunchy stuff.
A Jumpsuit I Want to Slip Into Right Now
Watching the Bottega Veneta spring 2021 show really made me wish I was there to touch everything in person. It was a feast for the senses. I love the silhouette of this jumpsuit in particular, with its structured top that flares out at the bottom. Daniel Lee and Sarah Burton seem to be on the same page.
Transition Pants
I bought a pair of Helmut Lang tuxedo pants with a drop crotch for like $50 on The Real Real last week and they've changed my life. I think suit pants like this are a great way to transition out of sweats and introduce a little formality back into your life. I made a nice dinner for my roommate and wore them with a tank top and a starched Uniqlo white button-up shirt. I felt comfy but also cool, like in a professional way. It was thrilling. The Frankie Shop makes lots of similar styles.
The Video that Made Me Laugh the Hardest
Like the woman in the video, I found myself gasping for air while watching this. For context: There's a social-media "prank" going around where you pretend to be an influencer in front of someone who knows you well, and tape their reaction to your shenanigans. It perfectly captures how embarrassing it is to be an influencer, but also how none of us can stop.
Average Screen Time This Week: 3h 19m
Down 19 percent from last week, probably because I watched three hours of LOTR and eight hours of Industry.