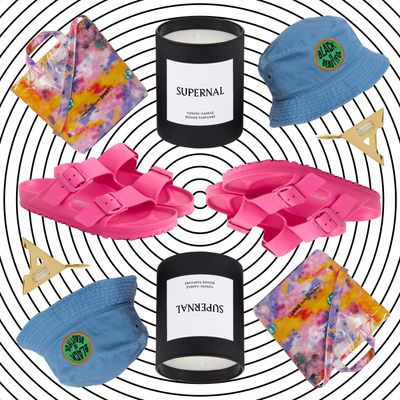 Photo-Illustration: Retailers
As cliche as it sounds, this year it really is better to give than to receive. From weird candles to fun puzzles to cozy items galore, The Cut's editors are all about getting thoughtful gifts for their loved ones this year. Whether it's for mom, dad, friends, or the picky foodie in their life, read on for ideas that'll be sure to make everyone happy.
Kathleen Hou, Beauty Director
I mean, just look at it. A luxury for sure, but at under $100, it's a nice fancy gift for anyone.
A Japanese bathing-scented candle, and in a smart twist, it comes with materials that allow you to repurpose the terrazzo vessel as a planter.
My Instagram bright light this year has been following the baking and cooking of @GrossyPelosi. He's the Italian nonna I've never had, and his recipes are fun without being too complicated. This cozy hoodie will carry my friends through winter, and the proceeds go to SAGE, an organization dedicated to improving the lives of the elder LGBTQ community.
This is a nice little life upgrade for your friend with a LaCroix addiction. Sanzo is sparkling water that's refreshing with a nice Asian tropical fruit flavor. My favorite is the Alfonso mango, which true mango heads know is the best one because of its full, but not-too-sweet flavor. –Kathleen Hou, beauty director
Devine Blacksher, Associate Fashion Editor
I recently bought a shirt from Mindful Fee that says "Somebody's Aunt" and I love wearing it around the house on zoom calls or video chatting with my niece and nephew. They have versions for the whole family: Mama, Daddy, Auntie. Daughter, and Son so it's an easy way to cross off multiple people on your list.
Photo: Hanna Grankvist
Buying local and supporting the community I live in is super important to me. Savant Studios is a big part of the Bed-Stuy creative space and I love their "Black Is Beautiful" bucket hats as a thoughtful gift for my friends — just be sure you know the size of the person's head.
Since watching The Queen's Gambit, I've not only been addicted to learning chess, but I've noticed all my friends playing chess on their phones. This is the perfect gift for the friend or family member that hosts game nights at home or the friend who wants to put their skills to work IRL.
From Our Sponsor
The cherry-red color and the gold hardware make this little bag feel festive, but the adaptable chain and many compartments make it useful for every day.
Matthew Schneier, Features Writer
My mom has been asking forever for a charm necklace with her kids' initials on it, but finding the perfect one has been a beast. I love these Lizzie Mandler Art Deco-style letters — now the only challenge is getting my brother and sister to pony up for their own initials to add on.
I wasn't sure about vinyl Birkenstocks when I realized my boyfriend wore them as house slippers around the apartment and then I tried them on. It's like walking on a bouncy cloud. I expect my sister will have this same journey from skepticism to conversion, though I expect getting them in her favorite color will bring her along in less time than it took me.
Books can be a kind of bummer gift, since reading tastes vary so widely, but I've found that one thing that works well is giving sleek, slender little ones—nothing over 200 pages. Rather than feeling like an assignment, they feel like a treat. I'd love to give Samantha Schweblin's novel Fever Dream (192 pages) or Sigrid Nunez's mini-biography Mitz (172), about Leonard Woolf's pet marmoset, who became the toast of Bloomsbury, not least because I'd love to borrow them once the recipient is done.
For me? You shouldn't have. But if you must, I love the plastic-coated tote bags Comme des Garçons made with the '80s artist Futura, something I'll never actually get for myself.
Daise Bedolla, Social Media Editor
Marketing wiz Babba C. Rivera closed down her agency to dedicate her time entirely to her new haircare line Ceremonia earlier this year, and the devotion shines through in the Scalp Power Duo. The Aceite de Moska is a scalp oil that can be applied before or after the shower for shinier, frizz-free hair, while the Scalp Masajeador is an exfoliant that will reduce flakiness. They both work on all hair types, making it the perfect duo for anyone looking for rich girl hair in 2021.
I switched over from coffee to matcha a couple of years ago. Since then making an iced matcha latte in the mornings has become a ritual for me as I take the time to measure out my matcha, sift it, whisk it into my water and honey, and froth up my oat milk. I've introduced a couple of friends to it as well, and this gift set from Alfred is perfect for them. It comes with a ceramic bowl, a measuring scoop, a whisk, and of course, a tin of ceremonial-grade matcha.
My dry skin drinks up Supernal's silky (but never greasy) Cosmic Glow Oil — it's also a favorite of Why Is Your Skin So Good contributors Trinity Mouzon Wofford and Sofie Pavitt. It smells botanical, almost woodsy, and for its latest (and only second) launch, the brand launched a limited-edition candle inspired by the oil's scent. With notes of sweet bergamot, chamomile, and pine, the Cosmic Candle is fresh but warm. It's the kind of candle you want to light after a hectic day, when you want the relaxing scent of a forest without actually having to go outside.
My sister and I are on opposite ends of the skincare spectrum. Whereas I stand firmly on the maximalist side, she often forgets to wash her face at all. I'm placing my faith in Glossier's Skincare Edit to get an uncomplicated, but efficient skincare routine going for her. It comes with their Milky Jelly Cleanser (a favorite of mine), Super Bounce serum, Priming Moisturizer Rich, Balm Dotcom, Futuredrew oil-serum hybrid, and a headband. I see shelfies in her future.
Erica Smith, Beauty Writer
One bright spot of 2020: The lockdowns unveiled all the fellow puzzlers that have been in my life this whole time. Each will be receiving one of these pretty Piecework Puzzles. Every masterpiece also has an accompanying curated Spotify playlist to play while you puzzle, which is a nice little cherry on top.
My two sisters and I all have drastically different curl patterns, which makes sharing product recommendations tricky. That said, I know both of their hair types will love this glossy oil that smells like the '90s. Plus it includes the most perfect scrunchie I've ever met.
This year's stocking stuffer will be this hand sanitizer Michelle Pfeiffer made. The 70 percent alcohol formula (the CDC recommends at least 60) makes you smell like a fancy candle hanging out in an upscale hotel bathroom rather than well vodka spilled on a bar floor. I regularly ask people what smell they'd want on their hands forever, and lately, I'm thinking I'd pick this.
I'm very pro Socks As Gifts. A lot of people are covered on the cozy, lounging front by now so I'm gifting these compression socks that help you feel like you're doing more than you are. They keep your legs awake and energized while you're sitting at home staring at screens all day. Simply slipping into a pair helps you segue into work mode without having to put on hard pants or a bra or anything crazy like that.
Emilia Petrarca, Fashion News Writer
Photo: Taper Freak
I'm convinced that strange and delightful candles will be the cure to my winter depression. These squiggly ones by TaperFreak are hand-made, and a great stocking stuffer. I've bought some for myself and my mom. Order by December 10 to get them in time for the holidays!
But if anyone wants to give me something, I would like these Italian Cheese candles for myself, just saying.
Speaking of winter depression, my martini drinking will not be stopped, it will simply move inside. Alone. Might I suggest buying you and your loved ones some nice cocktail glasses? The new "Everything Else" section on Ssense is a great place to start.
Everyone's cleaning more now, including my brother. He can't seem to find rubber gloves that fit his enormous man hands, though, so I've got this sorted for him.
Kerensa Cadenas, Senior Editor
I'm not really a gin person, but I've recently gotten very into martinis and found I preferred one made with gin instead of vodka. This one by Amass might have just changed my mind on the liquor in general — it's a delightful, bright, smooth flavor that's just as good in a martini as it is with seltzer and a lime. It's honestly the best I've maybe ever had. (Also check out their hand sanitizers!)
I love giving a luxurious coffee table book — there's something that I'm just drawn to when I used to see them at other peoples homes and flipped through them. Black Futures asks the question "what does it mean to be alive and Black right now?" Editors Kimberly Drew and Jenna Wortham attempt to answer that question in almost 600 glossy beautiful pages that are filled with poetry, art, essays, interviews, memes that are thought provoking and arresting. This is the book to have on your coffee table.
I haven't been able to read during the pandemic, which has been a personal tragedy. A few books have been able to wake me from my stupor and this was one of them, so I plan on giving a copy to a few friends. The story follows the Vignes twin sisters after they run away as teenagers. One returns to her hometown with her Black daughter and the other passes for white in a glamorous Los Angeles existence. It's a complex look at race, identity, family. I loved Bennett's The Mothers and this novel cemented her as one of our future greats.
I personally find it hard to find a wine that's both in my price range and something that I really like. Maybe that's because I know little to nothing about wine? When I tried the McBride Wines they checked all those boxes, even with their Chardonnay which isn't even a white I usually like. Plus, they are female founded and the largest Black-owned wine company in the U.S. McBride Sisters Wine also run a professional development fund for Black women owned businesses.
Andrew Nguyen, Fashion News Writer
Thanks to Rihanna, I'm a sucker for a pajama set that works for snuggling on the couch but also happens to look chic when worn outside of the house. This would make a great gift for my mom.
This year, I gifted myself this simple yet fun Marni tote bag for everyday use. Made with waxed canvas, it's really durable. Plus it's double sided — one has the brand's logo and the other is plain so I can switch it up depending on my mood. I highly recommend this to anyone needing a new work-friendly bag.
I love giving unique gifts and seeing someone's smile. This necklace has a mashup of colorful beads, gold, and pearls — it's really unexpected and fun!
For my cousin, I'm getting her something from a cool, emerging Asian American designer like this Sandy Liang fleece. She'll love supporting the brand and it'll keep her cozy.