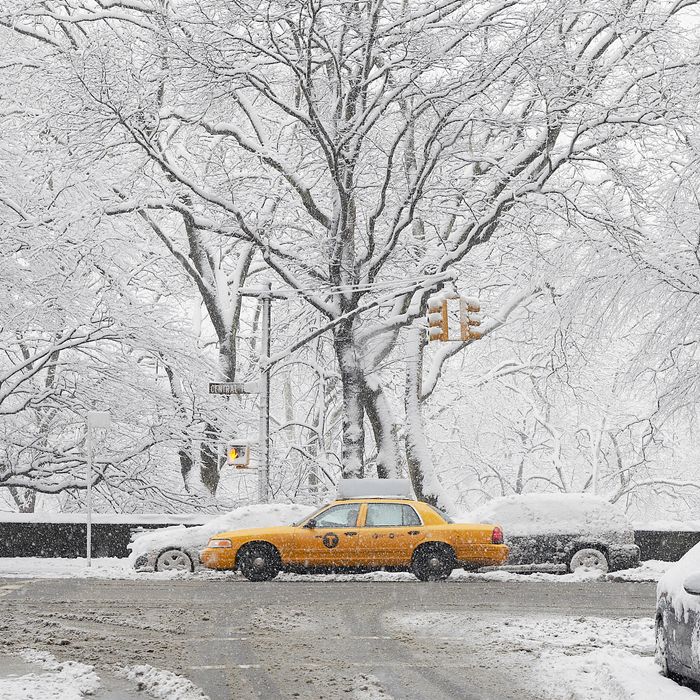 Winter is coming.
Photo: Getty Images/Tetra images RF
Twenty-four hours from now, a powerful storm is expected to pummel the East Coast in what forecasters believe could shape up to be the area's "biggest snowstorm in years." Between late Wednesday night and Thursday morning, when the storm is expected to be its strongest, up to a foot of snow could blanket Boston and New York City, while Western Maryland and South Central Pennsylvania are bracing for as much as two feet.
It's a fitting start to a long winter, one that public-health experts have predicted will be particularly difficult. As Dr. Ashish Jha, dean of Brown University's School of Public Health, recently projected in the New York Times, "The next three months are going to be just horrible."
The national trajectory is already bleak. While new COVID-19 cases were trending downward just three months earlier, the U.S. is now regularly tallying more than 200,000 COVID-19 cases each day and last week clocked more than 3,000 deaths in a single day, a new record. Meanwhile, hospitals across the country are buckling under the influx of COVID-19 patients, stretching nurses and resources thin and forcing professionals to triage care.
As the winter brings frigid conditions, gathering with friends and loved ones in public-health-approved settings will become increasingly difficult, and we'll yet again be deprived of social interaction. And anytime inclement weather strikes — as it is expected tomorrow — the restaurants that have managed to stay afloat amid the pandemic will take a devastating hit. For example, restaurants in New York City — which were recently instructed to shut down indoor dining — will be forced to halt roadway dining starting at 2 p.m., following orders from the Department of Sanitation. According to the Times, the city will still permit sidewalk dining — that is, if people are still motivated to leave their apartments to dine alfresco during a blizzard.
Amid all this, though, there are a few encouraging glimmers of hope. Flu activity is much lower than it typically is around this time of year, which inspires cautious optimism that we may avoid a coronavirus-flu "twindemic." On top of that, the U.S. just started its rollout of Pfizer's COVID-19 vaccine yesterday, prioritizing high-risk groups, and the FDA could authorize Moderna's vaccine as soon as this week. If all goes accordingly, vaccines could be widely available to the public as early as next spring. So let's get this season over with already.