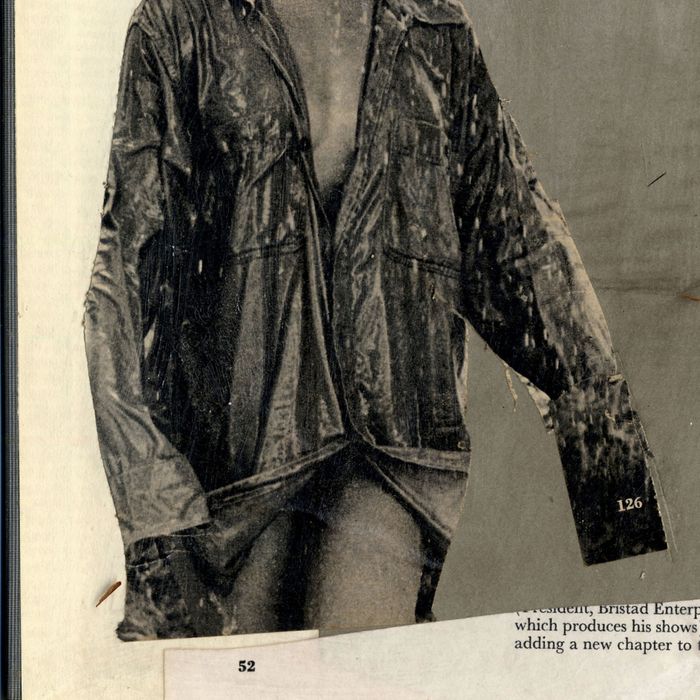 Photo-Illustration: James Gallagher
This week, a woman having sex with an old fling while trying to figure out what she wants from a new relationship: 42, single, Flatiron.
DAY ONE
7 a.m. This has been a tough few months for me. Today I wake up feeling angry, sad, horny, and ready for coffee. I'm in the middle of a divorce. We have two kids and right now we are sharing custody. It's one week on, one week off. This is my week off.
9:40 a.m. I have a Zoom meeting. I work for a nonprofit. It's nice to have an important cause to put my inner rage toward, but it's also detrimental because we are all very political people and we are all worked up over something these days. Who can blame us! Sometimes I think my job enables my anger issues; but maybe it's a healthy outlet for them.
11 a.m. No Zooms right now. No kids home. I take out my vibrator, and because my computer is charging in another room, I just use my imagination to get off. I think of a woman shoving her left boob down my throat while fucking me with a strap-on. I'm bisexual but lately can only fantasize about women, even though I actually only want to fuck men.
5 p.m. Dinner FaceTime with my kids. I love them so much but I can see how much fun they're having with their dad, so that makes it kind of okay. Not going to pretend I don't cry a little after we say good night. Their dad left me because he said I was making him miserable. He didn't want to work on it. He didn't give me a chance to make myself better. He said I was a horror to live with because of my mood swings, and constant bitchiness, and that he wanted to move on. Before I could even process the information, he had rented a new apartment.
10 p.m. I can't find anything to watch on TV so I fall asleep immediately.
DAY TWO
9:30 a.m. Billy texts that he wants to stop by. I've known him forever, since long before I was married with kids. He's 45, and like one of these lifelong womanizer types: never got married, never will. We had sex a few times about ten years ago and it was hot. I've been split from my husband for a few months and haven't had sex with anyone new yet and I can tell Billy is hoping to get the part.
1 p.m. Billy is here. We're both wearing masks but decide it's fine to take them off because we've both been pretty careful. He brings me a coffee and I can't drink it with a mask on anyway. As I go to get us some cookies to snack on, Billy comes up behind me in the kitchen. I giggle. I let him put his hands up my sweater and I'm not wearing a bra, so right away he's touching my nipples and getting hard. But it feels a little rushed and a little too obvious so I tell him to contain himself and suggest catching up first.
2:15 p.m. I have a work Zoom so I make Billy sit at the kitchen table while I take it from my bedroom.
3 p.m. When the Zoom is over, I call for Billy to come in. We fuck on my bed, under the sheets because it's so bright in there and I want to feel less exposed. I haven't slept with anyone but my ex in a decade so this is a lovely reintroduction to sex again. And yes, while we don't wear masks, we do wear a condom.
DAY THREE
10 a.m. I have this Zoom mediation thing with our divorce lawyers. It's nauseating. That's about all I can say.
11:30 a.m. Two hours of Zoom meetings, which I have to cut off because I have therapy soon.
2 p.m. Virtual therapy with a new person. I like her, but she talks to me like I'm the most fragile basket case she's ever worked with. But it's true that my mood swings are something ferocious, and I'm angry more often than I'm happy. But I also know that people are flawed, and that people go through rough patches. I'm definitely in a rough patch. We talk about coping mechanisms next time my rage flares up. I'm only mildly inspired by her pep talk.
7 p.m. I've talked to my kids, uncorked some wine, and text Billy to come over and fuck me again. He says tonight isn't good for him. I know that means he's seeing someone else this evening. I have approximately zero feelings for him so there's no jealousy, but I hope he's not seeing too many people.
9 p.m. Watch a little lesbian porn and have a bad orgasm. You know those bad orgasms where it sorta misses the mark? Like the dots didn't all connect? Eh, it's better than nothing.
DAY FOUR
8 a.m. I have an early hair appointment. Figured if I could look better, I might feel better. My stylist can cut and color me in her backyard. I pick us up two coffees.
3 p.m. Billy comes over in between meetings to fuck me against the wall. I don't come but I enjoy it. When he leaves, I take out my vibrator and finish myself off.
5 p.m. I go grocery shopping to prep for my kids who are coming home tomorrow. They are both under 5 years old. I'm a very loving, hands-on mother. Even my worst enemies (i.e., my ex-husband) say I'm an excellent mother. I'm just struggling with my general happiness and balance right now. I always put the kids first.
7 p.m. Make a few meals for the upcoming week, and bake huge chocolate-chip cookies. I add sea salt as they dry on the drying rack — that's the magic touch.
DAY FIVE
9:30 a.m. My husband and I share a babysitter, Shiloh, and she does all the kid-exchanging. That way we don't have to see each other. So Shiloh brings the kids by and even though I told her I don't need her today, and we're not paying her for the day, she hangs out a little extra long.
10 a.m. Maybe I'm paranoid but I feel like Shiloh is spying for my ex. Also, she's a very pretty grad student and suddenly I'm wondering if there's anything going on between them. He's an asshole but I can't see him doing that; it's too unoriginal.
10:45 a.m. She finally leaves. Art projects and play time begin!
7:30 p.m. Long, happy day with my little kitty cats.
8 p.m. Eat almost a pint of ice cream and call it dinner. I barely had time to eat all day.
DAY SIX
9 a.m. We have a playdate with someone I know from work. She's queer and adopted a son recently. In my head, I would like to be done with men forever. This woman is not my type but I envy her for never having to deal with a man-child again. The issue is, I love the feeling of a big dick inside me. A strap-on is not quite the same — it's just not. I've only been with a handful of women but the sex always left me wanting … dick.
4 p.m. Kids are watching TV and I can relax for a moment. I feel the most centered when I'm being their mom. It's hard and chaotic, but it feels the most right. Why do I feel so wrong in so many other facets of my life though? Make a mental note to review this with my therapist.
7 p.m. Kids are almost asleep as the doorman is buzzing up; there are flowers for me. They're from Billy. I read the card: "Your pussy tastes like roses." Thank goodness my kids can't read. I have a laugh and put the flowers in a vase. I'm happy I have a guy like Billy around right now. Life is hard enough; nice to know your pussy is valued.
DAY SEVEN
11 a.m. We always see my parents on Sundays. They're in Westchester but they drive into the city and we find a park. It's been hard with COVID but we keep the visits outside and my parents are real troopers. They are worried about me, I know it, but they stay in their lane. They're supportive, and loving, and for the four hours we're together, they give all their love and energy to the kids, which is all I could ask for.
4 p.m. While my kids watch some TV, I try to figure out which online dating apps I should try. I have almost no single friends. The lonely dark cloud is creeping up on me again … but I know what to do.
4:30 p.m. I turn the TV off and tell the kids we're doing an art project! We get out the tape and glue and glitter and feathers and make holiday cards for our friends and neighbors. It's so good to get out of my head and be creative with them.
8 p.m. They are asleep. I text Billy that if he can be here by 9, he can have his way with me. After 9 and I"ll be asleep.
9:15 p.m. He's here. Only 15 minutes late. I tell him to get down on his knees and make me come. He goes down on me for a while and I let it all out. I scream and hope I don't wake the kids. Then I wipe off his face, kiss him on the cheek, and tell him to get the fuck out.
Want to submit a sex diary? Email sexdiaries@nymag.com and tell us a little about yourself (and read our submission terms here.)