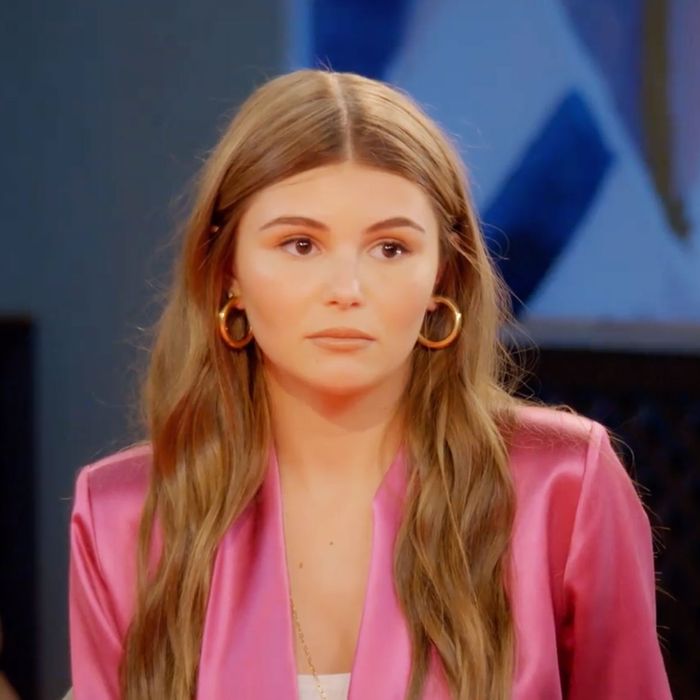 Olivia Jade.
Photo: Red Table Talk/Facebook
When Olivia Jade announced yesterday that she would be going on Red Table Talk to speak about the college-admissions scandal, questions abounded: Would the highest-profile student swept up in "Operation Varsity Blues" touch on her parents' jail sentences or her vlogging career, or attempt to paint herself as a victim? Well, no such explosive claims or revelations were made. Instead, her appearance today felt like the first leg of an apology tour: She admitted that her family "messed up" and said she desired zero pity as she knows she's extraordinarily privileged. Simply, she continued, she wanted "a second chance to be like, 'I recognize I messed up.'"
What ended up being one of the most interesting parts of the episode actually came before Olivia Jade even appeared on camera, when the table was only occupied by Jada Pinkett Smith, Adrienne Banfield, and Willow Smith. There, the women launched into a stimulating discussion about whether Olivia Jade deserved not only their platform, but their patience and compassion.
Banfield starts by saying she vociferously pushed back against having Jade on the show at all. "I just found it really ironic that she chose three Black women to reach out to for her redemption story," she explained. "I feel like here we are, white woman coming to Black women for support, when we don't get the same from them."
That Olivia Jade was afforded such a massive platform to explain herself, Banfield concluded, was "the epitome of white privilege" — an assessment that Pinkett Smith acknowledged, before challenging some of her other assertions. "I never want to be the thing that was done to me by white women," Pinkett Smith said. "People look at us, they say, 'you're Black and you're female, and they automatically put us in a category.' So looking at her as being white, young, and privileged, and then putting her in that category, it's the same thing.'"
While Pinkett Smith acknowledges that it is not their responsibility to "raise her consciousness," she wonders if Olivia Jade deserves their compassion. Here, it becomes clear that she and her mother have vastly differing interpretations of Olivia Jade's role in the scandal. Whereas Pinkett Smith thinks that Olivia Jade is "reaping the repercussions of some actions of her parents," which clearly strikes a chord with Pinkett Smith, Banfield isn't convinced that Olivia Jade "didn't understand what was going on." (Federal prosecutors also argued that Olivia Jade wasn't as innocent as she might claim.)
Toward the end of the early conversation, Willow enters as a peacemaker, reminding her mother and grandmother they "can't know exactly what happened." A little more back-and-forth ensues, but, again, Willow chimes in: "I'm sitting in between the two truths and going, Okay, there has to be a way that these can blend … because both are 100 percent valid true in their worlds," bringing the debate to a resolution. And then, with that, Olivia Jade enters the room.