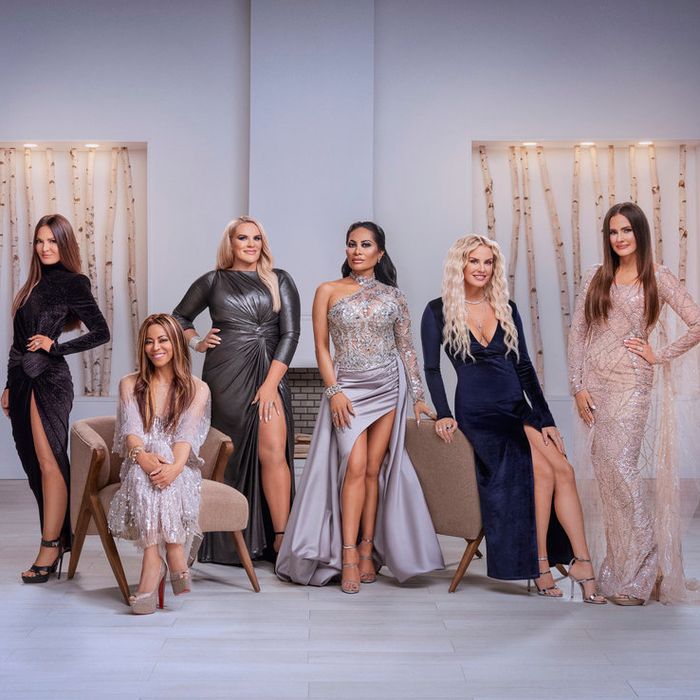 Photo: Chad Kirkland/Bravo
Last year, Andy Cohen, the high priest of reality TV, announced to the revelers at BravoCon that a new Real Housewives franchise was on the way. The Real Housewives of Salt Lake City would be the tenth in Bravo's marquee series of shows about wealthy women with fillers who fight at expensive dinner parties.
The news was greeted with some skepticism. And yet, like my own little Mormon grandmother bringing over a casserole of Utah funeral potatoes to one of her recently widowed friends, the Real Housewives of Salt Lake City has delivered. The pilot alone had the kind of absurd, hyperspecific drama one usually isn't treated to until at least the fourth or fifth episode of a Real Housewives series, and it only escalated from there: There's screaming fights in expensive gowns, some of the funniest taglines I've heard in years, and a woman married to her … stepgrandfather?
Watching the show feels like skiing down a pristine Utah slope where all the snow is the fluffy, icy remnants of cocktails thrown in people's faces. If you haven't started watching yet, what are you doing?? To give you a taste of what you're missing, here are some of the wildest moments so far.
Wait … she's married to her stepgrandfather?
Yes. One of the new housewives is Mary Cosby, First Lady of the Faith Temple Pentecostal Church. The church was founded by her late grandmother, Rosemary Redmon Cosby. According to Mary, before she died, Rosemary said she wanted her granddaughter to take over the family's empire of churches and restaurants. She also wanted her granddaughter to marry her second husband, Robert Cosby Sr. Mary respected her grandmother's wishes, and, when she was 22, married Robert, who was 42 at the time. Okay!
(In episode four, she shares that the two didn't have sex on their wedding night because she had her period. "Thank goodness I was on my period," she said. "And the period lasted about two weeks. He was like, 'Are you still on?' and I was like, 'Yeah, I'm still on.'" She said that, through prayer, she eventually stopped avoiding sex with her former stepgrandfather and current husband, and the two now have a teenage son together.)
If you're finding this relationship difficult to process, so are all the other housewives. During one fight, another housewife, Jen Shah, calls Mary a "grandpa-fucker," which is extremely rude but not the least accurate insult in the world.
"Smells like hospital."
The whole Jen and Mary fight started because Mary once said that Jen smelled "like hospital" — an incredibly specific and evocative drag. Jen was furious because Mary delivered this cruel roast after she had returned from nursing her beloved aunt at the hospital. "My aunt just got both legs amputated at the last minute," Jen yelled at Mary in the first episode. "So when you said it smells like hospital in here, you were just being mean."
Mary's justification for her comment was that she previously had to have 12 (!) surgeries to get all of her odor glands removed (!!) and that, since then, the smell of hospitals has made her feel ill.
By the time Mary shared this explanation, my spirit had already fully departed my corporeal form and was floating aimlessly around the room, looking for something secure on which to land in order to ground itself.
A debate over the thumbs-up emoji
Does sending a thumbs-up emoji mean fuck you? This was the question raised in the show's second episode. After a day of skiing, housewife Lisa Barlow confronts housewife Heather Gay about texting her a thumbs-up emoji in response to a question. "Thumbs-up, fuck you," explains Lisa. Heather claims that it's TWO thumbs-up emoji that mean "fuck you" but then admits to a producer that her single thumbs-up was in fact intended as a fuck-you.
As someone who sends well-meaning, nonaggressive thumbs-up emoji all the time: Is this a thing? Am I inadvertently insulting my friends, family, and colleagues?
Two important signs
This convenient spot outside of Heather's Beauty Lab.
This sign in Lisa's son's room that has the definition of the word hustle.
Don't you want to watch this?