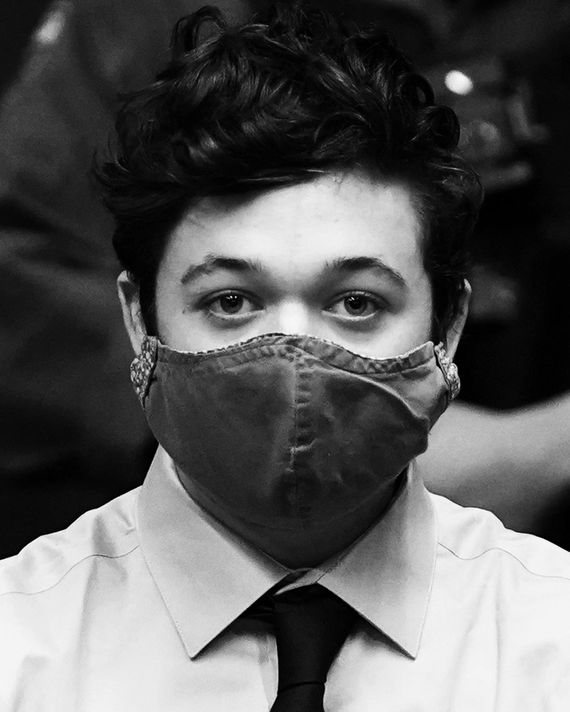 Photo: Nam Y Huh/AP/Shutterstock
For $30, you can buy a white T-shirt on eBay that says "Don't make me RITTENHOUSE your ass!!!" on the back, from a seller named Gabby in Anson, Texas. The sleeves are adorned with stencilled semi-automatic rifles, a skull and "2A," for the Second Amendment. It's one of dozens of shirts just like it. When 17-year-old Kyle Rittenhouse used a semi-automatic rifle that had allegedly been purchased illegally to shoot and kill two men and wound a third during Black Lives Matter protests in Kenosha, Wisconsin, last August, he became a hero to a large swathe of the right-wing, someone to wear your support for on your chest, or between your shoulder blades. There are now corners of the internet full of merchandise in his honor: T-shirts adorned with drawn portraits of him pointing his rifle with slogans like "Don't Tread On Me" and "I Stand With Rittenhouse." A photo of the teen in a Captain America mask as "Captain Rittenhouse." The most common slogan, across dozens of shirts and multiple sites, is simple: Free Kyle.
Last month Rittenhouse, who has been charged with first-degree intentional homicide, was released from jail after posting his $2 million bail, much of it raised through crowdfunding by his supporters. More than 13,000 donors donated nearly $600,000 for his legal defense on GiveSendGo, which bills itself as the "#1 Christian Free Crowdfunding Site." "Kyle Rittenhouse just defended himself from a brutal attack by multiple members of the far-leftist group ANTIFA — the experience was undoubtedly a brutal one, as he was forced to take two lives to defend his own," the page reads. "Let's give back to someone who bravely tried to defend his community." Months of mythmaking had led to this point. His insistence that he was acting in self-defense, and his self-appointed mission to cross state lines from Illinois to "protect" Kenosha businesses, as he told a Daily Caller reporter that night, was almost immediately taken up by figures across the right. Among Rittenhouse's many defenders were President Donald Trump, who claimed the shooter "would have been killed"; Kentucky Representative Thomas Massie, who told a West Virginia radio station that Rittenhouse had shown "incredible self-restraint," and Fox News host Tucker Carlson, who said the shooting happened because authorities had stood back and "let Kenosha burn." The right-wing media apparatus has made heroes of killers before — cops being the primary beneficiaries — creating the figures they need to sustain the notion of a nation under siege. But it would seem, with Rittenhouse, that the recruits into a deadly culture war now extend to a pool of civilian foot-soldiers for white supremacy — no matter how young, or how far outside the law.
Of course, white vigilante violence long predates the Trump era. It's possible to trace a line from today's murderous celebrities back to people like Nathaniel Bedford Forrest, founder of the Ku Klux Klan, who is the subject of countless statues in public squares across the country. The same bloody line passes straight through the institution of policing, which has always been responsible for upholding and executing a white supremacist American social order. And killer cops are still made into heroes. In 2014 Darren Wilson, the police officer who shot and killed Black teen Michael Brown, became a centerpiece of the "Blue Lives Matter" pro-police countermovement that sprung up in response to Black Lives Matter. Two-hundred twenty-five thousand dollars was crowdfunded for him that year, though he was not ultimately charged with any crime. Other officers, even those who are charged with the most gruesome and extraordinary of crimes, have provided similar outlets for right-wing emotion, a combination of animus and the perceived injustice that men in positions of power should face consequences for their actions. Oklahoma City police officer Daniel Holtzclaw, who was convicted of 18 charges of rape, sodomy, and sexual assault against 13 Black women in 2015, was the recipient of numerous and ongoing crowdfunding campaigns for his legal appeals. The movement to "back the blue" is one explicitly in support of state violence, a backlash against the idea that uniformed agents of the state ought to be checked in their ability to act with impunity.
A more recent move to embrace vigilante violence, however, suggests a self-deputization en masse. The right-wing is no longer content to leave the power of violence in the hands of the state, no matter how eagerly and often that power is used. This narrative was seeded in popular right-wing support for George Zimmerman, who killed unarmed Black teen Trayvon Martin in 2012. He then later sold the gun he used in an online auction for a quarter-million dollars.
There's a strong parallel between support for Zimmerman and Rittenhouse, rooted deep in American racism — Zimmerman was acquitted of killing a Black teen outright, while Rittenhouse set out to quell an uprising for Black rights. Zimmerman's actions were also framed as self-defense — despite the fact that, against the advice of a 911 dispatcher, he stalked Martin through his neighborhood, gun at the ready. Still, Zimmerman, his supporters, and the jury saw what he did as "standing his ground" — making him into the neighborhood watchman, the beat cop, defending one's home turf from a dangerous other, encountered by chance, turned by a malevolent imagination into a looming threat. By contrast, Rittenhouse's actions feel more warlike, part of an offensive charge: crossing state lines into a sea of people, gun drawn, a soldier entering enemy territory. The right-wing mindset in the era of Rittenhouse has ripened into one of total war, propped up by the vocal support of key figures in the Republican Party and silence in the remainder of its upper echelons.
With his youth, whiteness, and tousled cap of curls, Rittenhouse is precisely the type that captures an American ideal of "wholesomeness." In his mugshot, he looks small and forlorn against the gray wall of the jail, wide eyes staring back bewildered at the camera. It was that profile that enabled him to prowl with a rifle, to kill, and to be held up, thereafter, as an avatar of innocence. His age was cited by Carlson, among others, as evidence of the extremity of social crisis that unfolded this summer, as activists took to the streets to oppose needless deaths at the hands of police. According to this argument, mass-scale political dissent entailed a calamity so dire it required the services of volunteer child soldiers. "How shocked are we that 17-year-olds with rifles decided they had to maintain order when no one else would?" Carlson asked his audience.
In the minds of those who laud a gun-wielding teenage killer, who perhaps harbor arsenals and fantasies of their own, a decayed, degenerate social order can only be restored with shed blood. There is "order" in the act of killing, as long as the killer is white and the victim is a perceived political enemy. In the right-wing authoritarian imagination, "order" does not equate with justice, nor with the equal application of the law. It means enforcing a hierarchy of racial caste, of gender-based submission, of a Christian-centric polity. There is laudability in violence, even extrajudicial violence, that works to achieve these ends.
The embrace of Rittenhouse on the right has played out in a kind of parallel to the results of the 2020 presidential election. You could call it evidence of an epistemological crisis — if killing is morally just when it is done to maintain "order," to thwart one's political opponents, what else can be justified under that framework? The fragile workings of a democracy don't bleed, don't suffer fractures of the pelvis or perforations of the liver, as Rittenhouse's targets did. The death of public trust is a quiet and dissolute thing, happening behind closed windows while the TV blares. As the path to a Trump victory becomes vanishingly narrow, the rhetoric and behavior of the president's supporters has become more threatening. A member of Trump's legal team called for the official in charge of the 2020 election's cybersecurity to be "taken out at dawn and shot." Two weeks ago, Gabriel Sterling, a voting systems official in Georgia, held a press conference condemning threats against Georgia election officials and workers: "Someone is going to get shot," he said. After certifying the results of the 2020 election, Michigan's secretary of state had armed protesters surround her home. Such bile shows no signs of dissipating. The Proud Boys, having successfully swept through D.C. in November with little opposition, plan to return later this week.
A retreat into mirrored realities — in which a killer is a hero, an election was compromised — happens in pieces. It happens in viewers' descent from Fox News to Newsmax to One America News Network, searching for the dream of a Trumpian United States. It happens in the growing spread of militia groups, whose recruitment has ballooned in recent weeks, and in the armed protests moving through city streets, anyone in the way serving as potential collateral damage. Cornered by the loss of an election, and with it a figurehead in which tens of millions have invested much of their identities, the right has been consumed by a bunker paranoia. A retrenchment into an apocalyptic worldview and a readiness to defend its tenets is happening all around us. Such a world needs people like Kyle Rittenhouse to keep itself spinning. What other reason does it have to keep going?