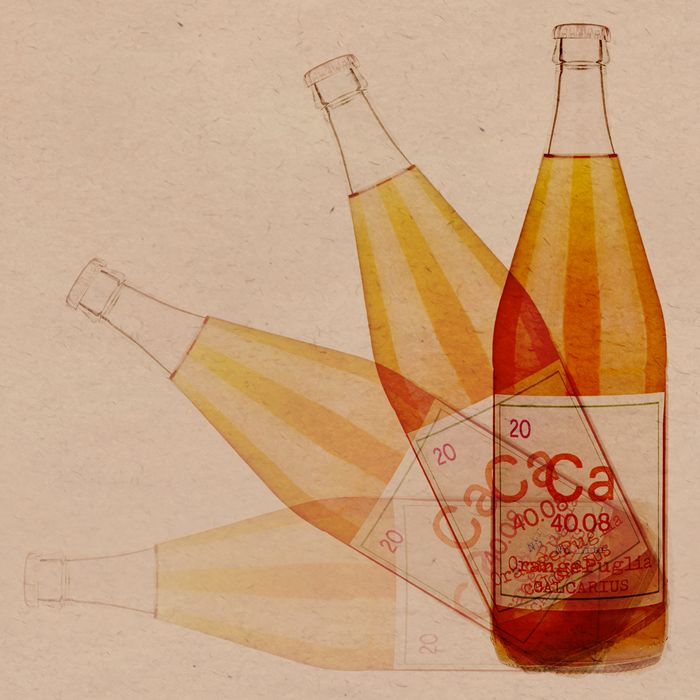 Photo-Illustration: by the Cut
It was, for a time, the wine of quarantine. In June, sales of Calcarius – an Italian natural wine made by Puglia native Valentina Passalacqua – shot up 50 percent in the U.S., spurred on by breathless coverage in elite publications and the brand's highly Instagrammable bottles in shades of creamsicle, coral and pomegranate (the fact that Americans have been drinking more didn't hurt, either). The label, a stylized chemical symbol for calcium (the mineral in the vineyard's soil), nails the kind of effortless sophistication millennials seem to love. While more pretentious than a $10 industrial Sauvignon Blanc, Calcarius tastes like an adult juice box and comes in 1 liter bottles with metal caps that evoke casual, endless house wine.
Even before lockdown, Passalacqua's business was soaring. The 45-year-old with a cotton candy-like swirl of purple hair spoke about her wines with the intensity of a savvy marketer who's just discovered transcendental meditation. (On her website she calls them "children of Mother Earth" and told me that winemaking is her way of giving back to the universe.)
Her brands, which also include the line "Valentina Passalacqua" and a low-alcohol label, had been picked up by some of America's biggest importers, securing her a spot at trendy restaurants like Brooklyn's Four Horsemen and making her the belle at RAW WINE fairs, the industry's most high-profile events. But Calcarius in particular stood out, and was well on its way to becoming the avatar for natural wine. (One importer told me she saw the label so often it "started to look like a billboard" and there's an Instagram fan account dedicated to the wine.)
Then, in early July, the empire began to unravel. Passalacqua's father, Settimio, was arrested and charged with underpaying and exploiting more than 200 mostly African and Eastern European migrants on multiple farms in the Foggia province of Puglia. A court order said that after a seven-month long investigation, police suspected that he also ran his daughter's business, along with three other nearby family farms, and paid workers from all the companies illegally low wages. Though only Settimio and his partner were charged, his children's businesses were put under judicial control, which meant they were monitored by a court-appointed expert. Passalacqua herself denies any wrongdoing or ties to her father's enterprise but the alleged connection was widely reported in the Italian media and raised eyebrows about her own labor practices. 
The news went viral within the wine industry and by August, she had been dropped by almost all of her nine North American importers, who made up 90 percent of her profits. During a summer of racial reckoning, Passalacqua's downfall became a wake-up call for the natural wine world, an industry with an outsized sense of moral superiority.
Natural wine is pesticide, herbicide, and additive-free, which means drinking it can feel more virtuous than tucking into a bottle of mass-produced Malbec. These wines are better for the environment, better for the body, and some even swear, better for hangovers ("If you care about what you consume, you'll want to give Natural Wines a try," reads an ad for Dry Farm Wines, one of Passalacqua's former importers.) But the benefits and feel-good language can mask uncomfortable realities: what makes a product "ethical" often doesn't include the treatment of farmworkers, who can still be exploited even if a farm is organic. "The [natural] wine world is filled with logical fallacies," said Ashtin Berry, a sommelier who runs a New York-based hospitality business. "It's 'we're the good ones, so how could we be the ones who are doing any harm?'" And while Passalacqua saw herself as an innocent victim, many of her North American colleagues saw a rich white woman more intent on defending herself than fighting labor exploitation.
Passalacqua's wines embodied all the buzziest trends in natural wine: pét-nat, skin contact, female-owned, funky. Her eponymous label features a sketch by her 12-year-old daughter of a family holding hands, lending it an air of homespun wholesomeness (or, as one importer cynically put it, "All you have to do to make a natural wine label popular is to get a child to draw it.")
It took a while before she landed on the marketing that would make her a success. After studying law in Rome and English in London, she joined her father's marble business, which had made him a multi-millionaire agricultural mogul in a poor region of Puglia. But she left in 2008 shortly after becoming a mother, and had a spiritual "aha" moment about giving back to the earth through natural winemaking. She rented land from her father and brother, some of which the family had used for generations to raise sheep, and started to grow vegetables and grains while she experimented with turning it into a vineyard. Passalacqua found the work gave her an artistic outlet to "express myself, my soul, my heart," she told me back in June on a FaceTime call. It also helped level out her "volcanic" temperament–without it "I will BOOM!" she said, her hands flying out in opposite directions.
Passalacqua says she faced hostility from men in the rural, patriarchal part of Southern Italy who weren't used to a woman entrepreneur, or the idea of organic farming (other producers called her product "shit wine" because of the sediment at the bottom.)
She'd been in the wine business for a decade when she launched Calcarius in 2018. The idea was hatched alongside fellow winemaker Danilo Marcucci, a man known as the "Yoda of Italian natural wine" who is behind most of the country's best-known skin-contact bottles. The marketing was hip; the taste was crisp, juicy and accessible; and the timing spot on — natural wine was just breaking into the mainstream (one seller told me many people associated it with vinegar before trying Calcarius.) The brand first gained momentum after catching the eye of a Paris importer, and within the next year Passalacqua had signed with three other big U.S. importers. By 2020, her team of 24 vineyard workers were on track to produce 700,000 bottles a year, about 20 times more than the average natural wine producer.
This made Passalacqua's business a rarity in the natural wine world. Importers usually deal with small-scale farms that make a low volume of wine at high prices, but Passalacqua has a huge, 80-hectare vineyard – eight times bigger than the average producer — and makes relatively inexpensive bottles that are always available. (Her sprawling property, which includes a salt-water pool overlooking the mountains, is "more redolent of a James Bond film set than the rustic cantina of a natural wine grower," wrote wine journalist Simon J. Woolf.)
Privately, people in the industry had some questions about how she was able to produce so much, so fast, especially on a supposedly biodynamic vineyard that can require labor-intensive steps. (A few years ago she was kicked out of an Italian biodynamic wine association that suspected she was lying about her farming practices. Passalacqua blames the incident on a miscommunication — "there has been some misunderstanding from both sides," said a spokesperson for the organization, adding that the winemaker is welcome to reapply.)
But no one was very motivated to dig for answers. "I think we all turned a blind eye because everybody in the entire supply chain was making good money on it," said Zev Rovine, who was one of her biggest North American importers. Passalacqua also knew how to sell her wine. Her business partners said she had a warm, magnetic personality — one told me they developed a close relationship that involved frequent FaceTime calls where Passalacqua's two daughters would make appearances. Rovine says she was extremely passionate about her family and the land, but that he thought her sales pitch also had a "performative element." Multiple colleagues have noted her sartorial transformation around the time she launched Calcarius, from a conservative, buttoned-up style to "punky pink-blue hair" jeans and Doc Martens. (Woolf wrote that "if she wanted to play with the cool kids at natural wine fairs, something had to change" but that she seemed "much more relaxed" in the new look.)
When the news about her father broke in July, it seemed like a red flag to some importers. Settimio was charged with the Italian crime of "caporalato," which refers to employers using an intermediary — often the mafia — to recruit vulnerable people for farm work (often impoverished Italians or migrants from Africa or Eastern Europe.) He allegedly paid them as low as 3 euros an hour and made them work without proper protective gear, consistent breaks or any time off. In a migrant camp less than an hour from Apricena, the town where the Passalacquas have offices, more than 1000 people live in makeshift shacks without bathrooms or potable water. Many of them work for slave wages on other nearby farms, according to the custody order in Settimio's case, which includes a wiretapped conversation of him talking to a man about recruiting workers from the area.
It's been hard for North Americans wondering if they should still buy their favorite wine to make sense of the situation, in part because it's so murky. There hasn't been any in-depth investigative reporting on Passalacqua's connection to her father, and most of the available information is in Italian. But in the prosecutor's full custody order, which The Cut obtained, there are interviews with two Eastern European immigrants who say they are paid a net sum of roughly 40 euros a day to work for Passalacqua's company — potentially up to 10 euros less than the region's mandatory wage (she insists that all her employees are paid the legal amount, but that net salaries can drop below the minimum because of specific tax deductions based on where someone lives and the size of their family.) It also includes transcripts of wiretapped calls between Settimio and his employees to discuss illegal wages ("the blacks are all at four euros [an hour]") that includes racist remarks about workers ("I'm not of a mind to let these black jokers, even the ones we have, hoe," he said, "they're no good. If we could find Italians it would be better.") "I strongly condemn the quoted statements," Passalacqua told The Cut. "They are totally unacceptable and I strongly and categorically dissociate myself from them."
Passlacqua's vineyard is never specifically mentioned on any calls, and her company is the only one of her family's businesses that isn't accused of violating health and safety standards. A court-appointed administrator, who has been monitoring Passalacqua's winery since her father's charges were announced, said it is "not connected nor controlled by Mr. Settimio" — a finding included in her recent quarterly report to the judge (though she specified she is not part of the legal team investigating the case.) But in the court order, Settimio's former office administrator told police that all the family companies were controlled by the patriarch, and that he personally used the same exploitative payroll system for all the employees. ("All these businesses, even if they were property of Mr. Settimo's children, were in fact all led by him," he said.)
Though Passalacqua has vehemently denied this connection, many of her importers — who had not read the court order — still decided it was just too risky (and morally dubious) to keep working with her.
Labor abuse is so common in the wine world that there's a good chance your favorite Malbec or Chardonnay are made with the help of underpaid, exploited workers. There are human trafficking rings powering the vineyards in France's Champagne region, grape pickers in South Africa who make $4 a day, and migrants on Italian vineyards who are worked to the point of death. The problem isn't just overseas: in California, the majority of grape harvesters are undocumented immigrants who don't recieve benefits, sleep packed together in one-bedroom apartments, and are forced to work through dangerous conditions like the recent wildfires.
But it's less common to hear about this kind of abuse in the natural wine world, specifically. One reason is the assumption that it's more virtuous in every way, but another major factor has to do with size. These businesses make up less than 1 percent of the overall industry, and since natural wine vineyards are usually smaller (10-30 acres, compared to an average of 80 acres in California's major vineyards) they can often be farmed with the help of family and friends. This isn't always the case, though. Due to the exorbitant cost of farmland, U.S. producers often buy grapes or lease land from larger farms that outsource labor to management companies. They might have no idea how those workers are being treated, said Rovine, adding that some of his California producers have admitted to him that they aren't "100 percent" sure about the conditions for farm workers. Zacarías González, who runs a wine store in Brooklyn, says that while importers are happy to talk about how the wine is organic, they sometimes become uncomfortable when he asks questions about a producer's volume or labor practices. And as natural wine becomes even more mainstream—a european grocery store chain sells orange wine for under $10, while Trader Joe's and Whole Foods sell organic wines (a close cousin to the natural stuff)—bigger farms that depend on cheap labor will undoubtedly become more common.
The day after her father was charged, Passalacqua posted a somber black and white photo of herself — head bowed, eyes downcast — to Facebook and Instagram. "I sincerely hope that my father will be able to clarify his position as soon as possible," she wrote in the accompanying statement, vowing that her company is completely separate from his and should not be linked to the charges, but that she would fight for change (what kind of change, exactly, she didn't specify.) "I could feel heartbroken and desperate. However, my heart tells me that, with the help of those who have believed in me so far, it will really be possible to make a difference and leave a better future for next generations." While some commented with supportive words and emojis (hearts, bicep flexes) others called her posts "trivial," "melodramatic," and asked for concrete actions "as opposed to platitudes about peaceful living." "Answer the real questions," one woman wrote. "To me, you are not the mother of natural wine."
A few days later Passalacqua posted a more direct statement, this time alongside a photo with 15 members of her staff. She said they were all hired legally and paid fair wages — anyone who said otherwise was spreading lies, and that if her father was found guilty she would "disassociate myself from his behavior." Then she announced that her team was working on a project to fight worker exploitation.
Her importers struggled to make sense of the tangled facts. At first some wanted to believe and protect her: One suggested she hire an American crisis PR firm and Rovine answered some of her questions about how to craft a response for a U.S. audience. Another importer, who didn't want to be named, said they had no idea the story was going to blow up and initially gave Passalacqua the benefit of the doubt ("There had been, up to that point, nothing but trust.") But after a few phone calls with Passalacqua and some other winemakers in the region, Rovine thought it seemed implausible that she was completely in the dark about her father's alleged labor exploitation. "Even if it wasn't her company, it was in her circle," he said. Scrambling to protect her winery by touting her accomplishments as a female entrepreneur also made Passalacqua seem "unaware that there were human rights abuses right under her nose," he said.
On July 24, roughly three weeks after the allegations broke, Rovine became the first U.S. importer to drop her. "I do not have any evidence that Valentina has done anything wrong, and she has, in fact, worked to be transparent," Rovine wrote in an Instagram post. "However, I do not feel that we yet share a similar approach in how to address the chronic exploitation of workers." Initially some prominent white women in the industry called his decision "the patriarchy in action" and praised Jenny Lefcourt, Passalacqua's other major U.S. importer, for publicly defending her client ("Valentina runs her company independently in every way from her father … If any concerns ever came to light about how she worked or treated her employees, then we would not represent her," Lefcourt wrote on social media.) But many of their BIPOC colleagues saw this as a way of avoiding tough but necessary questions about systemic racism and labor abuse in the wine industry. (Despite the fact that it's mostly non-white migrants working in U.S. vineyards, only 2 percent of American wine industry professionals are Black and all of Passalacqua's importers are white.)
"Even if Passalacqua isn't complicit or directly responsible for harm … this is hardly an isolated issue," Janine Copeland, who works in wine and hospitality, wrote to her colleagues on Instagram. "We've BEEN needing to have a discussion about labor practices in this industry. Are you willing to do an audit of your producers and commit to being more rigorous in the future? How will you be holding yourself accountable in the future with regards to labor and the producers you represent?" Then the situation became even more complicated.
A few days later, Jennifer Green, a small importer and founder of the wine magazine "Glou Glou," posted a series of documents and videos to Instagram that she claimed proved Passalacqua helped run her father's vegetable farm and had then tried to cover up the connection. Records first procured by an Italian journalist showed that four days after Settimio's arrest, Passalacqua had modified her business registration to show she no longer farmed grains and vegetables, which Green called an attempt to "distance herself from the core of the allegations"; they also revealed the winemaker has shares in a limited liability company that listed her father as the legal representative ("Let the evidence speak for itself," Green wrote.) Following these revelations Lefcourt dropped Passalacqua, saying that "the documents provided do not show a clear enough separation between Valentina's business and her father's land to give me the comfort to continue to represent her." Rovine put out a follow-up statement that said he should have researched labor abuse in Puglia before importing the wine, and pledged to donate all the profits from her remaining stock to workers' rights organizations.
Passalacqua was furious, and a few weeks later one of her lawyers sent Green a 30-page cease and desist order refuting each allegation. The extremely-in-the-weeds rebuttal says that Passalacqua used to grow vegetables independently from her father, and had recently removed these crops from her records to qualify for an upcoming government grant specifically for vineyards (She only fully converted the land to grape vines at the end of June.) Passalacqua brushed off the importance of her shares in the LLC by saying it is separate from her father's main farming company and that she has no managerial power. But by then, eight of her nine North American importers had already either dropped her or paused future orders — a roughly $2.7 million loss for her business. There was one holdout: A Montreal-based importer said he considers Passalacqua a victim of cancel culture ("I try not to cave to social media pressure") and after a few phone calls with her, he and his staff felt convinced she had no connection to her father's business. Passalacqua's main European importer, Les Caves de Pyrène, also stood by her, saying they would leave any ruling up to a judge.
A few others told me they were uncomfortable with Green's approach to justice and felt some pressure to drop Passalacqua for fear of social media blow black ("We certainly don't align with the type of malicious vigilante justice and cancel-culture Glou Glou subscribes to," one told me in an email.) And some thought she was being unfairly singled out: "There's still $7 wines on the shelf that people are mass-consuming without a second thought about how they're made," said another. But most felt that Passalacqua's defensive response and clunky social media denial made an ongoing relationship untenable.
Passalacqua admits her initial responses weren't perfect. She was consumed with grief over her dying mother, who passed away in early August, and just wanted distance from her critics. While some of her importers asked her to be more proactive, Passalacqua says she didn't have the energy at the time. She also thought it was more important to clear her name before announcing any projects to address labor exploitation, which was not something she could figure out "quick quick quick."
On a video call in August, she rejected the idea that she should be held accountable for her father's alleged crimes. In fact, any accusations that she was racist, or benefitted from a racist system, made her defensive and emotional. "I don't have any problem with racism," she said. "I love all people." Her lawyer, who was also on the call, added that in Italy the crime of "caporalato" is usually discussed in terms of poverty rather than racism, since many white workers are also exploited. Of course a conversation about discrimination in the wine world was important, she said, but why should a female entrepreneur's hard-earned, ethical business be attacked in the process?
"I could be a rich woman who could go to the beach and be on holiday," she said. "Instead I sacrificed all my life to make this reality and change the land." Passalacqua couldn't understand why her importers who had visited her vineyard and loved the wine had turned their backs on her. "Come work with me in the morning at 6 o' clock!" she said, her voice rising. "It's too easy to judge a woman taking on big responsibility. Okay, sorry," she said, calming down and pointing to her arms. "You see, I have goosebumps." She cupped her hands in front of her stomach to describe how processing the news was like trying to digest a "big rock."
"It's a nightmare, I don't know if it's real," she said, placing her hands on either side of her head.  A cross necklace dangled onto her black T-shirt. "My job of 12 years–in four days was destroyed. It's so unjust."
If Calcarius was momentarily a symbol for natural wine as a whole, for many, Passalacqua's brand has now become a shorthand for the industry's hypocrisy. One importer, who asked to remain anonymous, said clients who posted Calcarius to Instagram were getting DMs about selling "slave wine," and that when the label came up in a recent company meeting their social media manager asked "Is that the racist wine?" Importers are struggling to sell their existing stock, even after slashing the price or donating the profits to charity. Andy Pates, a Chicago-based importer, said his sales of Passalacqua's eponymous brand have slowed by roughly 70 percent, which he attributed both to the economic effects of the pandemic and the perception that her wines aren't ethical. Mark Cuff, a Canadian importer, says some of his clients have asked to return bottles after customers have criticized them for selling it (he's in the process of shipping his unsold cases back to the vineyard.) "There's no market for the wines," he said. "The damage has been done."
In some ways, Passalacqua's downfall is a case study in how North American industries and consumers have started to demand more accountability from socially conscious brands, and are willing to ditch them at the first whiff of hypocrisy. Her importers say they are committed to more thoroughly vetting new clients' labor practices and making that info available to customers. In some cases they have even outlined plans to do so — Rovine is developing a "working contract" for his clients that will hold them to anti-racist and fair labor practices. But whether these plans stick is another question.
Passalacqua's father is now waiting to find out if his case will go to trial. He faces up to 8 years in prison if convicted. Meanwhile, his daughter posted about her fall harvest on Instagram — photos of stained hands holding grapes with captions like "Mother Nature's fruit" and videos of employees pouring the fruit into barrels set to the tune of "La Vie En Rose." Some of her photos still get more than 1,000 likes, and people still share images of Calcarius on Instagram, but Passalacqua's posts are now peppered with comments like "blood on your hands," and "how much are they getting paid?"
She hasn't given up on winning back her business partners, and says that "new projects with our US importers (old and new ones) are currently under discussion." Passalacqua's partnered with the anti-slavery organization Stronger Together to raise awareness about regional labor exploitation and her employees have started meeting with the local union to improve their working conditions. The union's secretary said that based on the results of an initial employee survey, there are no issues that rise to the level of labor exploitation. Passalacqua recently circulated a summary from a two-day audit of her winery during the September harvest, commissioned by Norway's government-run booze retailer, Vinmonopolet, which found no evidence of "forced or bonded labor." They did find that Passalacqua and her father shared the same payroll officer and HR consultant, whom she claims to have now cut ties with, and that her vineyard workers didn't have proper access to toilets or potable water and some had to pay for their own work shoes, even though they're considered protective equipment. (Vinmonopolet has decided to continue the relationship and Passalacqua has agreed to address the health and safety violations and to another audit next year.)
So far, U.S. importers aren't keen to take her back, but some are willing to give her the benefit of the doubt. "If everyone drops her, she can't make positive change," said Pates, the Chicago importer who's still deciding if he will place another order. He said the scandal's silver lining could be that Passalacqua's "fame and her takedown" will make consumers care more about who makes their wine. One Canadian importer told me he would consider doing his own investigation of the winery if there's enough demand. And Lefcourt, who was formerly the largest importer of Calcarius in the U.S., said she feels encouraged by the Stronger Together partnership as well as the audit, and looks "forward to seeing more."
Others aren't so sure. She and her team of lawyers are still "behaving like they really believe they're the victims here," Cuff says. "They really think the world has turned on them for no reason." And many say that while they wish Passalacqua the best, they are simply ready to move on. "There are lots of other wines we can buy without getting involved in someone's legal battle," said another importer. "It's not my job to change the internet's mind."