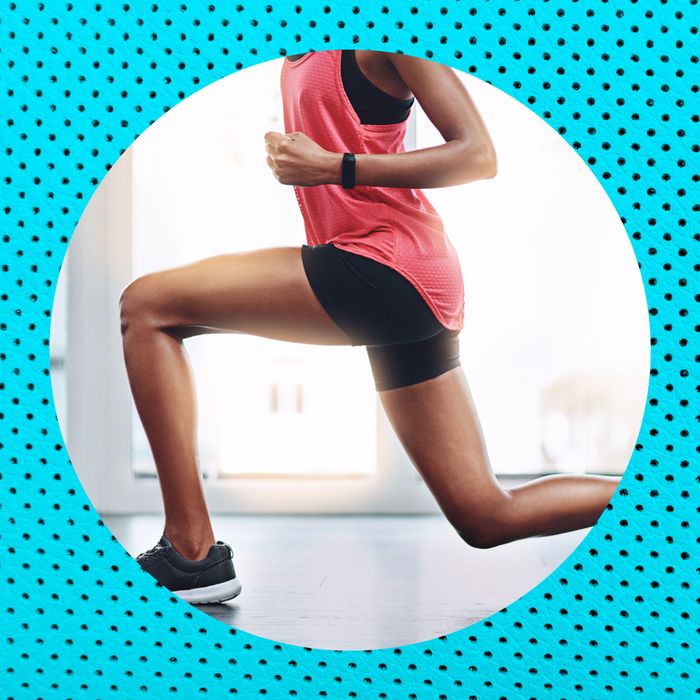 "Hot Bod" is a weekly exploration of fitness culture and its adjacent oddities.
There's nothing quite like a crush on a new fitness class, an exercise routine, or a fun, shiny toy. It makes you feel excitable, full of boundless energy, and kinda disciplined for a minute. The shadow side is that this new excitement is almost always preceded by a Big Dipper–size rut. Ruts are part of the vast constellation of every fitness experience, I think! And, so, during this dark and cozy time of year, I spoke to 14 pretty fit people about the tiny little thing that burst them from their doldrums.
1. Get Some Bike Shorts
I am bad at buying things that improve my life, but I did buy two pairs of biking shorts that I now wear almost every day. They're Adidas. They're comfortable when I sit at my terrible work-from-home desk chair for too many hours at a time. I can easily switch from a Zoom-acceptable top to workout clothes and hop on my bike, which is what they are meant for. Also, sometimes you can style them in a way that makes you feel like Princess Diana.
—Jenna, who used to bike to work and now bikes around
2. Try a Push-up
Trying to do a real push-up got me back into working out in general. It just felt like something I should know how to do! I had once been up to ten push-ups, but then I found out you're supposed to be able to go almost to the floor, so then I had to start over again. But I didn't mind because I have time. I'm up to two real push-ups!
—Anna, who used to do nothing but now does push-ups and dance workouts, runs, and plays tennis! What a shift!
3. Think About the Sex You'll Have
The promise of better sex has been a motivation to start working out again. When I'm in good shape, sex is just better, but I forget that when I'm in a rut. Better sex is a naturally occurring side effect of exercise.
—Stephen, who used to wrestle but now plays tennis and hikes
4. Be a Dilettante 
I've used this time to connect to my Renaissance-woman spirit, and I do a different workout each day. I find the variety keeps me engaged and motivated. I've recently been into tennis, surfing, and hiking and have sprinkled those activities into my usual yoga, dance, and Pilates routine.
—Krissy Jones, co-founder of yoga studio SKY TING
5. Find an Entirely Alien New Way of Moving
I just started roller-skating. I wanted really badly to be able to have fun outside in that particular way, like you're moving fast but you're also dancing. So fun, but it's superhard. I'm still working on just moving forward in a straight line without falling. We go to the flat basketball courts and tennis courts at the local park in Koreatown in L.A. I skate back and forth holding on to the tennis net. And I get maybe a centimeter better each time, which is barely anything. Like truly the smallest twig or crack in the ground could beat me. Also land that you think is flat is not flat when you're on wheels.
—Nina, who used to do boot-camp classes but now roller-skates slowly around the tennis court
6. Start Coding
It helped when I was learning to code. It made me want to discipline myself [in general, including starting to run again]. It's helped my job performance at different points to start working out.
—Lorenzo, who used to do intense college sports but now runs
7. Move in With a Mom-in-Law Who's Pretty Fit
Mira: My future mother-in-law has served as my personal trainer during quarantine. I have proved no match to her seemingly boundless energy and keen knack to politely bully you into submission and join her on her daily six-mile walks. In another life, she would have been a world-champion speed-walker.
Kay: It's not exactly a fitness rut — it's more my mother taking up every moment of the day. The only exercise I can get in is what she can handle: walks, boccie ball, and badminton.
—Kay and Mira, who used to live on their stationary bike and now walk rapidly with Kay's mother
8. Try a Very Creative Change of Scenery 
As a fitness professional and boutique-studio owner, the pandemic has struck a double-edged blow: Not only has my brick-and-mortar studio been closed for over eight months, but my mental and physical health have both declined dramatically. I don't experience the same motivation the immediacy of coaching people in real life provides. I was caught in the perfect storm of perimenopause, proclivity to depression, and highly disordered eating and didn't really see a way out. [VR-fitness platform] Supernatural created an alternate universe where I am strong, powerful, coordinated, and fierce. I never thought I'd find a workout that rivals the endorphin rush I get from cycling.
—Sevana, who used to coach spin classes at Ratio Cycling, and now does VR fitness, but hopefully will coach spin classes again in the future
9. Get a Dog
My exercise is walking the dog! It's the ultimate pandemic activity.
—Emily, who used to play tennis but now walks her perfect, sweet dog, Lenu
10. Join TikTok
I got TikTok in March, which is my true COVID savior. Because FitTok videos are so fun to watch, I find myself endlessly watching a cascade of them — and then eventually decided imitation was my next and only option. I believe this was my first sit-up-related movement since an in-person class.
—Eleanor, who used to go to all of the boutique fitness classes and now follows the TikTok wave
11. Consider the Legging
I use monochrome outfits to unblock any fitness blocks and unlock my chakras. I wear formfitting activewear with long sleeves. This elongates my movements and visually connects my body from core to limbs. Red is a staple, often my go-to when I want to feel powerful and fit. It activates my root chakra. This energy center of the body is where I draw stability, strength, and my connection to earth. I wear green during moments when my spirit is asking for more tenderness. When I wear [green, which is] connected to my heart chakra, I open my body to receiving love during my dance meditations. Compassion for the self is the best way for me to gently ease out of any fitness rut.
—Nicoletta de la Brown, a performance artist who works with movement
12. Just Don't Do Stuff for As Long
I've been reinspired to practice with the shorter classes offered online. We have a ton of 30-minute or less classes on SKY TING TV, and they're perfect to fit in and around meetings, so I can still practice, even if my schedule is overwhelmed by Zooms! For me, it's more about consistency than doing a full hour or hour-and-a-half class.
—Chloe Kernaghan, co-founder of yoga studio SKY TING
13. Make a Schedule
Calendar your workouts. Consistency is super-important. Throwing the workouts on your calendar helps keeps you accountable. I'm less likely to fall into a rut when I've planned my workouts.
—Annie Uttaro, a couch for rowing studio Health House
14. Get Some Music, i.e. a Perfect Playlist From Someone Who Knows What Works
A melancholic rut is, at times, inevitable. An antidote for me, each time — and every damn time — is the trusty, timeless combination that is music and dancing. Connecting to music and riding its wave, its frequency, immediately shifts my mood and energy. Syncing and linking that music up with movement drops all into a full-on spherical reset. [You can start to jump on this wave with this raucous, thumping "Get yah up & moving" playlist.]
—Kristin Sudeikis, founder of cardio dance hub FORWARD__Space