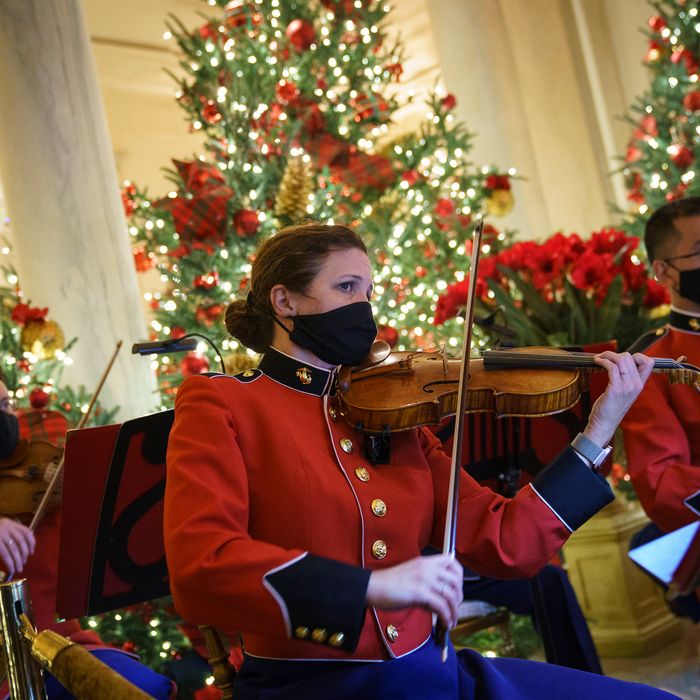 Photo: Drew Angerer/Getty Images
Just a little more than two months after a party at the White House became a teeming hot spot of coronavirus, infecting dozens of people and the president himself, the Trumps are at it again. The outgoing first couple is already throwing indoor, semi-unmasked Christmas parties, as Dr. Anthony Fauci predicts "surge on surge" of COVID-19 cases and U.S. infections tops 4 million in November alone.
I guess the humiliation of downplaying the severity of the pandemic and beating the drum of "reopening" the economy, only to contract the disease themselves at astonishing rates, was not enough to teach the Trump administration a lesson. There was actually already a second, albeit smaller, Covid outbreak in the White House, after an Election Night party held in the East Wing on November 3. No matter: The Washington Post reports that Donald and Melania Trump are determined to have one last cursed festive hurrah at the White House, planning "a packed season of holiday parties" to take place inside the building, despite scientific consensus that people are at much higher risk of infection indoors.
To mitigate, the First Lady's spokesperson, Stephanie Grisham, says that the following protocols are being implemented: "Smaller guest lists, masks will be required and available, social distancing encouraged while on the White House grounds, and hand sanitizer stations throughout the State Floor." She added, "Guests will enjoy food individually plated by chefs at plexiglass-protected food stations. All passed beverages will be covered. All service staff will wear masks and gloves to comply with food safety guidelines." Grisham also noted that "attending the parties will be a very personal choice."
A very personal choice indeed, considering that more than 50 attendees would be at some of these parties, which will be happening as frequently as twice a day. Officials said that most people will not be tested before attending (even though testing right before an event without a quarantine period is essentially ineffective). One person told the Post that the formal party invitation they received did not including any social distancing guidelines. In an altogether unsurprising development, not all guests were reportedly wearing masks at the first party on Monday night. We can only predict how the rest of the "packed season" will go.
It's hard to pick just one group of Americans for whom the White House's relentless commitment to flouting pandemic protocols is most offensive: There is the staff of 100-plus White House residence domestic workers who will be exposed to Republicans traveling from out of town, the millions of Americans who have canceled their own holiday plans to help stop the spread of the virus, or the health care workers who are on the front lines as infection rates soar. All while the man in charge (for a bit longer, at least) throws a ball.